Amazon.com (NASDAQ:AMZN) has just introduced Prime Music to Amazon Prime, a music streaming service that is now live. On June 4th, the company also tweeted an announcement for a launch event tomorrow on June 18th. Accompanying the tweet is a video of people reacting to what appears to be a new smartphone, however you only see peoples reactions, interacting with the product. They bob their heads in various directions, insinuating that this new Amazon product will be able to recognize your facial movements. If as expected, Amazon unveils it's own smartphone supplementary to the successful Kindle devices, Amazon will have the potential to create an ecosystem similar to that of Apple (NASDAQ:AAPL).
The brazenness of Amazon does not stop there, as the company is also becoming more of a direct competition with another online giant, eBay.com (NASDAQ:EBAY). About two weeks ago, Amazon announced that it would be expanding further into collectables, specifically collectable coins as well as stepping up its online payment business. In an affront to PayPal, Amazon has also been leveraging its strength with the 244 million active users whose credit card information the company has on file.
Clearly it is evident that Amazon is being very audacious and the true strength and influence of the company is becoming quite evident if it wasn't already before. This is not new, as this innovative company has and will continue to disrupt multiple industries. This boldness as well as its ability to innovate are the reasons why Amazon is still well ahead of competition in the U.S. in the online retail space. According to the online research firm Internet Retailer, Amazon surpasses the next 9 e-retailers combined at $67.9 billion. Figure 1 shows the 10 largest U.S. retailers in 2013 based on worldwide online sales.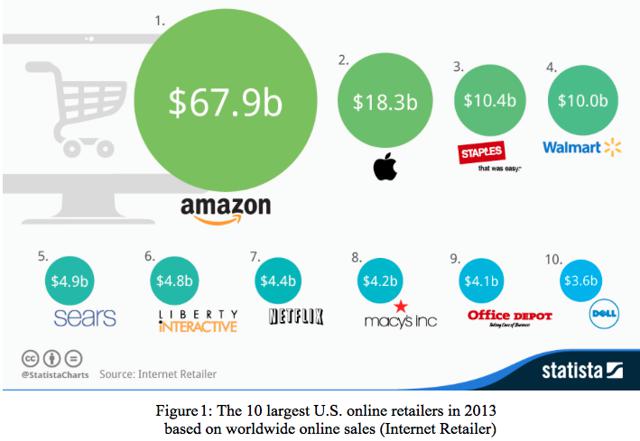 As a result of this aggressive growth strategy, Amazon will be adding vigor to its shares. Our advanced self-learning algorithm has bullish prediction for AMZN in the 1-month, 3-month & 1-year time horizons. At I Know First, we endorse algorithmic trading through predictive analytics as one investment strategy that will help assuage risk and enhance returns, however not all forecasts are 100% correct and should be utilized in conjunction with your current analysis regimen. Developing Prime and escalating their influence over various industries is a winning strategy that will provide value to shareholders.
Prime Music
Amazon Prime subscribers will now have access to over 1 million songs ad free according to a recent announcement by Amazon. The company recently raised the price of Amazon Prime from $79 annually to $99 annually. This very attractive bundled service includes Prime Music, free shipping on over 20 million items, access to more than half a million books that can be borrowed by Kindle users for free and streaming of TV shows and movies. Prime Music includes music from Sony and Warner Music; two major record labels and smaller independent record labels but is lacking music from the largest music company, Universal Music Group. The two companies were unable to reach an agreement about licensing terms. However, Amazon has acquired compulsory licenses utilizing provisions of federal copyright laws, which allows for limited use of songs belonging to Universal.
Adding this music streaming service creates even more value to the Amazon Prime service, making it an even more attractive option than other competitive services. However, the music library is small compared to Spotify with over 20 million songs in its library. While Amazon was not able to finalize a deal with Universal, missing out on very popular artists, Prime Music still has a strong starting point. As the music service is being added at no additional cost, if you do not consider the recent price increase for the entire service then subscribers should not complain about this additional service. Amazon is using related services to get consumers to purchase what they really want them to buy: the Amazon Prime subscription. Since Prime subscribers tend to purchase twice as much as regular customers, developing Amazon Prime will help improve margins.
Amazon's New Product
This is where things become interesting, as the expected new product is likely a smartphone. Rumors have persisted for quite some time about an Amazon smartphone, and it seems they maybe finally proving to be true. Certainly I am not the only person taken aback as to why Amazon would want to jump into this flooded market with smartphones by Apple, Google (NASDAQ:GOOG) (NASDAQ:GOOGL), Microsoft's (NASDAQ:MSFT) and all the other options that cover a multitude of price ranges. This is an uphill battle that is likely not worth the time or the money unless Amazon has an ace up its sleeve. In fact it does, as Amazon has a unique selling feature, where its rumored 3-D interface comes in.
Amazon released a teaser video, which can be watched here ahead of the product launch event on June 18th. In the video, you can see testers expressions as they use the device. They seem awfully impressed; however do not jump to conclusions just yet as we still do not know how innovative this device is. A revolutionary interface should not be underestimated. Apple's Mac GUI, the iPod click wheel and the iPhones multi-touchscreen benefited the company greatly. However, some interface innovations have failed such as Samsung attempt to add an eye-tracking feature in the Galaxy S4 a year ago. Ultimately, it ended up being a short-term novelty that did not galvanize sales. This makes the real question then: will Amazon's 3-D interface be groundbreaking or something that is cool but will not make a large dent in the smartphone market?
There are reports that Amazon will launch a specialized data plan for this smartphone called Amazon Prime Data. The precise details are not completely clear but the general idea is that Amazon will allow for free streaming of its own movies, TV shows and music. It seems to be similar to AT&T's Sponsored Data Plans that allow companies to charge for work related applications. The Amazon smartphone may run exclusively on AT&T's network but probably will have its own unique data plan separate from AT&T's Sponsored Data Plan.
Between innovative features such as the 3-D interface and a specialized data plan, Amazon may be able to compel consumers to switch from their current phone. Amazon has been historically known to disrupt markets with their pricing and may offer a steep discount that will further entice consumers. I do expect this device to encourage new Prime membership in some way or benefit current Prime subscribers, if not alluring them to purchase the Amazon smartphone. Nevertheless, we will see tomorrow at the launch event.
Developing Online Payment Service
Amazon is using its massive amount of registered users to step up the competition with eBay.com's PayPal service. While PayPal has 110 million users, Amazon has 244 million users. The service allows consumers who are registered with Amazon to pay for services such as using their Amazon credentials on partner sites. Amazon Payments is being considerably broadened by the number of third-party merchants allowing subscription billing, opposed to one-time purchases, permitting users to manage all of these subscriptions through their Amazon account. Not only does this make the purchasing process more convenient, it also helps give consumers peace of mind by allowing them to not have to enter credit card information on sites they may use only once or a website that they may not fully trust. Amazon's new features takes the payment abilities further for services such as paying cell phone bills or music subscriptions. Amazon charges a fee on each transaction. The commission will be around 1.9% to 2.9% and 5% for payments less than $10.
By handling payment for other websites, consumers should be more willing to buy from new websites that they may not have purchased from before. In a way, these partner website's benefit from Amazon's credibility. This becomes even more important for recurring sales because there must be permission to process credit card information repeatedly. According to Reuters, Amazon has been testing this with start-ups like Ting, a mobile phone company that is a part of Tucows. Product manager Justen Burdette stated in an interview arranged by Amazon that those who used recurring payments by Amazon spent 30% more on Ting's website. Amazon vice president of Seller Services Tom Taylor told Reuters "If you think about giving a merchant that you may not know very well the right to continue to charge your credit card in the future, you really want to know that a good relationship with Amazon stands behind that." These Amazon Payments have been around for some time, but this recent drive to improve the service is not random and could potentially have supplementary implications for the company's mobile ambitions.
Market Prediction Algorithm Analysis
I Know First utilizes an advanced self-learning algorithm based on Artificial Intelligence (AI), Machine Learning (ML), and incorporates elements of Artificial Neural Networks and Genetic Algorithms in order to model and predict the flow of money in almost 2,000 markets from 3-days to a year. By separating the predictable part from stochastic (random) noise, the algorithm then creates a model that projects the future trajectory of the given market in the multi-dimensional space of other markets. Then it outputs the predicted trend as a number, which in turn, is used by traders to identify when to enter and exit the market. While the algorithm can be used for intra-day trading, the predictability tends to become stronger over longer time-horizons such as the 1-month, 3-month and 1-year forecasts, making this market prediction system ideal for longer term trading. Algorithmic traders utilize these forecasts in conjunction with traditional forms of analysis in order to reduce risk and optimize returns.
The forecast is color-coded, where green indicates a bullish signal and red indicates a bearish signal. Deeper greens signify that the algorithm is very bullish and vice-versa for deeper reds. The signal is the number flush right in the middle of the box and the predicted direction (not a specific number or target price) for that asset, while the predictability is the historical correlation between the prediction and the actual market movements. In other words, the signal represents the forecasted strength of the prediction, while the predictability represents the level of confidence. Ticker symbols for other assets have been removed; however, you can still see their signal and predictability. Figure 3 shows the algorithmic prediction for Amazon in the 1-month, 3-month & 1-year time horizon.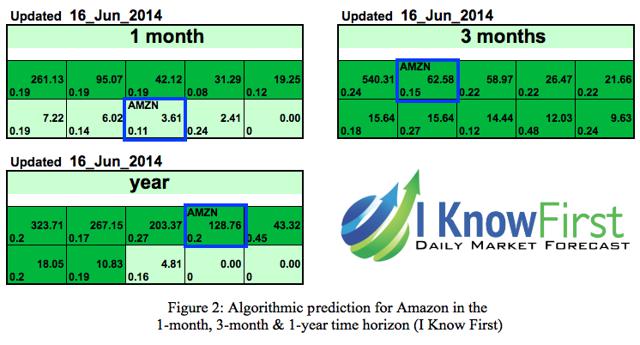 In each of the three time horizons above, the self-learning algorithm has denoted AMZN an increasingly bullish signal. In the 1-month time horizon the signal is relatively weak at 3.61, signifying that the stock will move in a positive direction but of limited magnitude. However, the signal jumps in the 3-month time horizon to 62.58 indicating that the stock will increase much more drastically over this time horizon. This trend continues into the 1-year time horizon. This drastic increase from the signal over the longer-term time horizon correlates with the approximate time frame that the recent measures taken by Amazon will reflect in share value.
The predictability or designated confidence of this forecast increases steadily over each time horizon from 0.11 to 0.2. Predictability ranges from positive 1 to negative 1. This metric is an adaptation of the Pearson correlation coefficient. A higher predictability is better but generally a predictability of 0.2 is preferable. Consider both indicators in your own analysis, as both indicators are independent. Algorithmic traders utilize these daily forecasts as a tool to enhance portfolio performance, verify their own analysis and act on market opportunities faster. We never recommend blindly purchasing assets that are endorsed by the algorithm without your own additional analysis. Figure 3 shows the Top Tech Stocks by the algorithm utilized by current algorithmic traders using the I Know First market prediction system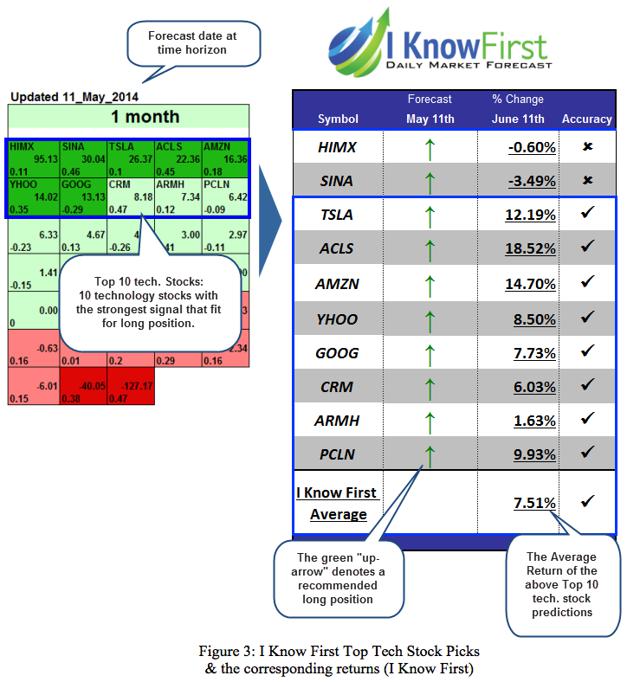 This forecast is designed for investors and analysts who need predictions of the best performing stocks for a specific industry; in this case it was the top tech stocks. Comparing the algorithmic performance of May 11th's 1-month forecast to the most contemporary forecast is an excellent strategy for rationalizing your expectations utilizing algorithmic trading as one tool in your analysis toolbox.
Conclusion
Amazon's brazenness is nothing new and this latest surge has one purpose: to add value to Amazon Prime or encourage more people to adopt it as well as become a part of the general Amazon community. Developing Prime and adding new members is what will drive Amazon forward. Having more Prime users correlates to more brand loyalty. This is what will increase value for shareholders. A recent survey by RBC Capital Markets supports this claim. Amazon Prime members spend on average $538 per year versus $320 per year for non-Prime respondents. That's 68% more! In fact, 61% of respondents told surveyors that they have spent more after becoming Prime subscribers. The algorithmic forecast by the I Know First market prediction system has a bullish signal for Amazon, indicating that AMZN is currently a "buy." Judging by the jump in the signal, many of the latest developments concerning Amazon will be reflected in the stock price in the mid- to long-term time horizons. Amazon's approach of developing Prime and increasing influence over these various industries is a winning strategy that will provide value to shareholders, making AMZN a great investment.
Business disclosure: I Know First Research is the analytic branch of I Know First, a financial startup company that specializes in quantitatively predicting the stock market. Joshua Martin, an I Know First Research analyst wrote this article. We did not receive compensation for this article (other than from Seeking Alpha), and we have no business relationship with any company whose stock is mentioned in this article.
Disclosure: The author has no positions in any stocks mentioned, and no plans to initiate any positions within the next 72 hours. The author wrote this article themselves, and it expresses their own opinions. The author is not receiving compensation for it (other than from Seeking Alpha). The author has no business relationship with any company whose stock is mentioned in this article.