"A dark horse which had never been thought of, and which the careless St. James had never even observed in the list, rushed past the grandstand in sweeping triumph"
--The Young Duke, Benjamin Disraeli, 1831
Many investors today remain understandably skeptical of the market rally. They look around and see a global economy that continues to struggle to gain traction more than five years after the worst of the financial crisis. They also see corporate fundamentals that give little cause for excitement and stock prices that are trading at less than attractive valuations. Yet despite these notable challenges, stocks remain persistent in pushing to the upside. As a result, investors may be on the look out for stocks that they can not only own to participate in any further market upside but also protect against downside when the next bear market finally arrives. While many investors are likely familiar with the well-known large cap names that fit the bill, the market also offers a select group of dark horse stocks that may also merit consideration.
WGL Holdings
WGL Holdings (NYSE:WGL) is the parent company of Washington Gas Light Company, which delivers natural gas to more than one million residential, commercial and industrial customers in the Washington, DC area. The utility has a market cap of just over $2 billion and offers a healthy 4.3% dividend yield. WGL is also a member of the S&P High Yield Dividend Aristocrat Index (NYSEARCA:SDY) having raised its dividend for 38 consecutive years. The stock recently broke out above a trading range that has been in place since mid 2011 and back into a higher range that first emerged in early 2013.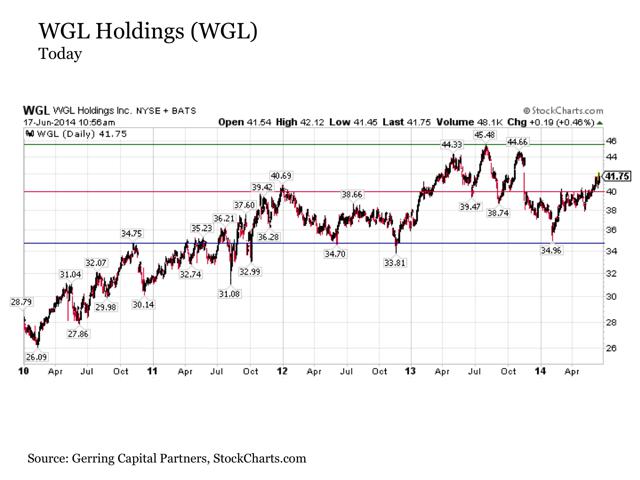 What is more notable about WGL, however, is its resilience during past major bear markets. During the 2007 to 2009 episode, it was never down more than single-digits save one brief flash lower during the market pullback in early October 2008. And while it has outperformed the S&P 500 Index (NYSEARCA:SPY) along the way, it has fallen back over the last year to levels that are more in line with the broader market over the entire experience.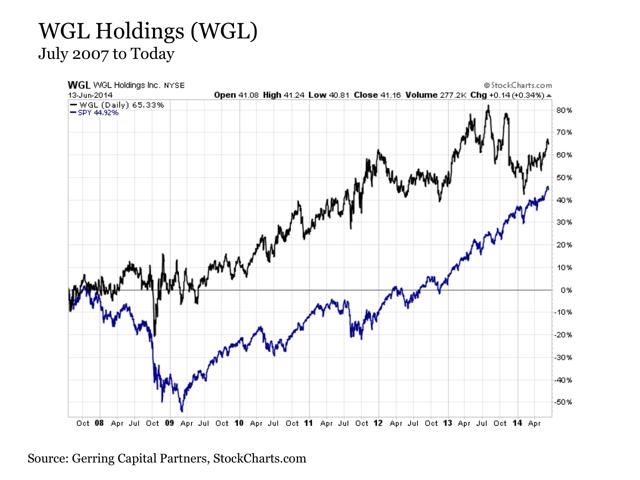 The performance of WGL during the bear market from 2000 to 2003 was also notable for its stability. At a time when the stock market was losing nearly half of its value over the course of nearly three years, WGL held steady with solid gains throughout much of the period and was never down more than roughly -5% with the exception once again of a fleeting drop in July 2002.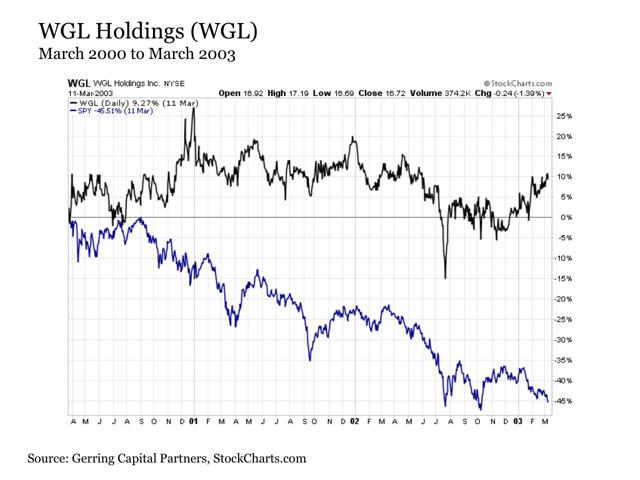 WGL Holdings is a high quality defensive company by the nature of its regulated utility business, which is borne out through its performance during recent major bear markets.
NW Natural
NW Natural (NYSE:NWN), which was until recently known as Northwest Natural Gas, is gas company with a 155-year history that is older than Oregon, the state in which it operates. The stock has a market cap of $1.2 billion and provides a solid 4.1% dividend yield supported by a payout that has been increased by the company for 58 consecutive years and counting. The stock is currently trading at the high end of its long-term trading range, but may be worth consideration on any pullbacks in the $39 to $40 range.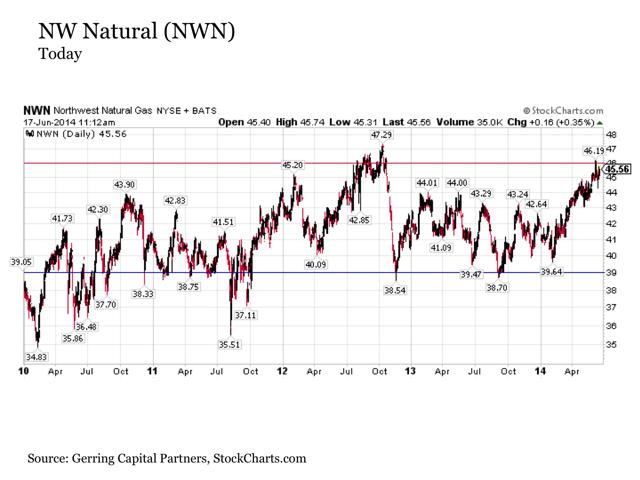 NW Natural also boasts a track record of strong bear market protection. While the stock did pullback with the broader market during the washout in late 2008 and early 2009, this merely represented a return of healthy gains registered throughout the first year of the crisis from July 2007 to September 2008. As a result, the stock experienced a maximum cumulative decline in value over the course of the bear market of just -10% before advancing higher. Moreover, whereas the stock was once well ahead of the pace of the broader market during the post crisis period, it is now trailing the market over the course of the entire episode following the strong stock market advance since the beginning of 2013.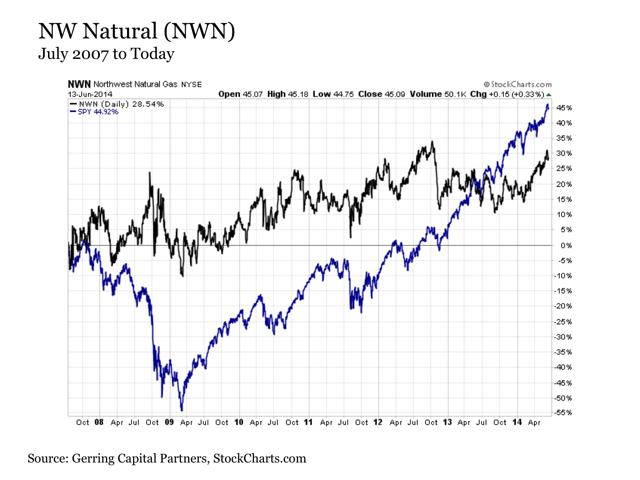 NW Natural was even more impressive during the 2000 to 2003 bear market. While the stock did experience short-term pullbacks along the way, it still managed to generate gains of nearly +70% at a time when the broader stock market was losing nearly half of its value.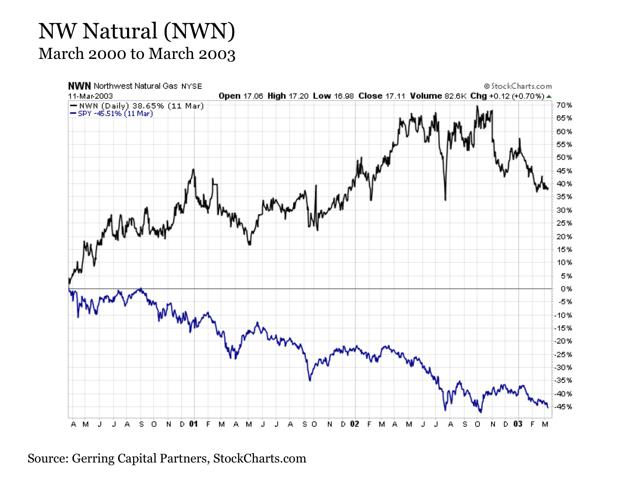 Much like WGL Holdings, NW Natural is another high quality defensive gas company that has demonstrated the ability to hold up well during extended periods of broader market stress.
Tompkins Financial
Tompkins Financial (NYSEMKT:TMP) is a regional community banking and financial services with an over 175-year operating history based in Ithaca, New York and with branches in both New York and Pennsylvania. Tompkins has a $710 million market cap, an attractive dividend yield of 3.4% and current valuations that are still at or below its long-term historical averages. The company also boasts 27 years of consecutive dividend increases that have come at a healthy 6.3% rate over the last decade. This is particularly impressive given the challenges faced by the broader financial services industry over this time period. The stock is currently trading above an upward sloping trendline that has been in place since early 2010 and may merit consideration on pullbacks to the $42 to $44 range.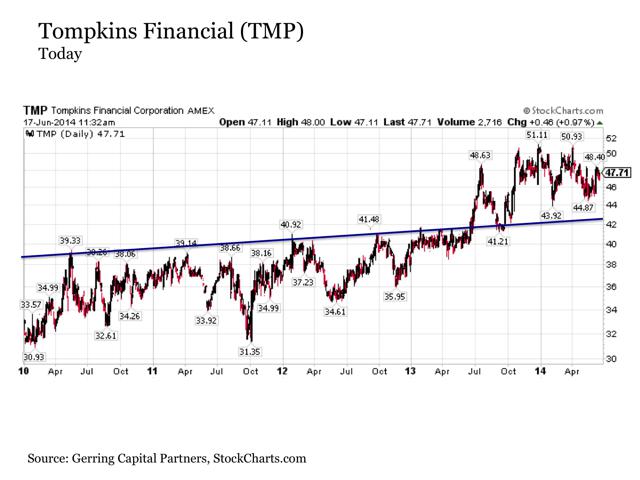 Tompkins' performance during past bear markets is notable. While it did endure some sharp short-term corrections during the 2007 to 2009 crisis period, on net in almost never fell into negative territory in terms of cumulative returns over the course of the entire bear market. And it has continued to perform solidly in the years since the crisis phase ended.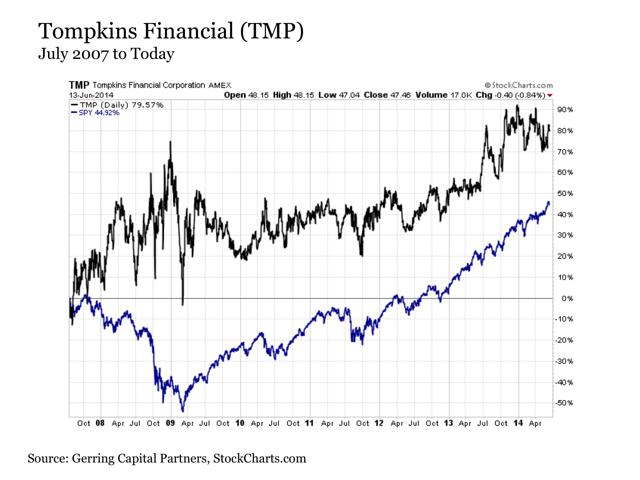 Tompkins was also stellar performer during the 2000 to 2003 bear market. For while the stock market was steadily falling in losing nearly half of its value, Tompkins was steadily rising in nearly doubling its value over the same time period.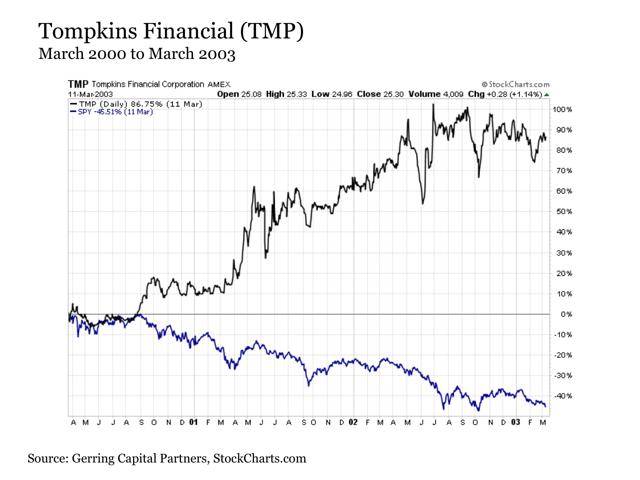 Tompkins Financial is a small regional banking firm that has a history of strong results during bear markets. Moreover, it is a name that is bound to get growing attention going forward from dividend growth investors given its lengthening track record of consecutive yearly dividend increases.
Weyco Group
Weyco Group (NASDAQ:WEYS) is a footwear company with a roster of well known and established brands including Florsheim, Nunn Bush, Stacy Adams, BOGS, Rafters and Umi. Weyco Group has a $295 million market cap and boasts current valuations on a price-to-book and a price-to-sales basis that are at discounts to its historical averages. In addition, the company offers a solid 2.8% dividend yield that is supported by a payout that has increased for 33 consecutive years and has quadrupled over the last decade. The stock broke out above an extended trading range in mid 2013 and is currently trading toward the mid to high end of this latest channel between $24.50 and $28.50 per share. Thus, the stock may warrant consideration on any pullbacks in the $24.50 to $25.50 range.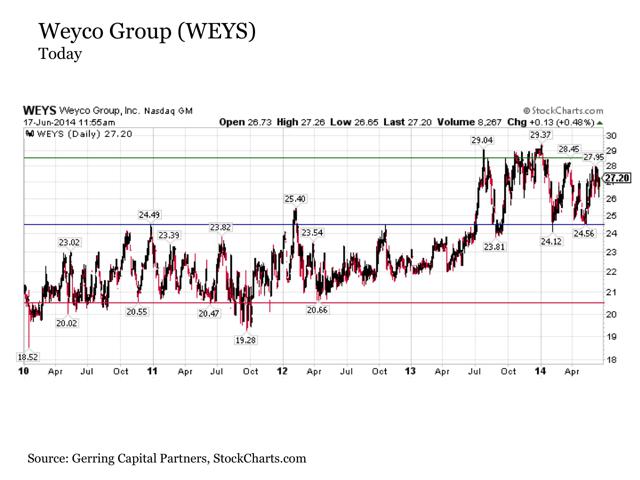 Weyco Group also has a favorable track record during past bear markets. Like many stocks, it took a hit during the decline in late 2008 and early 2009, but limited the maximum decline over the course of the entire 2007 to 2009 bear market to the -10% to -15% range. It is also notable that the stock has trailed the broader market since the beginning of 2013 when the latest round of Fed induced euphoria from QE3 got underway.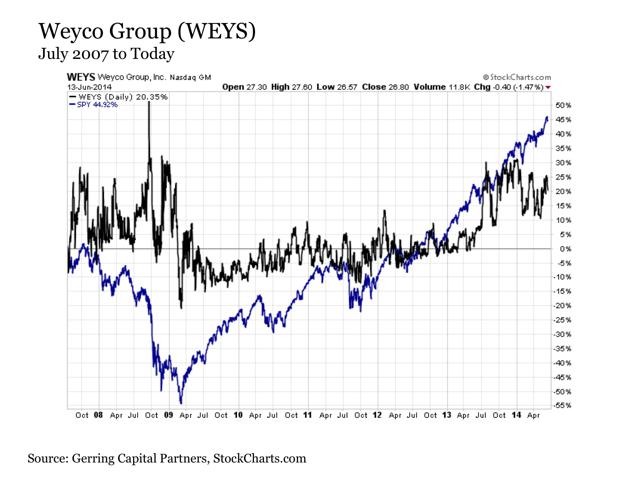 Weyco Group also picked up the slack during the 2000 to 2003 bear market. After generally subdued gains in the 0% to +10% range through early 2002, the stock exploded to the upside and nearly doubled in value in 2002 and into early 2003 at a time when the broader market was suffering its worst declines.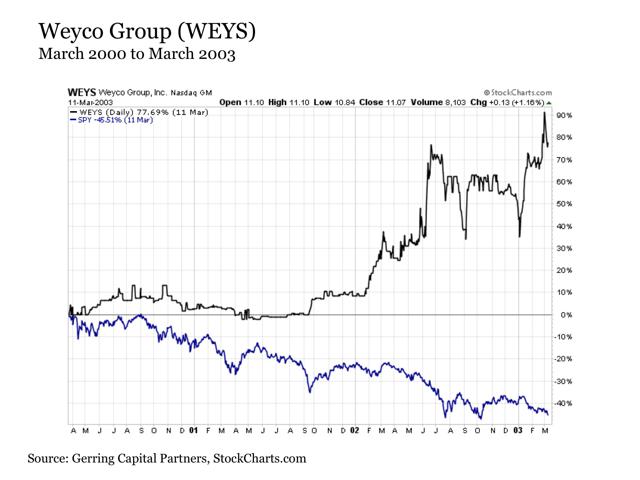 Weyco is a small footwear company that has shown big results during periods of market stress.
Bottom Line
WGL Holdings, NW Natural, Tompkins Financial and Weyco Group are all dark horse companies that despite their relatively small size boast high quality fundamental characteristics, attractive and growing dividends, reasonable valuations and the history of strong performance during past major bear markets. While there is no telling whether any of these companies will be able to repeat this resilience during the next major bear market, they may warrant consideration at the right price for those seeking further upside participation in the stock market while also seeking to protect against the downside.
Disclosure: This article is for information purposes only. There are risks involved with investing including loss of principal. Gerring Capital Partners makes no explicit or implicit guarantee with respect to performance or the outcome of any investment or projections made. There is no guarantee that the goals of the strategies discussed by Gerring Capital Partners will be met.
Disclosure: The author is long WGL. The author wrote this article themselves, and it expresses their own opinions. The author is not receiving compensation for it (other than from Seeking Alpha). The author has no business relationship with any company whose stock is mentioned in this article.
Additional disclosure: I am long stocks via the SPLV and XLU as well as selected individual names. I also hold a meaningful allocation to cash at the present time.