In my previous article on Apple (NASDAQ:AAPL), which was published prior to its quarterly earnings release, I stated that Apple shares were significantly undervalued and worth north of $650 (pre-split price). Investors buying into Apple at the time would have been rewarded with a 23.25% gain in the span of just over two months, against a 5.4% gain on the S&P 500.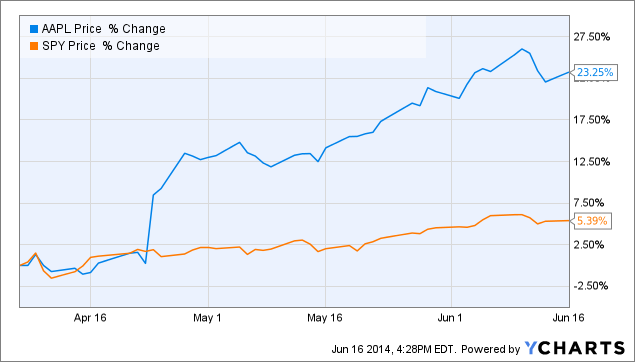 AAPL data by YCharts
My analysis was based on looking at a fairly pessimistic business case for Apple in which its revenues stayed fairly flat, while margins declined steadily due to competition. Apple has proven that the strength of its brand allows it to tide over a temporary lull in its product cycle, while generating pent-up demand for products in the pipeline. The iPhone 6 will expand Apple's reach in the large-screen phone market where it does not play at the moment, and gives Apple the flexibility to further lower its prices and thereby expand its addressable segments particularly in emerging markets.
As a result, I decided to update my valuation model for Apple to incorporate the likely outcomes for its existing business and account for Apple growing in line with the market (rather than underperforming it), to understand what the baseline value without any new products looks like. Here is the updated analysis based on its key product lines:
iPhone: The iPhone is the main driver of Apple's sales and profits. According to IDC, the smartphone market will reach 1.2 billion units in 2014, growing at a CAGR of 12.3% to 1.8 billion units by 2018.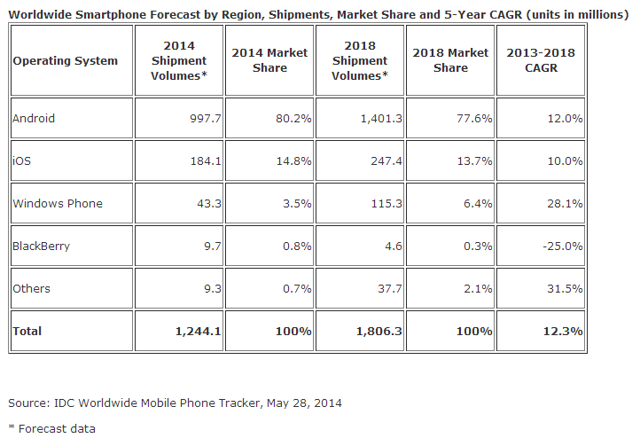 iPhone shipment volumes are estimated at 184.1M in 2014, growing to nearly 250M units by 2018. In my model, I use the IDC growth estimates for iPhone volumes at 10%. However, I do believe that ASPs and gross margins will continue to be pressured as Apple expands into emerging markets, and will decline 100 basis points per annum through 2020.
iPad: Tablets are reaching saturation particularly in developed markets, as the use cases between tablets and traditional PCs are becoming better defined. IDC recently lowered its 2014 tablet forecast for 2014 from 261 to 245M units, which now represents a YoY growth of 12%. Apple's share is forecasted to drop slightly from 30.3% in 2014 to 27.93% by 2018. Based on this I am expecting Apple to grow iPad sales by 8% per annum, to reach just north of 100M units by 2018. I am forecasting stable gross margins at 30%, but ASPs declining around 1% per annum as tablet volumes consolidate at the high end of the market as the low end gets cannibalized by phablets.
Mac: For 2014, IDC expects the PC market to shrink 6%. However, the decline is expected to slow in subsequent years as the market flattens out.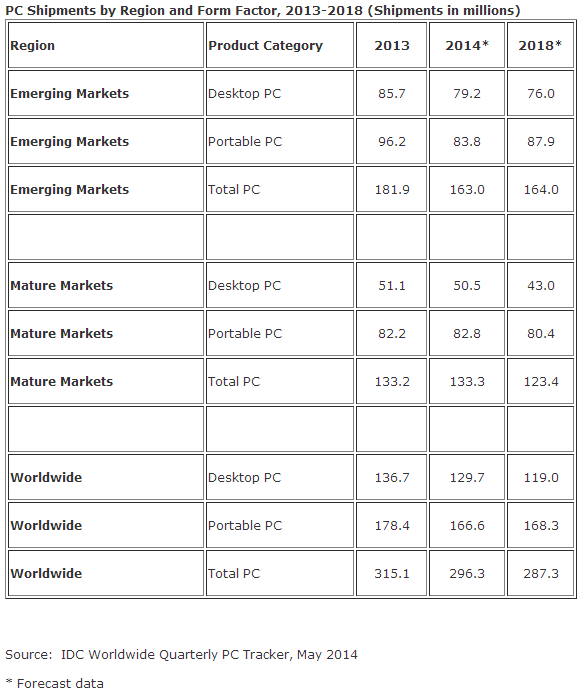 The Mac has been growing its share modestly in a declining PC market. Going forward, I expect Mac unit sales to decline 1%, more or less in line with the PC market, with ASPs also declining 1% per annum.
iPod: In my model I assume that iPod units decline 50% per annum, which basically means that there are very few units left and that it no longer drives Apple's valuation meaningfully.
iTunes and Accessories: I have raised my forecast for iTunes and accessories to 8% in line with unit growth. I think there is more upside on content sales, especially as Apple continues to grow its installed base. However, since these have relatively low gross margin (around 10%), the valuation is not very sensitive to revenue growth assumptions.
Here are my updated assumptions for unit volume and revenues by product line:

In my model, I am expecting Apple revenue to grow 7% per annum through 2020, primarily driven by iPhone sales. Note that this does not assume any growth in market share for iPhone and iPad, as well as revenue from any new products - those are all upsides from the model.
Valuation
Using these unit and margin assumptions, and my earlier discount rate of 10% and terminal growth rate of 2%, I arrive at a fair market value of $107 for Apple shares. These represent an upside of 16% to today's closing price, indicating that there is still some room for Apple to grow. More important, however, is the fact that the model does not incorporate any upside from new products - which make the shares pretty attractive. The complete valuation model is attached.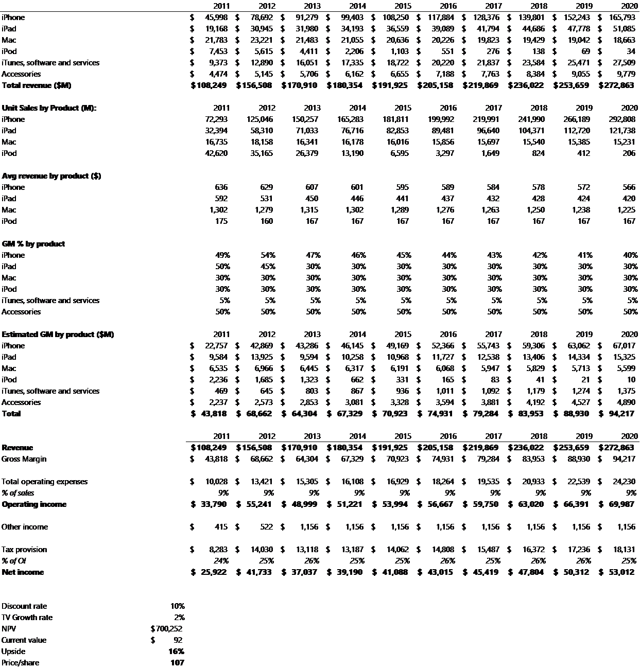 Summary
My analysis shows that there is around 15% upside left in the stock price at this point, along with essentially a free call option on future products. The risks remain the level of iPhone sales, and whether Apple can continue to maintain its extremely high gross margins on the iPhone into the future. iPhone gross margin is the most sensitive variable - if we assume decline of 200 basis points per annum, Apple would be fairly valued at the current price. Since this implies a 14 point reduction in margins from 2013 levels, I believe this scenario is rather unlikely. Apple is still a strong buy, though not the slam dunk it was two months ago.
Disclosure: The author is long AAPL. The author wrote this article themselves, and it expresses their own opinions. The author is not receiving compensation for it (other than from Seeking Alpha). The author has no business relationship with any company whose stock is mentioned in this article.