Hepatitis C is a liver virus affecting roughly 3.2 million people in the US. The virus is particularly prevalent among baby boomers, with over 2 million sufferers. Treatment is a rapidly growing multi-billion dollar market that is projected to expand to three times its 2012 level by 2018.
According to Bloomberg, analysts predict that the market will reach $100 billion in approximately ten years. Gilead Sciences (NASDAQ:GILD) saw the benefits of tapping into the market last quarter, when its profit tripled, thanks to a record $2.7 billion in sales for its new $1000 hepatitis C pill, Solvadi. It's also why Merck (NYSE:MRK) acquired Idenix Pharmaceuticals Inc. (NASDAQ:IDIX) earlier this month.
The list of companies developing hepatitis C medication includes the aforementioned big name firms, as well as smaller biotechs like Conatus Pharmaceuticals (NASDAQ:CNAT) and Achillion Pharmaceuticals (NASDAQ:ACHN). DuPont analysis reveals that Bristol-Myers Squibb (NYSE:BMY) has better sources of profitability than other companies currently developing hepatitis C medication. The formula which breaks down return on equity by analyzing financial leverage, profit margin, and total asset turnover shows that the pharmaceutical company's net profit margin and asset turnover both increased during the most recent quarter, while its financial leverage declined.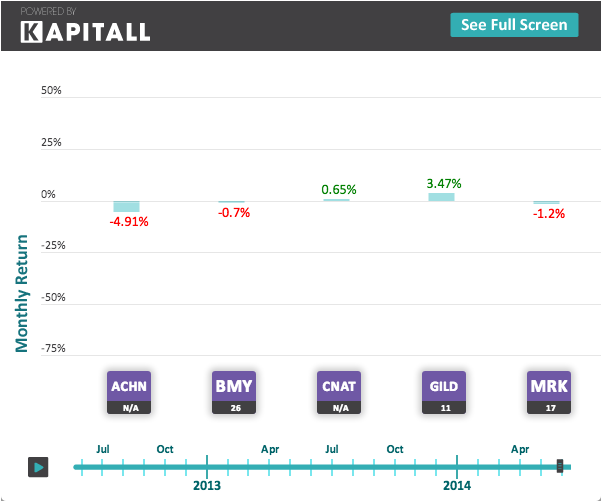 Click here for the full, interactive chart
During the first quarter of fiscal year 2014, Bristol-Myers's net profit margin stood at 24.59%, up from 15.9% a year earlier. Asset turnover rose to 0.114 from 0.107 in the prior-year period, and financial leverage fell to 2.16 from 2.633 a year ago.
Over the last twelve months, Bristol-Myers's EPS has grown 97.73% with respect to its EPS in the previous trailing twelve-month period. Meanwhile, the industry's EPS declined by -3.33% during the same time frame. In the first quarter of 2014, EPS grew 51.35% year-over-year to $0.46 per share from $0.37 per share, while the industry average for EPS growth during the same period was only 7.35%.
Bristol-Myers's growth is relatively recent, as the company's EPS has grown 0.01% over the last five years, compared to an industry average of 0.08%. A look at the company's key statistics shows that Bristol-Myers is projected to grow at a faster rate than the rest of its industry. The company's forward EPS long-term growth for the next three to five years is 14.38%, compared to an industry average of 8.0%. However, the projection for EPS growth next year of -5.06% comes in under the 8.48% industry average.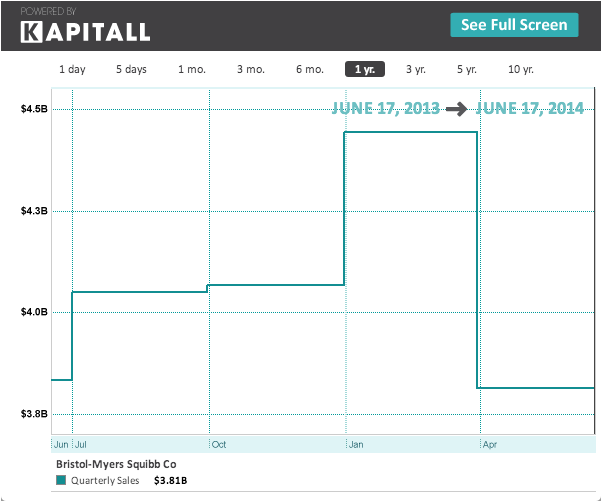 Click here for the full, interactive chart
Bristol-Myers's hepatitis C portfolio consists of the NS3 protease inhibitor, asunaprevir, and NS5A replication complex inhibitor, daclatasvir. Back in April, the company filed new applications with the FDA for approval for both drugs, which are to be used together to treat genotype 1b of hepatitis C. The daclatasvir application also seeks approval for usage with other hepatitis C drugs to treat other genotypes of the virus. If Bristol-Myers wins approval for both drugs, the company could see a huge uptick in sales, since the drugs are used in tandem. And if the FDA approves using daclatasvir with other hepatitis C medication, Bristol-Myers can gain access to a larger swath of patients.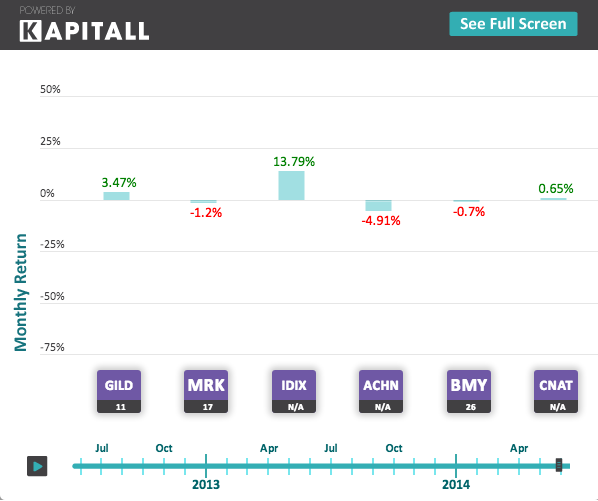 Click here for the full, interactive chart
Disclosure: The author has no positions in any stocks mentioned, and no plans to initiate any positions within the next 72 hours.
Business relationship disclosure: Kapitall is a team of analysts. This article was written by Mary-Lynn Cesar, one of our writers. We did not receive compensation for this article (other than from Seeking Alpha), and we have no business relationship with any company whose stock is mentioned in this article.