I have found some of my biggest winners have come from small cap stocks selling for less than $5 a share. These companies receive scant analyst coverage, and one must do the research to uncover hidden gems.
I personally look at myriad factors when analyzing the space. Insider buying is usually a positive clue that the company might have an upcoming catalyst and/or is undervalued. I also watch what the major hedge funds are buying as good starting points for additional research.
One of the other key skill sets needed to play the small cap area successfully is an innate understanding of when sentiment could be turning on a small cap stock. Sometimes, one sees small cap stocks that are bottoming after deep declines and/or picking up analyst upgrades or positive mentions in the press. These can be preludes to powerful near-term capital appreciation.
I recently parlayed my research and the turn in sentiment on GreenHunter Resources (NYSEMKT:GRH) into major gains. I highlighted this equity on Real Money Pro, when it was selling at just $1 a share on June 6th. Yesterday, I took profits at $1.70 a share, as stock has had massive rally since I profiled it, and no one ever went broke taking profits.
What led me to look at GreenHunter in the first place were some small insider purchases and a couple of analyst upgrades/price target raises.
After cratering in early March for a couple of months, I have noticed that the small cap biotech space has started to behave much better over the past few weeks. Here are a couple of speculative plays within the space that I believe have positive catalysts and where sentiment could continue to improve.
AVEO Oncology (NASDAQ:AVEO) is uses unique drug discovery and development approach called the Human Response Platform™. With this platform, it aims to translate cancer biology insights into next-generation therapeutics targeted to specific patients living with cancer who will benefit most. AVEO currently has two compounds in Phase I and Phase II studies.
This stock has been unmitigated disaster for almost two years, and the shares lost ~90% of its value before bouncing recently (See Chart).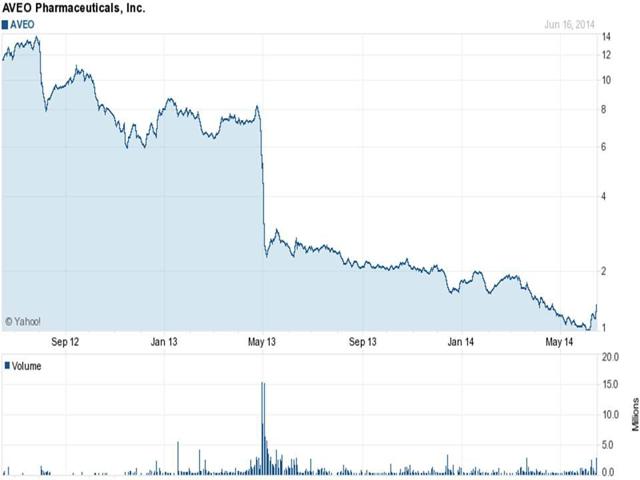 The main reason for the stock's decline has been the company has been unable to a couple of compounds successfully through phase trials. The company did recently sign a worldwide agreement with Biodesix, Inc. to develop and commercialize AVEO's hepatocyte growth factor inhibitory antibody, ficlatuzumab, with Biodesix's proprietary companion diagnostic test, VeriStrat®, a serum protein test that is commercially available to help physicians guide treatment decisions for patients with advanced non-small cell lung cancer.
As a standalone compound, ficlatuzumab failed to demonstrate efficacy in its recent Phase II clinical trial. It is hoped that the combination of the two products will have better results. Biodesix will fund the first $15 million for the new trials, and the companies will split any costs above this investment. This seems like advantageous to AVEO, as it should lower cash burn and it sounds like a good strategic partnership. AVEO will split the profits on any commercial product that comes out of this transaction.
More importantly, billionaire Seth Klarman's hedge fund has an 8% stake in AVEO. Klarman recently took an almost 40% stake in Idenix Pharmaceuticals (NASDAQ:IDIX), just before it was bought out by Merck (NYSE:MRK) for better than a 200% premium. Finally, the stock is selling for less than the net cash it has on its books. At current burn rates, the company should be able to get through mid-2015 before needing to raise additional capital. Hopefully, the company gets a compound through to approval or is bought out before that time. The stock goes for much less than the $6 to $8 insiders were buying stock at in late 2012 and early 2013.
The second speculative biotech where sentiment seems to be improving is Progenics Pharmaceuticals Inc. (NASDAQ:PGNX). The shares were cut in half earlier this year amidst the huge pullback in the small biotech sector, but the stock has bounced over the past few weeks.
Like AVEO, it is a small player in biotech space, with several compounds in development. The company has about $25mm in annual revenues and is posting some losses. In addition, it has net cash of over $90 million in net cash, which is approximately ~35% of its market capitalization.
The stock currently goes for just over $4.50 a share. As befitting its market capitalization, Progenics receives scant analyst coverage. Only two analysts have price targets on the stock currently. One analyst is at $8 a share on PGNX, the other is at $11 a share. The stock was upgraded over at Needham in February. Jonathan Aschoff at Brean Capital, a four star-ranked analyst according to TipRanks, is also positive on the shares. His outlook was highlighted on Barron's last Friday.
NOTE: When it comes to the small biotech/biopharma space, I believe it is prudent to practice what I call "Shotgun Investing." This area has more volatility than just about any other sector in the market. Therefore, I buy much smaller stakes across a greater amount of stocks to mitigate some of the risk and volatility from allocating funds to this space. The fact is there are going to be "blowups" within your small biotech/biopharma portfolio more than any other sector. This will be made up for hopefully by the occasional five or ten-bagger these investments can return when things go right.
Disclosure: The author is long AVEO, PGNX. The author wrote this article themselves, and it expresses their own opinions. The author is not receiving compensation for it (other than from Seeking Alpha). The author has no business relationship with any company whose stock is mentioned in this article.
Editor's Note: This article covers one or more stocks trading at less than $1 per share and/or with less than a $100 million market cap. Please be aware of the risks associated with these stocks.