Background
On January 27, 2014, Rayonier Inc. (NYSE:RYN) announced plans to separate, by means of a spin-off, its performance fibers business, Rayonier Advanced Materials Inc. (NYSE:RYAM), from its forest resources and real estate businesses.
Post-separation, RYAM will be the world's largest producer of high-value specialty cellulose fibers, which are used in a variety of products, including cigarette filters, liquid crystal displays, thickeners for food products, pharmaceuticals, personal care products, cosmetics, impact-resistant plastics, and food casings.
Each RYN shareholder will receive one share of RYAM common stock for every three RYN common shares held on June 18, 2014, the record date for the distribution. The distribution will be effective on June 27, 2014.
Is RYAM an interesting prospect?
RYN's current CEO, Paul G. Boynton, certainly thinks so as he is leaving RYN to become the Chairman, President and CEO of its spin-off, RYAM, along with 5 other RYN board members. Paul Boynton spoke about RYAM's strengths in a recent presentation given on June 10, 2014. Reviewing the presentation and RYAM's most recent Form 10 filing we believe RYAM displays many of the characteristics we look for in a high quality business:
High return on capital: We calculate RYAM's return on capital is around 29% compared with 6.4% for RYN post-separation. This distribution certainly uncovers a higher yielding business.
Market leadership: RYAM has long been the world leader in the production of high purity specialty cellulose fibers with its sales volume over 2x greater than its nearest competitor.
High barriers to entry: With more than 85 years of experience, RYAM has developed the proprietary knowledge required to achieve its customers' exacting specifications.
Stable and growing market: RYAM estimates the global cellulose market demand is growing at 3% or 45,000 to 50,000 metric tons a year.
Re-investment opportunities: RYAM is able to capture more market share by investing in additional capacity. It successfully completed a USD385 million project to expand capacity by approximately 190,000 metric tons in June 2013. This incremental capacity is expected to increase EBITDA by USD150 million by 2018 when fully sold.
Strong financial profile: RYAM generated USD1.0 billion in sales and USD286 million in operating income for the year ended December 31, 2013. Cash flows from operations have been in excess of USD255 million annually over the past three years.
Balanced capital structure: Post separation, RYAM is expected to have a net debt of approximately USD1.0 billion, a net debt/LTM EBITDA ratio of around 3.0x and a credit rating of BB+/Ba2.
Is RYAM priced attractively at the moment?
Even though RYAM is a good business, we only consider an investment if the entry price is also attractive. Often spin-offs can create such opportunities as a superior business can be hidden within the combined entity.
Pre-separation, RYAM's valuation is still embedded within its parent. Comparing RYN's share price performance against two peers, Weyerhaeuser (NYSE:WY) and Plum Creek Timber (NYSE:PCL), shows a year-to-date outperformance of approximately 15% per the share price graph below.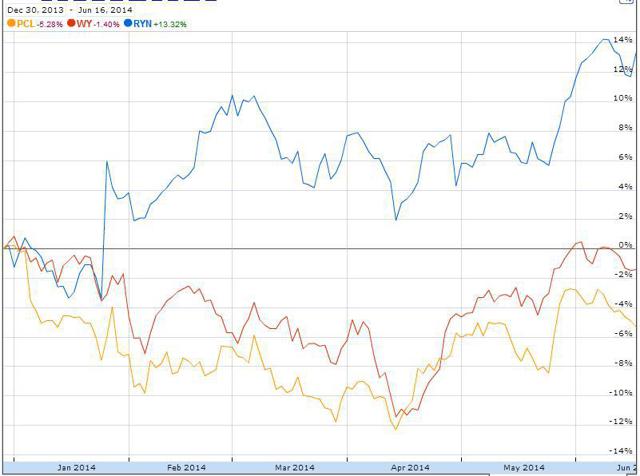 (Source: Google Finance)
Though this could be due to a number of factors, most of this outperformance can be attributed to a 10% spike on January 27, 2014. This so happens to be the date that the spin-off was announced (along with full year 2013 results) implying RYN's share price already reflects a large portion of any potential upside.
However, applying a target EBIT/enterprise value of 10%, we calculate that RYAM remains an attractive purchase below a post-separation share price of USD45. At the market close on June 16, 2014, RYAM's "when issued" share price was USD40.65 implying a further 10% plus upside is possible before the margin of safety narrows considerably.
Conclusion
We can fully understand why RYN's CEO and 5 other board members decided to join its spin-off, RYAM. The spin-off unlocks a business with a much higher return on capital than its post-separation parent. Though RYN's share price has outperformed two peers by approximately 15% year-to-date, we estimate RYAM's current "when issued" share price of USD40.65 still presents an attractive entry point. Above USD45 per RYAM share, we calculate the margin of safety narrows considerably. However, this still offers a further 10% plus upside.
Disclaimer: Opinions expressed herein by the author are not an investment recommendation and are not meant to be relied upon in investment decisions. The author is not acting in an investment advisor capacity. This is not an investment research report. The author's opinions expressed herein address only select aspects of potential investment in securities of the companies mentioned and cannot be a substitute for comprehensive investment analysis. Any analysis presented herein is illustrative in nature, limited in scope, based on an incomplete set of information, and has limitations to its accuracy. The author recommends that potential and existing investors conduct thorough investment research of their own, including detailed review of the companies' SEC filings, and consult a qualified investment advisor. The information upon which this material is based was obtained from sources believed to be reliable, but has not been independently verified. Therefore, the author cannot guarantee its accuracy. Any opinions or estimates constitute the author's best judgment as of the date of publication, and are subject to change without notice.
Disclosure: The author has no positions in any stocks mentioned, but may initiate a long position in RYN over the next 72 hours. The author wrote this article themselves, and it expresses their own opinions. The author is not receiving compensation for it (other than from Seeking Alpha). The author has no business relationship with any company whose stock is mentioned in this article.