The following is a list of companies approaching an inflection point, based on moving average trends. For this article, we define an inflection point as the convergence between the 50-day and 200-day moving averages.

When these two moving averages cross, it often represents a shift in investor sentiment. If the 50-day MA moves above the 200-day MA (bullish), it's called a "Golden Cross" signal.

All of the stocks in this list have seen a Golden Cross signal over recent sessions. In addition, all of these companies have solid financial strength, as defined by the most recent quarter's quick ratio and interest coverage ratio (when compared to industry averages).

Moving average data sourced from Finviz, industry comps sourced from Reuters.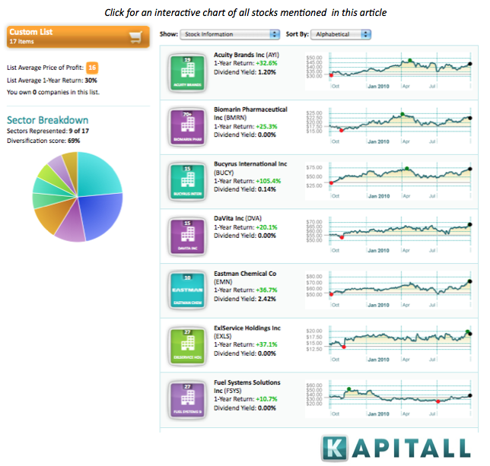 The list has been sorted alphabetically.

1. Acuity Brands, Inc. (NYSE:AYI): Home Furnishings & Fixtures Industry. Market cap of $1,894B. SMA50 at $40.58 vs. SMA200 at $40.28 (price at $43.49). MRQ Quick Ratio at 1.66 vs. industry average at 1.21. MRQ Interest Coverage Ratio at 6.12. The stock has gained 35.78% over the last year.

2. BioMarin Pharmaceutical Inc. (NASDAQ:BMRN): Biotechnology Industry. Market cap of $2,277B. SMA50 at $21.20 vs. SMA200 at $20.79 (price at $22.31). MRQ Quick Ratio at 5.22 vs. industry average at 2.13. MRQ Interest Coverage Ratio at 3.18 vs. industry average at 2.83. The stock has gained 24.57% over the last year.

3. Bucyrus International Inc. (NASDAQ:BUCY): Farm & Construction Machinery Industry. Market cap of $5,800B. SMA50 at $62.14 vs. SMA200 at $59.62 (price at $71.60). MRQ Quick Ratio at 1.30 vs. industry average at 1.01. MRQ Interest Coverage Ratio at 16.15 vs. industry average at 0.21. The stock has gained 109.85% over the last year.

4. DaVita, Inc. (NYSE:DVA): Specialized Health Services Industry. Market cap of $6,913B. SMA50 at $63.11 vs. SMA200 at $62.51 (price at $67.38). MRQ Quick Ratio at 1.96 vs. industry average at 0.87. MRQ Interest Coverage Ratio at 4.41 vs. industry average at 1.2. The stock has gained 20.34% over the last year.

5. Eastman Chemical Co. (NYSE:EMN): Chemicals Industry. Market cap of $5,235B. SMA50 at $62.57 vs. SMA200 at $60.67 (price at $72.46). MRQ Quick Ratio at 1.44 vs. industry average at 0.65. MRQ Interest Coverage Ratio at 3.76 vs. industry average at 0.14. The stock has gained 40.78% over the last year.

6. Exlservice Holdings, Inc. (NASDAQ:EXLS): Business Services Industry. Market cap of $553M. SMA50 at $17.85 vs. SMA200 at $17.61 (price at $18.91). MRQ Quick Ratio at 3.76 vs. industry average at 2.19. MRQ Interest Coverage Ratio at 1.74 vs. industry average at 0.46. The stock has gained 36.83% over the last year.

7. Fuel Systems Solutions, Inc. (NASDAQ:FSYS): Auto Parts Industry. Market cap of $682M. SMA50 at $32.87 vs. SMA200 at $32.86 (price at $38.69). MRQ Quick Ratio at 1.54 vs. industry average at 1.20. The stock has gained 13.1% over the last year.

8. Halliburton Company (NYSE:HAL): Oil & Gas Equipment & Services Industry. Market cap of $29,411B. SMA50 at $29.89 vs. SMA200 at $29.42 (price at $32.41). MRQ Quick Ratio at 2.24 vs. industry average at 0.94. MRQ Interest Coverage Ratio at 16.29 vs. industry average at 5.70. The stock has gained 22.77% over the last year.

9. Methanex Corp. (NASDAQ:MEOH): Specialty Chemicals Industry. Market cap of $2,238B. SMA50 at $22.40 vs. SMA200 at $22.20 (price at $24.27). MRQ Quick Ratio at 1.76 vs. industry average at 1.08. MRQ Interest Coverage Ratio at 1.50. The stock has gained 39.48% over the last year.

10. NewMarket Corp. (NYSE:NEU): Specialty Chemicals Industry. Market cap of $1,584B. SMA50 at $103.79 vs. SMA200 at $102.83 (price at $110.07). MRQ Quick Ratio at 1.72 vs. industry average at 1.08. MRQ Interest Coverage Ratio at 13.47. The stock has gained 23.7% over the last year.

11. Oracle Corp. (NASDAQ:ORCL): Application Software Industry. Market cap of $135,481B. SMA50 at $24.1 vs. SMA200 at $24.09 (price at $26.95). MRQ Quick Ratio at 2.18 vs. industry average at 2.03. MRQ Interest Coverage Ratio at 14.28. The stock has gained 30.32% over the last year.

12. Plantronics, Inc. (NYSE:PLT): Processing Systems & Products Industry. Market cap of $1,591B. SMA50 at $29.59 vs. SMA200 at $29.41 (price at $33.38). MRQ Quick Ratio at 6.06 vs. industry average at 1.3. MRQ Interest Coverage Ratio at 25.77. The stock has gained 31.31% over the last year.

13. Southern Copper Corp. (NYSE:SCCO): Copper Industry. Market cap of $29,776B. SMA50 at $31.09 vs. SMA200 at $30.17 (price at $35.03). MRQ Quick Ratio at 4.87 vs. industry average at .37. MRQ Interest Coverage Ratio at 7.18 vs. industry average at -0.04. The stock has gained 22.74% over the last year.

14. Superior Energy Services Inc. (NYSE:SPN): Oil & Gas Equipment & Services Industry. Market cap of $2,086B. SMA50 at $23.52 vs. SMA200 at $22.70 (price at $26.47). MRQ Quick Ratio at 2.30 vs. industry average at 0.94. MRQ Interest Coverage Ratio at 7.86 vs. industry average at 5.70. The stock has gained 25.33% over the last year.

15. Waters Corp. (NYSE:WAT): Scientific & Technical Instruments Industry. Market cap of $6,521B. SMA50 at $65.01 vs. SMA200 at $64.89 (price at $70.85). MRQ Quick Ratio at 3.09 vs. industry average at 1.36. MRQ Interest Coverage Ratio at 30.34 vs. industry average at 1.77. The stock has gained 29.36% over the last year.

16. Woodward Governor Co. (NASDAQ:WGOV): Industrial Electrical Equipment Industry. Market cap of $2,080B. SMA50 at $28.69 vs. SMA200 at $28.67 (price at $30.38). MRQ Quick Ratio at 1.63 vs. industry average at 0.26. MRQ Interest Coverage Ratio at 6.98 vs. industry average at 0.01. The stock has gained 31.12% over the last year.

17. Warnaco Group Inc. (WRC): Apparel Clothing Industry. Market cap of $2,232B. SMA50 at $43.68 vs. SMA200 at $43.36 (price at $50.10). MRQ Quick Ratio at 1.47 vs. industry average at 1.34. MRQ Interest Coverage Ratio at 6.26 vs. industry average at 0.74. The stock has gained 17.94% over the last year.

Disclosure: No positions