Abstract
This article is part II of a series of articles discussing the explosive electric vehicle (EV) market of China and companies that are well positioned to reap the huge benefits. If you have not read part I "How China Has Become The Favorite Country For Electric Vehicle Companies," please do so before moving on, to get a good background on this fast growing EV market, which prompted companies like BMW and Tesla to predict China will become the world's largest EV market by 2019.
Part II gives readers a brief background on Kandi and Tesla then immediately delves into the latest developments of Kandi JV, without covering the car-sharing (aka CarShare) program in depth because there are already so many articles on that subject. Readers who are new to Kandi are recommended to view the video "The Kandi Machine -- China's Sweet Pollution Solution" by Aaron Rockett and read "Kandi Crush: An Electric-Car Vending Machine From China Could Upend The Auto Industry" by Mark Rogowsky.
Kandi Technologies Group is a Nasdaq listed (NASDAQ:KNDI) China based leader in Pure Electric Vehicle (PEV) technology and production. As you will learn by the end of this article, its current dominant position is currently uncontested. Nasdaq traded Tesla (NASDAQ:TSLA) while not so uncontested, is on track to be the dominant producer in most of the rest of the free world for higher priced EV, has now also entered the China market but with high end consumers as its target.
The Humble Beginnings
Tesla and Kandi both had humble beginnings. Tesla had minimal success selling 2,300 of its $100,000 Roadster EVs between 2008 and 2012, even though the Roadster was the first production EV to travel more than 200 miles per charge and won the Federation Internationale de l'Automobile-sanctioned championship. Note that Tesla does have plans to upgrade the Roadster by year end.
In June 2012, Tesla released the Model S. The car has won awards such as the 2013 World Green Car of the Year, 2013 Motor Trend Car of the Year, Time Magazine Best 25 Inventions of the Year 2012 award and Consumer Reports' top-scoring car ever. The Tesla name got noticed, sales began to pick up and Tesla stock was up almost tenfold in less than six months after trading in a narrow range for over two years.
Unlike Geely (OTCPK:GELYY, 00175.HK), which owns Volvo and is the leading gas-powered passenger car manufacturer in China, Kandi was relatively unknown to most Chinese even though Kandi's stock has been traded on Nasdaq since 2007. Kandi began to get noticed when it announced a 50:50 joint EV venture with Geely in March 2013 to build CarShare (aka Micro Transport) garages for the city of Hangzhou. When the first few CarShare garages opened up in Hangzhou last year, Kandi and Geely have garnered headlines and praises all over the world. With just the Hangzhou's CarShare project, Kandi JV has already become the leader in PEV production at the end of last year. When Kandi JV launched its group car leasing program and delivered over 700 EV to Xiangshan community residents, headlines once again were made all over China. Kandi JV's EV are nicknamed micro buses by the Chinese.
Kandi's Business Transformation
Kandi's traditional core business is designing, developing, manufacturing and commercializing all-terrain vehicles ("ATVs"), go-karts, three-wheeled motorcycles and other specialized vehicles. Several years ago, the company saw a huge opportunity in the PEV market so it decided to enter. Kandi initially funded PEV R&D with the profits it made from the traditional business. The effort was led by Kandi's General Manager and CEO Xiaoming Hu. Mr. Hu is not just a visionary, but also a "Disruptor" with over twenty years of experience with EV technology and personally possessed over 11 EV patents before he transferred those patents to Kandi Technologies.
In early 2012, Hu saw a huge opportunity in electric car sharing and how it could help reduce pollution and traffic problems. He has met and worked with a number of Chinese city governments, including Hangzhou, Shanghai, Hainan, Shandong and Jiangsu. Hard work has paid off with pilot programs awarded by the city of Hangzhou, and most recently Shanghai.
Kandi and Geely Joint Venture
On February 1, 2013, the Company's wholly owned subsidiary, Zhejiang Kandi Vehicles Co., Ltd. ('Kandi Vehicles') has signed a cooperation framework agreement with Shanghai Maple Guorun Automobile Co., Ltd. ('Shanghai Maple'), a 99% owned subsidiary of Geely Automobile Holdings Ltd. (Hong Kong Stock Exchange, Stock Code: 175) ('Geely Auto'), to establish a joint venture company, named Zhejiang Kandi Electric Vehicles Investment Co., Ltd. ('JV Company') to engage in the investment, research and development, production, marketing and sales of electric vehicles in China . The goal for the JV Company is to implement Public EV sharing systems.
The JV Company also announced the two car models to be delivered to the CarShare vertical parking and charging facilities in Hangzhou. The SMA7000BEV is an updated version of Kandi's JNJ6290, while the SMA7001BEV is remodeled based on Geely's popular Panda vehicle. These cars are priced approximately US$10,000 and US$14,000, respectively. Both models receive $7200 subsidy from the Central government, plus local subsidies where applicable. There is speculation of new or upgraded models to be released by the Kandi JV, as Mr. Hu confirmed at the annual meeting that "there are also other models from Geely that are in the process of being remodeled," in addition to the SMA7001BEV.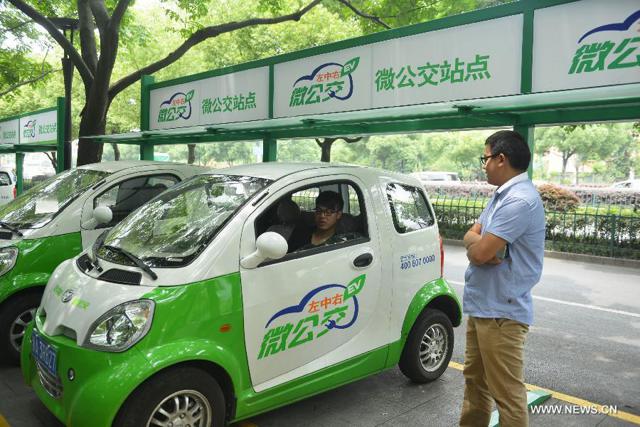 A man is trying out Kandi's SMA700BEV at a "flat" CarShare location (Source: News.cn)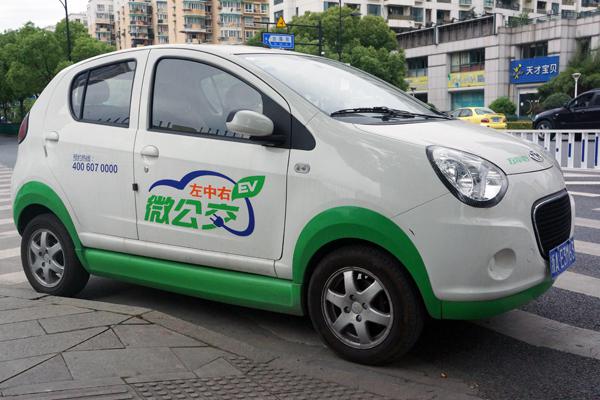 Kandi's SMA7001BEV based on Geely's popular Panda (Source: cheyun.com)
Progress On Hangzhou's CarShare Program
After the Kandi JV launched its CarShare service (aka Micro-Bus Rental or Micro Public Transport) late last year and made bold headlines all over the world, "Hangzhou CarShare program has been progressing slowly due to the involvement of the State Grid, China Aviation Lithium Battery Co., Ltd. and other related parties," said Xiaoming Hu, Kandi CEO. Mr. Hu began to focus on adding rental stations in public parking lots, hotels, department stores and high-speed train stations. To date, Kandi JV has officially signed with several hotels including Dragon Hotel, Flower Port HNA Resort, Hillview Hotel, and is reaching agreement with more hotels in Lake District, bringing the total hotel number to twenty. ChinaEV.org reported on June 4 that there are currently 23 CarShare locations in operation, including seven multi-level garages and sixteen "flat" or single-level locations.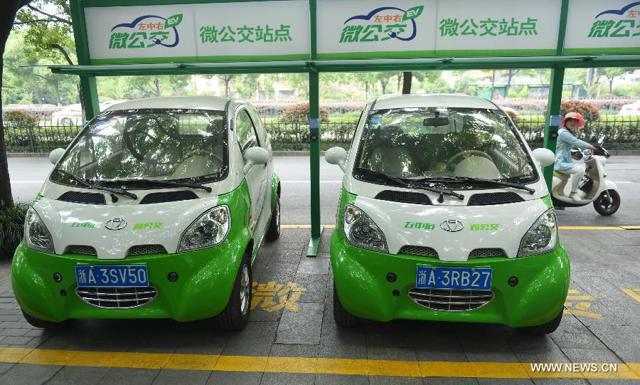 A "flat" (single-level) CarShare location in Hangzhou (Source: News.cn)
Hangzhou CarShare business has picked up dramatically since the city imposed new license plate restrictions effective March 26, requiring that car owners can either bid for a plate or try to win one in a lottery system. More than 238,600 people signed up for the first license plate lottery and bidding, chasing 5,866 plates. The average bidding price of Hangzhou car plates was US$3,112. From May 2014 to May 2015, Hangzhou only distributes 80,000 plates to individuals and enterprises. Under the new rules, one resident can only own one plate, and a used car can only be sold once.
It costs US$3.25 per hour for a two-seater EV and US$4 for a four-seater. For frequent renters and commuters, membership card, monthly rental system, annual rent system, home charging lines are also available. Hangzhou now has 102 public charging sites.
Despite slower progress than originally planned, Kandi JV has already produced 6755 EV for Hangzhou CarShare project, and still plans to roll out a total of 100,000 cars in Hangzhou alone over the next four to five years. Manufacturing capacity will not be a problem in that current capacity is already in excess of 250,000 units with an additional 300,000 units targeted in new construction contracted in three additional Provinces; all to be completed by the end of 2015.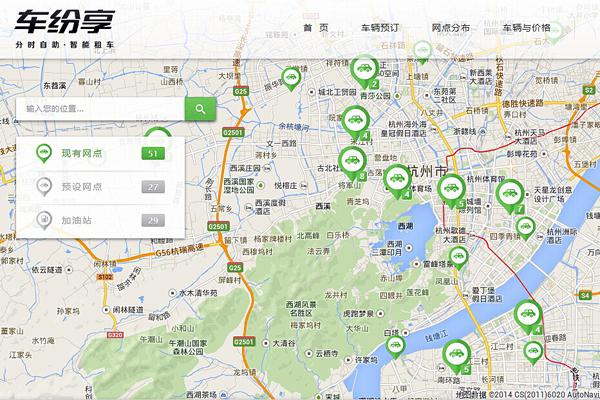 A partial AutoNavi map showing CarShare locations in Hangzhou (Source:cheyun.com)
Car-Leasing Pilot Program Launched
Kandi JV officially launched its car leasing services via the group leasing model. Zhejiang Daily reported on May 28, Kandi delivered 707 white and green Kandi PEV to thrilled Xiangshan community residents who signed up for the three-year, effectively free lease. Under this new program, amazingly the residents only have to pay an initial deposit of US$160, along with US$588 insurance. (How many China consumers do you think would have an interest in getting an EV for free?) The fee includes Quick Battery Exchange, conventional charging and maintenance. KNDI can do this very profitably because of its low cost vehicle that effectively equates to the combined State and local city subsidies. The company went as far as adding additional parking spaces for the Xiangshan community.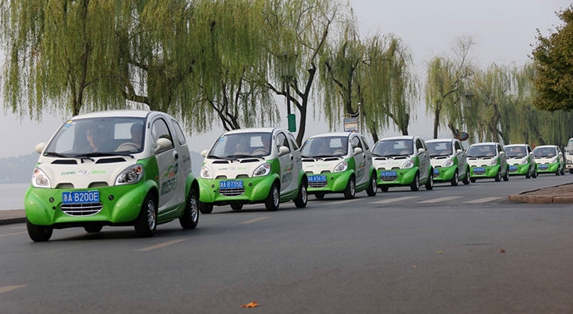 Kandi's SMA7000BEV Fleet (Source: Kandi)
Based on Mr. Hu's remarks at the ceremony, the car leasing program is designed to complement the CarShare project, not compete against it. The program is aimed at daily commuters, suburban and rural residents, large government entities and corporations. What this means is there is virtually no competition between the CarShare and the car leasing programs. The timing of launching the group rent program could not be better. As Hangzhou began to restrict residents from obtaining license plates as mentioned earlier, the demand for micro-bus rental has increased tremendously, and so will the car leasing demand. Hundreds of thousands of Hangzhou residents who cannot buy cars will have to either buy an EV or lease them. In addition, Hangzhou's widely anticipated subsidy announcement this month will effectively inject steroid into these programs, especially the car leasing program.
June 15 afternoon, Yao Hao became the second community to get group leasing services from Kandi JV. It plans on providing group leasing services to an additional 10 communities in Hangzhou this year. Communities on the waiting list include Gu Dang, Ding Qiao and Linpuzhen. To show you the potential of this program in just Hangzhou alone, check out these comments attributed to Kandi CEO, Hu in a recent China media interview:
"…This is to explore the new business models for the development of pure electric vehicle', Candi, EV Group President Herman Hu Shao-ming told the science and technology daily, city electric car development is positioning. Our way to urban public transport, combining long-term leasing and leased for a short time, crack electric car development obstacles. This mode can make vehicles going back and changing transportation habits, improve vehicle efficiency, opened a new mode for the development of new energy vehicles, to Hangzhou green transportation, low carbon living offers more choices.

Condit electric vehicle jointly developed by Geely and Condit auto group. Condit EV group plans to build 10 electric vehicle demonstration communities in Hangzhou this year, promoting EV of about 25,000 vehicles, will invest more than 2 billion yuan of funds for that purpose…"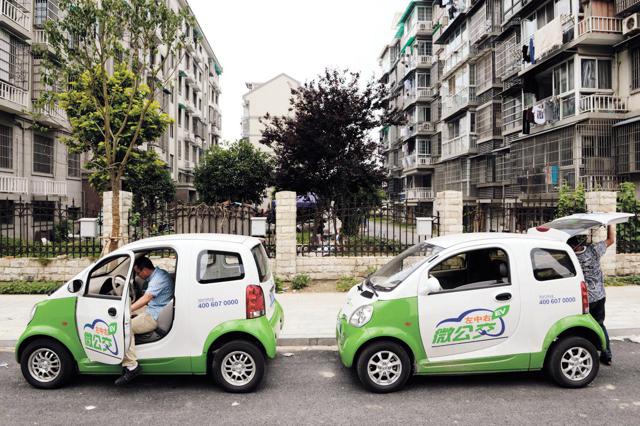 Two electric cars are parked on the road outside Xiangshan Community where charging facilities are installed (Source: HiCenter.cn)
Shanghai's Car Sharing Pilot Program
On April 14, 2014, Kandi announced that it was rewarded with a pilot project to provide 3000-5000 PEVs to Jinshan District of Shanghai by the end of this year. The press release reads "Mr. Jing Ma was satisfied with Kandi Shanghai that it had completed the facility construction and launched the scaled production within a short period" clearly indicates that the garage construction project has already been started long before the announcement.
Shanghai is the largest city of China with a population of 21 million. In comparison, Hangzhou has an urban population of just over 6 million. Shanghai and Hangzhou both are among the most visited cities by tourists. Jinshan is in the southwest of Shanghai, north of Hangzhou Bay and has a population of 800,000, including 9 towns, 1 sub-district and a municipal-level. It's at the economic center of the Yangtze River Delta region.
If the pilot program in Jinshan proves to be successful, and there is no reason to doubt that, Kandi would go on and provide CarShare and car leasing programs to other Shanghai districts. Shanghai already announced its subsidy program.
Sequential Production Increase In Q2
EV manufacturing activities have picked up substantially in Q2. Kandi JV produced 1536 cars in April and 1565 in May, again staying at the top. The total for the two months already exceeds 2511 cars produced in Q1. Kandi only reported 12.2 million in revenue for Q2, 2013 on sales of 632 EV. Last quarter, it reported 40 million in revenue. Q2, 2014 looks to be another big quarter on a year-over-year basis with quarter to quarter up 300% and half to half up over 250%.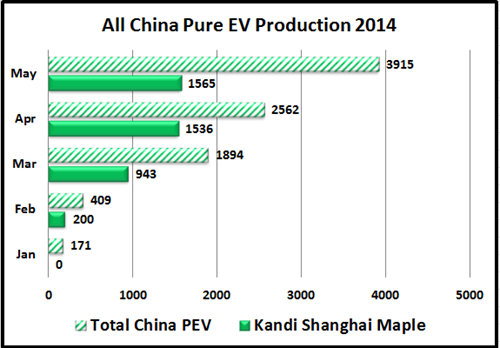 Conclusion - Why Kandi Is So Sweet
Tesla began to sell the model S sedan in China recently. Last month it delivered an impressive 532 EVs. With a price tag north of US$120K, Tesla is selling its cars to the Chinese millionaires and a few upper middle class households. Good news for Tesla, Wall Street Journal reported that China had 2,378,000 millionaire households in 2013, a rise of 82% from the previous year. On the other hand, Kandi's potential customer base is the middle-income earners who make up 54% of the Chinese urban population, plus another 14% upper middle class. With China's population over 1.35 billion, Kandi has 920 million potential customers. Six big China cities already impose vehicle license restrictions and more and more cities are following, leasing becomes a viable option. Market potential in China is huge for Kandi JV, it has no immediate need to look for costly international expansion like Tesla.
Although Kandi saw explosive growth over the last two quarters, Tesla price to sales ratio (PS) is over 3 times Kandi's PS; and Tesla's market cap is nearly 40 times larger than Kandi. With strong growth expected to continue for China EV market, at least until the end of the decade, Kandi should be an excellent long-term investment, but could also become a sweet near-term takeover target that potentially could fetch a PS between 6 and 12, or 100-300% return for its investors, conservatively speaking.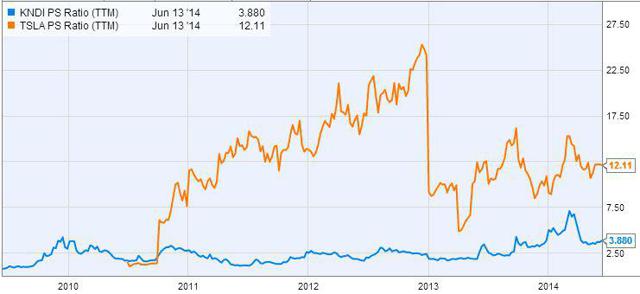 Price to Sales (PS) ratio chart - Kandi vs. Tesla (Source: YCharts)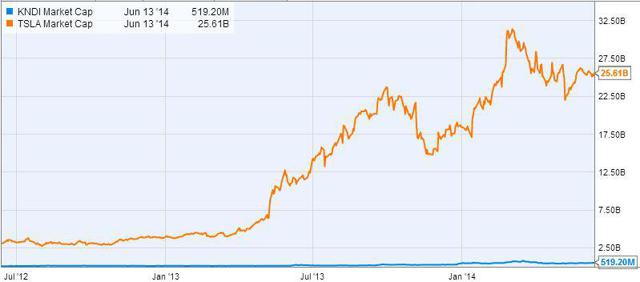 Market caps chart - Kandi vs. Tesla (Source: YCharts)
Last but not least, one should never underestimate the power of service life cycle in car sharing and car leasing businesses. Every three to five years, every EV in service will be replaced with new ones. Kandi has a unique position - it manufactures all of the EV and parts to be used in CarShare and car leasing services. Service life cycle is an important aspect of these types of services, as it enables Kandi to sell to the same customer base over and over again.
Disclosure: The author is long KNDI, TSLA. The author wrote this article themselves, and it expresses their own opinions. The author is not receiving compensation for it (other than from Seeking Alpha). The author has no business relationship with any company whose stock is mentioned in this article.