Who is Pacific Healthcare Organization?
(source: Pacific Healthcare Organization website)
Pacific Healthcare Organization, Inc., through its subsidiaries, engages in managing and administering health care organizations (HCOs) and managed provider networks in the state of California. The HCOs are networks of medical providers established to serve the workers' compensation industry.
Pacific Healthcare Organization, Inc., through its two HCOs, offers injured workers a choice of enrolling in an HCO with a network managed by primary care providers requiring a referral to specialists; or a second HCO, where injured workers do not need any prior authorization to be seen and treated by specialists. The company was formerly known as Clear Air, Inc. and changed its name to Pacific Healthcare Organization, Inc. in January 2001. Pacific Healthcare Organization, Inc. was incorporated in 1970 and is based in Newport Beach, California.
As I stated in my first article on them, Pacific Healthcare was named as the fourth fastest-growing small public company in Orange County, California: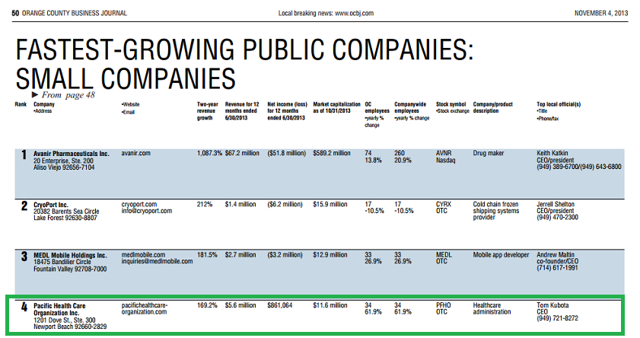 As you can see, that list is a little bit dated - the company was trading with a $11 million market cap.
Today, the company's market cap is $44 million, and I'm arguing that it's going to get bigger.
What is My History with Pacific Healthcare?
My history with Pacific Healthcare Organization is as follows: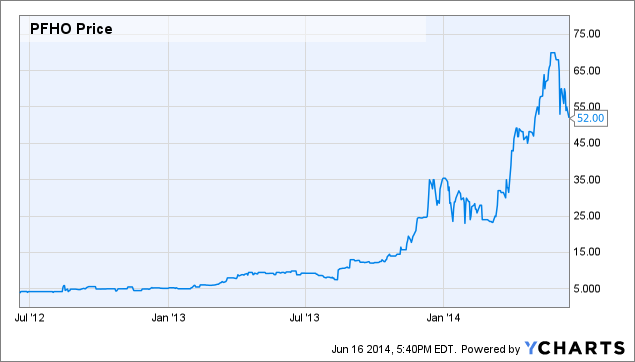 All three of my pieces pointed to the same thing.
The stock price is going bananas, but doing so with reason.
This isn't a pump and dump chart, even though it looks like it. This isn't a momentum stock chart, even though it looks like it. This is one of those rare cases of the company simply delivering on the fundamentals and the market adjusting the price of the security accordingly. On an average, 3,192 shares traded per day.
Going forward, if PFHO continues to grow the way that it's been growing, it's no doubt likely to be a $100 stock. A doubling could occur overnight, as well - PFHO is a prime candidate for either a buyout or a massive partnership.
EPS and Revenue Growth As Steady as She Goes
Take a look at the company's performance per quarter, as broken down by EPS, revenue, enrollees, and dollars per enrollee.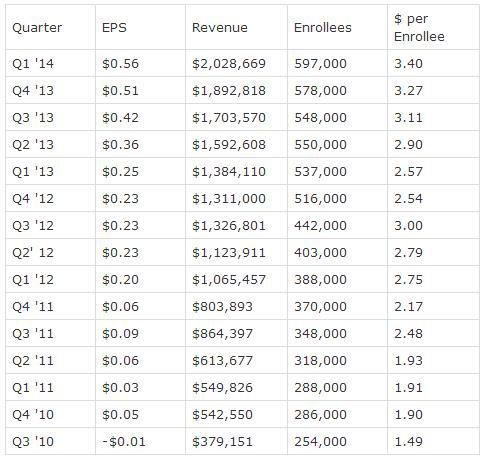 Sure, I could put that data into charts and graphs showing you exactly how nice and consistent that continued growth is, but do I really need to? The company is doing what every investor wants every public company to do - every quarter. They're growing. And, they're picking up speed.
PFHO's last quarter was a record one, as reported by The Specialist in his/her last piece on PFHO, which you can read here:
PFHO reported on Wednesday, May 13 its first quarter results. Revenue and earnings hit new records. Revenue increased 47% to $2 million and earnings increased 124% to $0.56 per share. Tangible book value is now at around $4.00 per share compared to CRVL's $3.67. The cash balance per share is now at $2.16 up from $1.58 three months prior.
In addition, the company's balance sheet looks nice and clean. Plenty of equity and no long-term debt give the company a couple of good legs to stand on and keep business nice, simple, clean, and easy.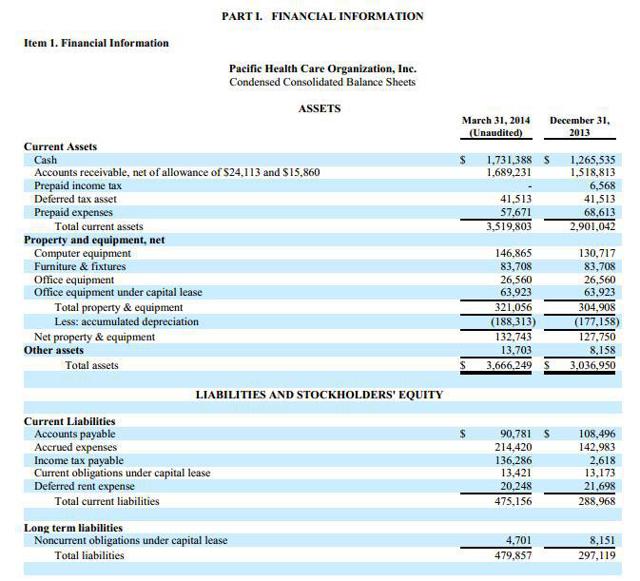 Low Float, Insider Ownership
One of the really attractive things about PFHO is that the share structure has been managed extremely well. There's no need for a chart, other than for humorous effect and to get my point across. The company is not issuing shares. This means that the stock is being handled carefully, and it also means that shares can be preserved for future financing or growth propositions/acquisitions.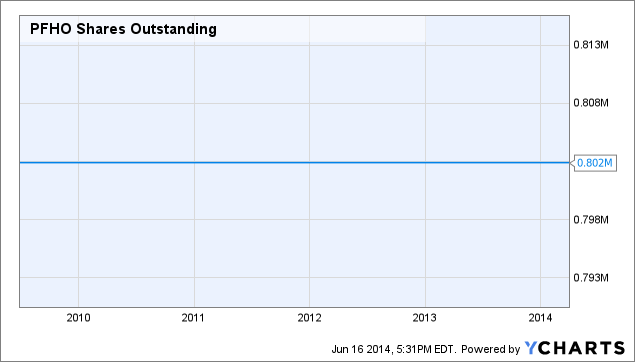 PFHO Shares Outstanding data by YCharts
You can see that there are 802,000 shares outstanding, and a current float of just 167,310. Because the float is so tightly held; the day that PFHO has a short squeeze or a spike on major news is the day that the stock begins to run up several percent per trade.

Further, what is there you can say about a company CEO who has been buying his own stock - all the way up from $9.25 a share to $53/share? It's one reason I had no problem pulling the trigger and adding to my position yesterday at $52/share.

Oh, did I happen to mention the CEO owns 476k shares of the company's stock already?
What does buying 100 futile share at the highs mean if the CEO already owns 476,000 shares? It means he's willing to put a little bit more liquidity into his company and show his shareholders that he's behind the job that he's doing. If I had to guess, he obviously knows that the next few quarters show promise.
PFHO Could Double Overnight
There is legitimate reason that the company could double overnight.
1. The float is tightly held and the stock trades like an option most days, often running up over 5% when it's traded. Its bid/ask spread is usually a few dollars, representing anywhere from 3-6% moves.
2. The company's growth has been screaming and I'm expecting another quarter of excellent results.
PFHO is slated to report around August 14th
3. This is easily a company that I can see uplisting.
4. PFHO is making itself into a buyout candidate. If I'm looking at this company from the outside, it's an extremely attractive buyout candidate. CEO Tom Kubota and team have done everything right: no debt, tight structure, big earnings growth.
Companies should be paying attention to PFHO and asking themselves if they should consider picking it up on the cheap. One potential candidate is CorVel, who is the closest we can come to PFHO for a comp.
The Specialist compared PFHO's performance to that of CorVel (NASDAQ:CRVL) in a previous article:
It's hard to find a public company comparable for Pacific Health Care Organization (OTCQB:OTCQB:PFHO) because the flourishing workers' compensation cost containment service company faces very little competition in its California market. Just like Pacific Health Care, CorVel Corporation provides services and solutions to reduce workers' compensation costs, though more on a national and large scale. Pacific Health Care does targets more on a regional and local scale so the result is they don't step on each other's toes much. Coincidentally, these guys are walking distance away from each other at a mere 2.2 miles, but when it comes to valuation they should be worlds apart.

Both Pacific Health Care and CorVel have traded at $50 recently so it makes comparison of the two somewhat easier. To begin with, both companies have a tangible book value between $3.50 and $4.00 per share. Cash per share for both companies is in the $1.50s, and trailing 12 month EPS for both companies is also in the $1.50s. It's all eerily close.

Where the similarities start to diverge is with the most recent quarters and the growth rates. Back in the calendar third quarter, Pacific Health Care passed CorVel in earnings per share with $0.42 compared to CorVel's $0.41. For the fourth quarter, it was $0.51 compared to again just $0.41 for CorVel.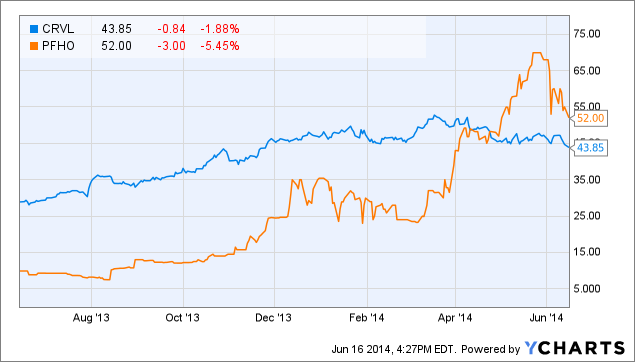 PFHO's earnings per share has passed CorVel.
CorVel trades at a market cap that is nearly 20 times that of Pacific Healthcare.
CorVel has nearly a $1 billion market cap.
Snatching up a company like PFHO could be a reality at any point - but, again - there's a multitude of reasons that Pacific Healthcare could double overnight.
In addition to doing things right, ownership rarely goes to market with anything other than the fundamentals and the required filings. This is likely why you've never heard of PFHO. There's no fluff press releases, no boasting; nor is there anyone out there trying to "sell" the PFHO stock/story. This is a case of management holding back on too much communication, which would normally be a bad thing. In this case, I think it's because the first real time you're going to see PFHO in a headline, it's going to be an announcement of a buyout or a monstrous partnership.
I'll be eagerly awaiting the company's next earnings, and would advise those interested in looking for a "diamond in the rough" to consider taking a good hard look at Pacific Healthcare Organization.
Disclosure: The author is long PFHO. The author wrote this article themselves, and it expresses their own opinions. The author is not receiving compensation for it (other than from Seeking Alpha). The author has no business relationship with any company whose stock is mentioned in this article.
Editor's Note: This article covers one or more stocks trading at less than $1 per share and/or with less than a $100 million market cap. Please be aware of the risks associated with these stocks.