Conventional wisdom tells us to invest in industries with strong demand growth tailwinds. Theoretically, the stronger demand will increase profitability of all those involved, but in recent history, this has not been the case. This article will begin with an exploration of 3 industries in which unchecked enthusiasm about demand growth has led to substantial losses, and continue with advice on how to avoid these pitfalls.
Let us set the stage with a review of each demand story.
Shipping Containers
Back in 2012 and early 2013 the shipping container REITs surged in the market on the back of a demand growth story.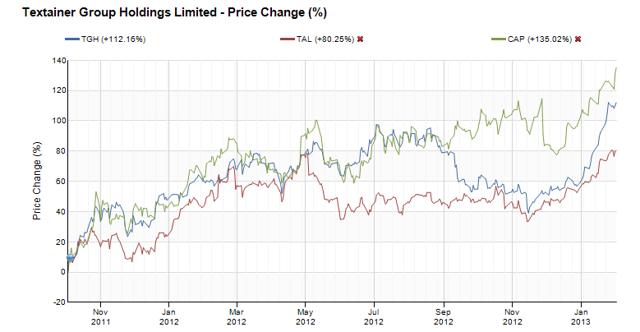 The major shipping lines were attempting to capture economies of scale through acquiring the largest and most efficient cargo boats. These massive new boats had extensive capacity for shipping containers which are necessary pieces of equipment for intermodal transportation. Consequently, there was a boom in demand for shipping containers.
The shipping container REITs seemed well positioned to take advantage with the ability to finance construction of new containers and lease them out at superb returns on invested capital. CAI International (CAP) went at it the hardest, taking on massive amounts of leverage to grow its fleet. It was poised to gain market share and rapidly grow EPS.
Organic Food
Demand for organic food has surged the past few years and still grows rapidly today. Whole Foods Market (NASDAQ:WFM) is the clear brand leader and most trusted name in the space. It was founded on organic food and the set of principles that generally go along with it. In light of the demand growth, WFM saw the opportunity to expand from a regional player to an international giant in organic food retailing. It embarked on a mission to increase store count to >1000 stores over the next few years. Given the profitability of current store locations along with its growth trajectory, shares soared.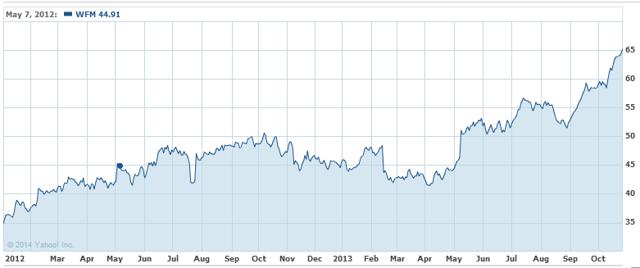 Senior Housing
The baby boomer generation is aging and people are living longer than they used to. These factors combine to form a very long-winded trend of aging demographics. As the number of 70+ seniors increases, the need for senior housing increases. Demand is further bolstered by increasing affluence among seniors such that a greater percentage of the population can afford senior housing.
Ventas (NYSE:VTR) was well positioned to capture this demand for 3 reasons:
It had a large portfolio of senior housing assets.
It had RIDEA contracts which allowed it to participate in the increased profitability beyond the base rent.
It had access to cheap capital such that it could acquire more senior housing assets.
Ventas shares, like those of the other companies amidst demand trends, appreciated in the market.

We Should Have Seen the Fall Coming
All 3 of the aforementioned growth stories have since failed. Despite being in materially different industries, all 3 failed for the same reason: minimal barriers to entry. In all 3 cases, there was sufficient evidence during the boom period to suggest the subsequent fall.
Shipping Containers:
Each of the major shipping container REITs put out presentations announcing intent to expand their fleets and capture market share. If one were to simply add their market share claims together it was clear that there was going to be enough container supply for substantially more than 100% market share. To make matters worse, some of the shipping lines decided to cut out the middle man by purchasing their own containers. Despite rapidly growing demand, supply growth was too much. Utilization rates have fallen. Profitability has declined.
Organic Food:
Whole Foods was not the only player looking to take advantage of the demand growth. Fresh Market (NASDAQ:TFM) and Natural Grocers (NYSE:NGVC) also expanded their footprints. Regular grocery stores such as Wal-Mart and Kroger have launched organic lines within their existing stores. Just as in the shipping container industry, supply growth outpaced demand and profitability declined.
Senior Housing:
The senior housing industry was adversely affected at both the operating level and the financing level. Operators are on the brink of losing some occupancy as the pipeline of senior housing developments rolls out. Those on the financing side, such as Ventas, are being outcompeted by a glut of money indiscriminately chasing healthcare properties. As the most recent round of capital, Griffin II and American Realty Healthcare Trust, are barely absorbed into the market, the next round has already begun. Griffin is raising billions for its 3rd healthcare properties non-traded REIT while ARC is doing the same for Healthcare Trust 2.
The net effect is that the supply of dollars has grown more than the demand for dollars in the senior housing space despite the underlying demand growth trend.
Lessons Learned
I previously made calls in each of these industries in the articles linked below:
Long CAI International
Short Whole Foods
Long Ventas
After getting burned in 2 of the 3 discussed industries, I learned this lesson the hard way. Hopefully some readers can learn from my mistakes rather than having to use their wallets.
How to Avoid Future Pitfalls
Demand growth stories tend to backfire when there are few or no barriers to supply. The growth will usually be competed away rather than absorbed profitably by the incumbents. A key way to spot this is analysis of the product itself. If the product is an undifferentiated commodity, entrants are positioned to steal the value. Shipping containers are generic, organic food can be grown/sold by anyone and financing is readily available.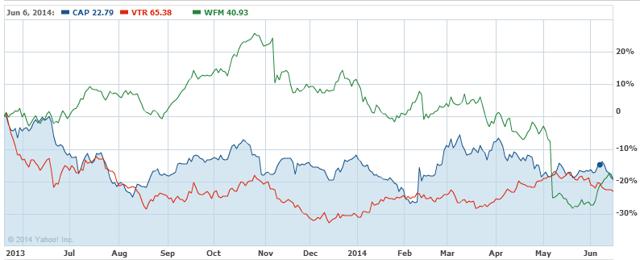 Before investing in a growth story look to make sure there are barriers to supply. Ideally the company will have a competitive advantage to ensure they capture the value created by the growth trend.
Disclosure: 2nd Market Capital and its affiliated accounts are long VTR. I am personally long VTR. This article is for informational purposes only. It is not a recommendation to buy or sell any security and is strictly the opinion of the writer. The author is long VTR. The author wrote this article themselves, and it expresses their own opinions. The author is not receiving compensation for it (other than from Seeking Alpha). The author has no business relationship with any company whose stock is mentioned in this article.