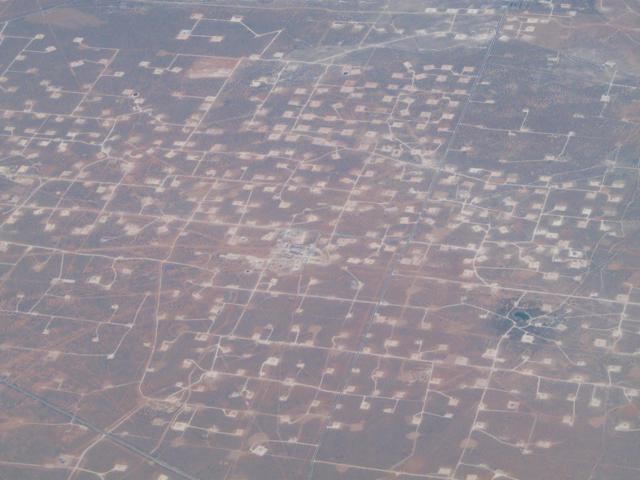 Recently, while flying to Arizona, my seat companion asked what all those square things were down there. Those "square things" are West Texas' Permian Basin oil drilling pads. We flew over them for nearly a ½ hour.
The unrest in Iraq has investors once again looking at geopolitically safe North America for their energy investments. The Permian, the U.S.' largest and most durable oil and gas basin, is a prime candidate.
Back in September of 2012, I penned an article on the Permian (read it here). Thanks to the prolific Spraberry and Wolfcamp fields, the region has been in the news a lot recently so I decided another look at the basin was warranted.
Straddling West Texas and southeastern New Mexico, the Permian region has a storied past. Over the last 80 years, it has produced over 30 billion barrels of oil. Permian oil helped power the U.S. to victory in WW II and then went on to fuel the exponential expansion of America's auto fleet after the war. (Remember those 10 miles per gallon monster muscle cars from the 1950s and 60s?) And today? The Permian still produces 2/3 of Texas' and about 15% of U.S.' oil.
The Permian Is Once Again Booming
After peaking at over 700 million barrels of oil in 1975, production fell to 270 million barrels in 2010 and the basin was thought to be largely tapped out. Despite uncertainties, however, production is now once again climbing and will likely exceed 500 million barrels this year. Higher oil prices, improvements in carbon dioxide flooding, and technological advances such as that in horizontal drilling are fueling the surge.
How much oil is left in the Permian? The short answer is a lot. The long answer is, as always, more complicated.
Many Companies
Over 90 years, through boom and bust, many companies have come and gone in the Permian. Currently, over 100 companies operate in the region. Even an overview article as this can't begin to cover them all so I will just profile a few of the more notable and mention some more speculative ones here.
Occidental Petroleum Corporation (OXY)
Occidental is the largest producer in the Permian. The company is an international E&P company with a large and increasing North American footprint. It holds 1.9 million net acres and pumps about 15% of the basin's oil. Occidental has been selling its overseas assets as it refocuses on North America.
Although Occidental is expanding the use of unconventional methods such as horizontal drilling, it is noteworthy that 74% of its Permian oil production comes from carbon dioxide flooding - an enhanced oil recovery method used in older fields.
Apache Corp. (APA)
Apache is the second largest producer in the Permian. Like Occidental, the company is shifting its focus to North America where it has operations in the Permian, Eagle Ford, and Granite Wash. Apache controls 3.3 million gross acres in the Permian region, including over 400,000 net acres of the productive and horizontal drilling friendly Wolfcamp Shale and 600,000 net acres of Cline Shale.
Although Apache still gets some 24% of its production from Egypt, the company has reduced its exposure by selling a stake of its holdings in that troubled country to Sinopec.
Pioneer Natural Resources Co. (PXD)
Unlike Occidental and Apache, Pioneer has all its operations in the U.S., mostly in Texas and primarily in the Permian.
Pioneer is the largest operator in the Permian's Spraberry and Wolfcamp fields. The company has estimated the Spraberry field alone to contain 50 billion recoverable barrels of energy. There may be even more! Pioneer's recent presentation slide below shows an estimated recoverable resource of 75 billion barrels of oil (BBOE) for the Spraberry/Wolfcamp fields. These are rather astounding figures, which, if true, show this portion of the Permian by itself to be the largest U.S. oil field and second largest in the world.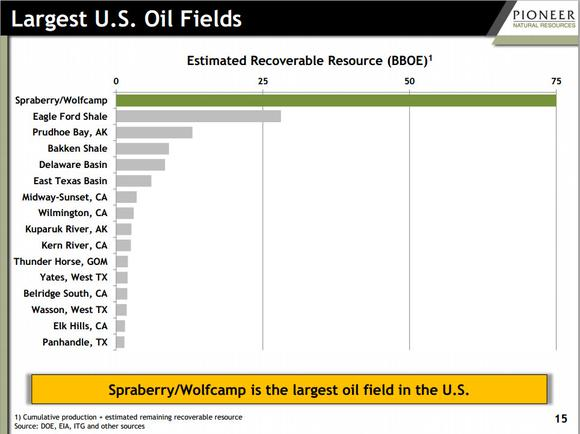 Keep in mind that Pioneer's 75 billion figure includes oil, natural gas, and natural gas liquid resources, most of which are trapped in shale and may be costly to extract.
Pioneer, however, has been very successful in the Permian with both vertical and horizontal drilling in the stacked strata of the Spraberry and Wolfcamp fields. The company has 35,000 drilling locations, 600,000 gross acres in the northern Spraberry/Wolfcamp and, in a joint venture with Sinochem, 207,000 net acres in the southern Spraberry/Wolfcamp.
Concho Resources, Inc. (CXO)
Concho is a $13.9 billion company which also derives almost all its oil from the Delaware Basin, New Mexico Shelf, and the Texas Permian regions of the Permian basin. Much of its oil also comes from the prolific Spraberry and Wolfcamp fields.
Concho's strategy per its website is to "achieve superior per share growth rates while staying within cash flow". The company is looking to double production in the next 3 years.
Some More Speculative Permian Companies
If you wish to look at the smaller, more speculative, Permian companies here are some to consider: Energen Corp. (NYSE:EGN), RSP Permian, Inc. (NYSE:RSPP), Matador Resources Company (NYSE:MTDR), and Caza Oil & Gas, Inc. (OTCPK:CAZFF)
For those interested in these smaller companies, I recommend articles by Seeking Alpha fellow authors such as Value Digger, Jennifer Warren and Michael Filloon. These authors provide, in many instances, an extensive analysis of these and other smaller companies.
Risks And Cautions
Most importantly, remember that oil is a commodity and like all commodities, prices can and go up or down, sometimes dramatically. How much of a risk is this? Short of a world wide recession, I don't see this as a long-term risk. Easy-to-get-at-oil is getting scarcer by the day and in the long term the world will have little choice but to use unconventional methods such as horizontal drilling to meet world demand. Demand is growing especially fast in emerging markets where auto fleets are rapidly growing (most oil is refined into gasoline).
Now, just how difficult and costly will it be to recover Pioneer's estimate of 50 (or 75) billion barrels of oil? We have just seen the EIA dramatically cut its estimate of recoverable oil from California's Monterey Shale. The reason? Unexpected and costly production problems in initial wells. At this point, however, it is unlikely such a thing will happen in the Permian as the region is much better known.
Conclusion
Occidental, Apache, Pioneer, and Concho equities are all near their 52-week highs, as investors fear events in Iraq will disrupt overseas supplies and boost the price of oil. With de-escalation, oil prices will likely decline some but over the long-term, Permian companies, with their massive resource base, should do well.
Investors in Pioneer and other Permian companies can derive a certain amount of security (as much as you can get in this world at least) knowing they have a partial ownership in one of the largest and safest oil fields in the world.
Disclaimer: This is article is an overview, informational article only. Investors are strongly encouraged to do their own due diligence before investing in any of the companies mentioned.
Disclosure: The author is long PXD, CAZFF, MTDR. The author wrote this article themselves, and it expresses their own opinions. The author is not receiving compensation for it (other than from Seeking Alpha). The author has no business relationship with any company whose stock is mentioned in this article.