The following is a list of stocks that have reached a 52-week high during recent sessions. In addition, all of these stocks have seen significant institutional inflows over the last 3 months.

The smart money seems to think these stocks still have some upside--what do you think? Full analysis below.

Institutional trading data sourced from Reuters.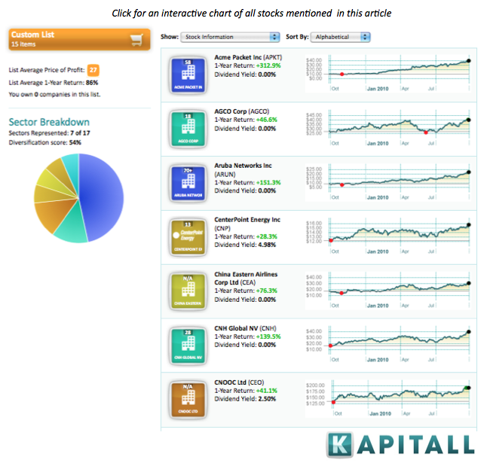 The list has been sorted by change in institutional ownership over the last three months.

1. Rackspace Hosting, Inc (NYSE:RAX): Internet Software & Services Industry. Market Cap of $3.042B. Institutional investors currently own 90,899,024 shares vs. 63,719,165 shares held 3 months ago (+42.66% change). The stock has gained 36.74% over the last year.

2. Acme Packet, Inc. (NASDAQ:APKT): Communication Equipment Industry. Market Cap of $2.454B. Institutional investors currently own 55,885,099 shares vs. 44,896,026 shares held 3 months ago (+24.48% change). The stock has gained 312.89% over the last year.

3. OpenTable, Inc. (NASDAQ:OPEN): Business Services Industry. Market Cap of $1.558B. Institutional investors currently own 23,345,297 shares vs. 19,655,195 shares held 3 months ago (+18.77% change). The stock has gained 148.85% over the last year.

4. China Eastern Airlines Corp. Ltd. (NYSE:CEA): Major Airlines Industry. Market Cap of $6.820B. Institutional investors currently own 1,402,158 shares vs. 1,212,062 shares held 3 months ago (+15.68% change). The stock has gained 76.33% over the last year.

5. Aruba Networks, Inc. (NASDAQ:ARUN): Computer Peripherals Industry. Market Cap of $2.073B. Institutional investors currently own 109,329,378 shares vs. 95,305,364 shares held 3 months ago (+14.71% change). The stock has gained 151.31% over the last year.

6. SuccessFactors, Inc. (NYSE:SFSF): Business Software & Services Industry. Market Cap of $1.914B. Institutional investors currently own 79,689,248 shares vs. 71,571,130 shares held 3 months ago (+11.34% change). The stock has gained 90.39% over the last year.

7. Rockwood Holdings Inc. (NYSE:ROC): Specialty Chemicals Industry. Market Cap of $2.428B. Institutional investors currently own 77,390,312 shares vs. 70,523,676 shares held 3 months ago (+9.74% change). The stock has gained 57.14% over the last year.

8. Linn Energy, LLC (LINE): Independent Oil & Gas Industry. Market Cap of $4.586B. Institutional investors currently own 26,412,897 shares vs. 24,117,955 shares held 3 months ago (+9.52% change). The stock has gained 47.56% over the last year.

9. CNOOC Ltd. (NYSE:CEO): Independent Oil & Gas Industry. Market Cap of $84.822B. Institutional investors currently own 10,154,672 shares vs. 9,357,789 shares held 3 months ago (+8.52% change). The stock has gained 45.69% over the last year.

10. AGCO Corporation (NYSE:AGCO): Farm & Construction Machinery Industry. Market Cap of $3.718B. Institutional investors currently own 95,837,252 shares vs. 88,351,710 shares held 3 months ago (+8.47% change). The stock has gained 46.63% over the last year.

11. CNH Global NV (NYSE:CNH): Farm & Construction Machinery Industry. Market Cap of $9.408B. Institutional investors currently own 18,815,822 shares vs. 17,487,775 shares held 3 months ago (+7.59% change). The stock has gained 139.46% over the last year.

12. Syniverse Holdings Inc. (SVR): Wireless Communications Industry. Market Cap of $1.674B. Institutional investors currently own 71,585,661 shares vs. 66,620,225 shares held 3 months ago (+7.45% change). The stock has gained 34.5% over the last year.

13. CenterPoint Energy, Inc. (NYSE:CNP): Diversified Utilities Industry. Market Cap of $6.629B. Institutional investors currently own 293,203,669 shares vs. 273,078,972 shares held 3 months ago (+7.37% change). The stock has gained 35.75% over the last year.

14. CTC Media, Inc. (NASDAQ:CTCM): Broadcasting Industry. Market Cap of $3.407B. Institutional investors currently own 62,795,337 shares vs. 58,979,966 shares held 3 months ago (+6.47% change). The stock has gained 42.69% over the last year.

15. Rovi Corporation (NASDAQ:ROVI): Multimedia & Graphics Software Industry. Market Cap of $5.232B. Institutional investors currently own 110,295,269 shares vs. 103,933,481 shares held 3 months ago (+6.12% change). The stock has gained 56.21% over the last year.

Disclosure: No positions