AGL Resources (NYSE:GAS) is the largest natural gas-only distribution company in the United States and is headquartered in Atlanta, Georgia. AGL has been around for over 150 years. The company operates a wide range of energy services under one umbrella: seven regulated utilities as well as non-regulated businesses that offer retail, wholesale and storage services. A slide from a recent company presentation (available here) nicely summarizes the company's assets and businesses: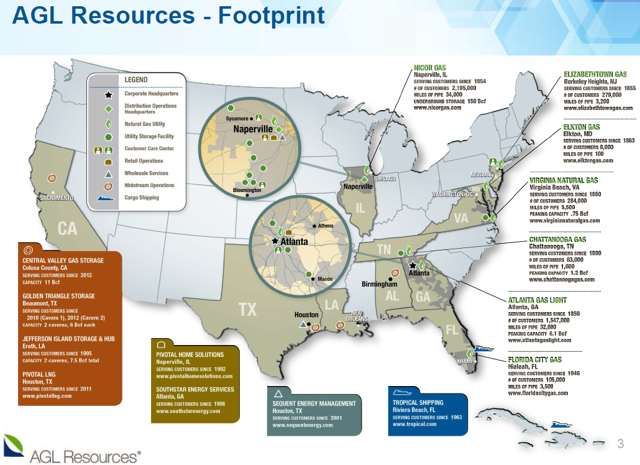 The businesses are broken down as follows:
Distribution
Retail
Wholesale
Midstream
Shipping
EBIT contributions from these business segments are shown below: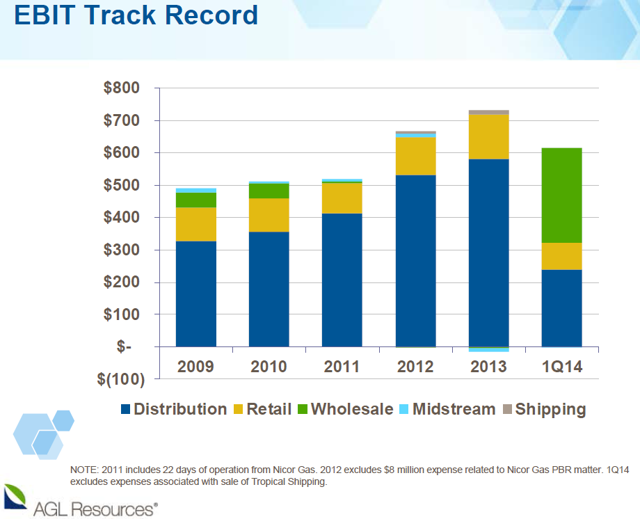 The majority of the company's earnings have traditionally come from the Distribution segment, with Retail coming in a distant second. The Distribution segment consists of AGL's seven regulated utilities. The graphic below shows the earned ROE (versus "allowed ROE") of each regulated utility for full-year 2013: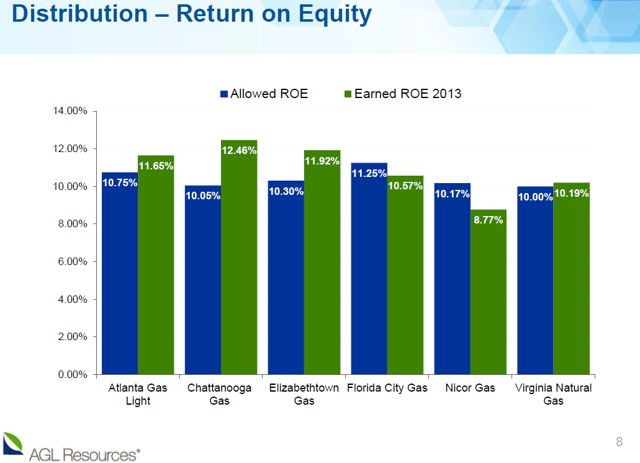 All these utilities produce healthy, stable, and predictable earnings and form the foundation of AGL Resources. One out of every 16 meters in the US is serviced by an AGL utility. The company has 80,500 miles of pipelines and a aggregate base rate of $5.1 billion. Annual cap-ex runs around ~$740 million, about 1/3 of which is related to new business. These utilities are cash cows.
Back to the previous graphic on EBIT contributions -- note the big spike in Wholesale EBIT in this year's Q1. Let's take a look at the Q1 EPS report and see what's going on in the unregulated Wholesale segment.
Record Q1 Earnings
Investors can access the company's Q1 conference call and presentation here. Colder than normal weather drove strong results across nearly all of AGL's businesses. A summary of the Q1 results is shown below: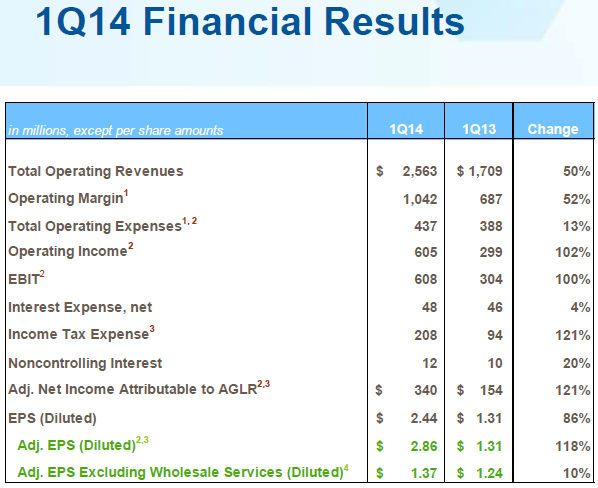 These are record Q1 earnings. Revenue and operating margins were up 50% yoy. Diluted EPS was up 86%. As mentioned earlier, the Wholesale segment had a massive jump in EBIT -- up 1853%: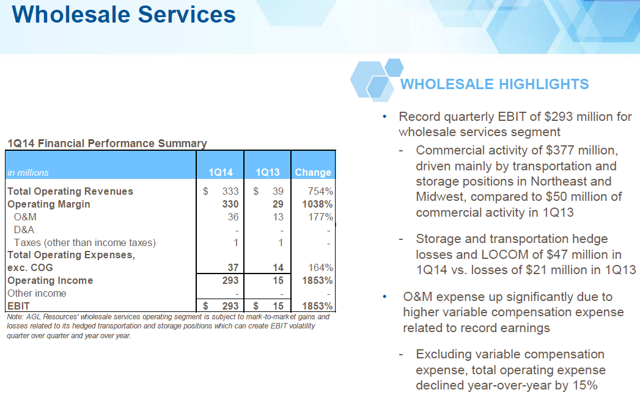 The big gain in Wholesale earnings was due mainly to commercial activity of $377 million related to AGL's transportation and storage assets in the Northeast and Midwest regions. According to the Seeking Alpha Q1 conference call transcript, AGL Resources EVP and CFO Drew Evans said:
... significantly colder than normal weather conditions resulted in very high demand for natural gas from all types of consumers. While there is plenty of shale gas coming out of the Marcellus the pipeline capacity to deliver the gas to the high demand regions is constrained. We hold strategic positions on many of these pipelines.
Evans went on to explain how AGL has designed the Wholesale business to be profitable under low volatility market conditions. However, the business is also able to provide significant earnings uplift under highly volatile market conditions. This was obviously the case in Q1 2014, but such a performance should not be expected for the rest of 2014 or next winter.
Balance Sheet
The balance sheet at the end of Q1 is shown below: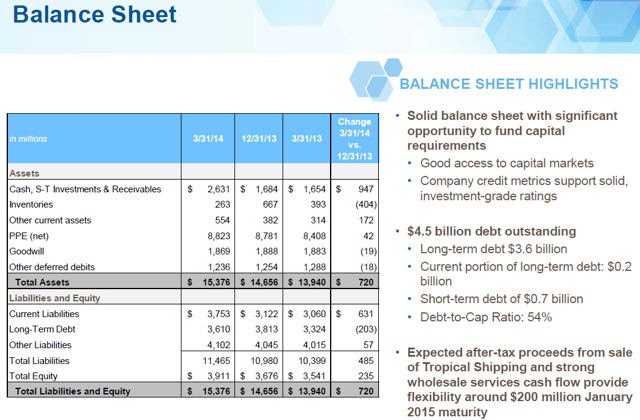 Long-term debt is $3.6 billion and the debt-to-cap ratio is 54%, down 3% yoy. While that is high for many business, it is very reasonable for a company whose cash flow and earnings come from seven regulated gas utilities.
Risks
As a company owning seven regulated utility companies, AGL Resources is vulnerable to regulatory changes - specifically at the state level. AGL's businesses are regulated by regulatory authorities in Illinois, Georgia, Virginia, New Jersey, Florida, Tennessee and Maryland. In addition, the company could incur costs as a result of complying with increased environmental regulations.
As a company with distribution pipeline assets, infrastructure costs to maintain and operate these pipelines can be significant. For instance, in Q1 the extreme cold weather especially impacted the company's business in the Chicago area. As a result, operating and maintenance ("O&M") expenses rose by 3% due to increased overtime pay and higher maintenance costs. That said, demand for natural gas more than offset higher O&M expenses.
The risks discussed above are common and well known for utility companies like AGL Resources. As a result, these risks are already baked into the stock price. State regulatory agencies understand the importance of having strong operators that can reliably deliver gas to its citizens. As noted by the graphic shown above, EBIT for AGL's seven utilities averaged ~10% for full-year 2013.
Positive Catalysts
Obviously the unusually strong Q1 performance of the Wholesale segment was an unexpected cash infusion and a positive catalyst moving forward. Another catalyst is the planned sale of the company's Tropical Shipping unit to Saltchuk Resources. After-tax proceeds from the sale are expected to be ~$220 million.
In addition, during Q1 the company finalized an agreement with Williams Company (NYSE:WMB) to extend the Dalton Lateral Pipeline. The $210 million investment will see the largest portion of spending in 2016 and an in-service date of 2017 is expected. The pipeline will enable AGL to bring low-cost Marcellus shale gas into Georgia and will enhance both pipeline and supply diversity in region. AGL mentioned in the conference call that the pipeline's capacity is already fully committed under long-term contracts. This is a longer-term catalyst, but a positive development nonetheless.
Guidance
During the Q1 conference call presentation, AGL significantly increased its previous 2014 EPS guidance given on 2/4/14: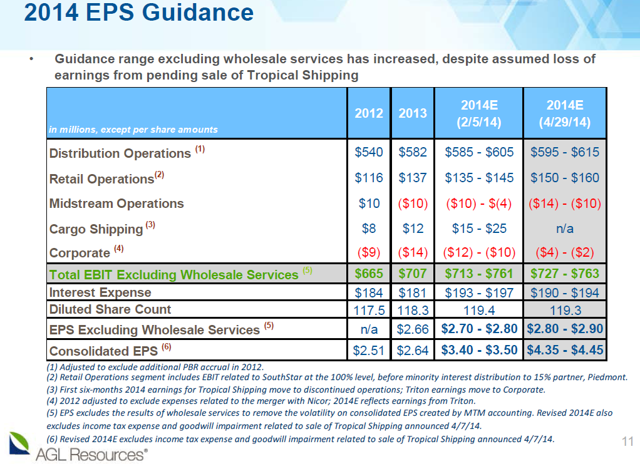 Note the company is careful to exclude the Wholesale segment in its guidance (shown in green) because mark-to-market ("MTM") accounting movement make GAAP earnings difficult to predict. This guidance was increased by $0.10/share. This is an impressive increase considering the ~$0.06/share in earnings that will be lost related to the sale of the Tropical Shipping unit.
With respect to the Wholesale segment, AGL is forecasting EBIT of around $310 million for the full year. That translates into EPS of ~$1.55 and brings the total consolidated EPS range to between $4.35 to $4.45. The midpoint of that range ($4.40) is up $0.95/share over the midpoint of the previous guidance ($3.45) given back on February 5th.
Summary & Conclusion
AGL Resources is a very well established gas distribution company - the largest in the United States. The foundation of the company is its seven regulated utilities. However, the unregulated Wholesale segment has excellent exposure to the burgeoning natural gas market in the Northeast - primarily as a result of the growth in production (and the need for pipeline transport capacity) coming out of the Marcellus shale. As a result, the company's Wholesale segment reaped a windfall of cash in Q1. Longer term, the company has plans to distribute low-cost Marcellus gas into its markets in North Georgia with the Dalton Lateral Pipeline extension agreement with Williams.
The company has a rock-solid balance sheet, yields 3.7%, and is very reasonably priced at 14.2 times earnings. At the midpoint of 2014 EPS guidance ($4.40), if the P/E stays at 14.2, the stock could trade up to $62.50. With the stock currently trading ~$58 and yielding 3.7%, AGL Resources should deliver a total return of ~12% by year-end (24% on an annual basis). AGL Resources is a STRONG BUY for those income oriented investors also seeking modest share price appreciation.
| | |
| --- | --- |
| Market Cap: | 6.39B |
| P/E ("ttm"): | 14.18 |
| EPS ("ttm"): | 3.78 |
| Div & Yield: | 1.96 (3.70%) |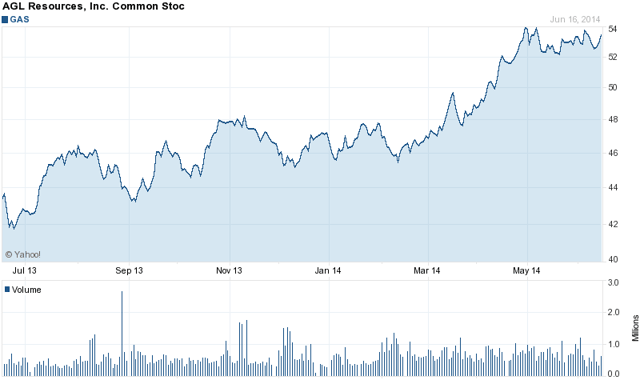 Disclosure: The author has no positions in any stocks mentioned, but may initiate a long position in GAS over the next 72 hours. The author wrote this article themselves, and it expresses their own opinions. The author is not receiving compensation for it (other than from Seeking Alpha). The author has no business relationship with any company whose stock is mentioned in this article.
Additional disclosure: I am an engineer, not a CFA. The information and data presented in this article were obtained from company documents and/or sources believed to be reliable, but have not been independently verified. Therefore, the author cannot guarantee their accuracy. Please do your own research and contact a qualified investment advisor. I am not responsible for investment decisions you make. Thanks for reading and good luck!