Until recently, Wal-Mart (NYSE:WMT) has been that rare breed of stock that most retirees and long-term investors crave -- a reliable, dividend-paying stock that grows its dividend at a high rate. However, with its most recent dividend hike of 2% (compared to double-digit increases in the past), the growth seems to have stalled. Investors must decide whether this is just a temporary setback or a warning sign of things to come, as well as how their view on this issue may affect the way they value the stock.
Historical Dividend Growth
First things first: Wal-Mart has raised its dividend every year for the past 41 years, making it an extraordinary dividend growth stock. Furthermore, the company continued its progression of dividend raises even during the Great Recession, rewarding shareholders with an 8% increase in FY 2009.
Before 2009, the company was providing fat, double-digit increases, and in 2010, management started back right where it left off. The dividend has had double-digit growth each year from FY 2010 through 2014, except 2013 (9% growth). And in 2014, the dividend increased 18%.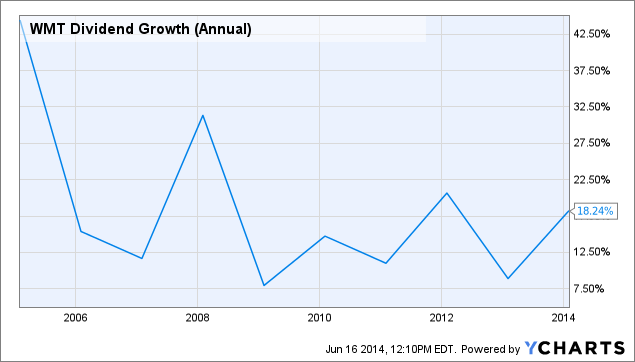 WMT Dividend Growth (Annual) data by YCharts
So clearly, Wal-Mart has delivered for shareholders in the past in terms of providing cash payments through the dividend, a nice addition to any retiree's portfolio. However, the most recent dividend increase was for a meager $0.01. No company can continue to increase its dividend at a double-digit pace indefinitely, so the fact that growth slowed down is not a surprise. The surprise for many investors is that it slowed so rapidly. Wal-Mart had been posting 15% compound annual growth in its dividend over the past 10 years, and over 13% in just the past 3 years. So the drop to 2% was substantial.
Past Drivers of Dividend Growth
Next, I looked at what has been driving this growth to assess whether or not it can continue in the future. Looking over the past 10 years, Wal-Mart has been able to post consistent top line growth, as well as EPS growth. So at least some of the dividend growth has come from positive business performance. However, the rate of growth has declined significantly for both metrics in recent years, and diluted EPS actually declined year-over-year in FY14.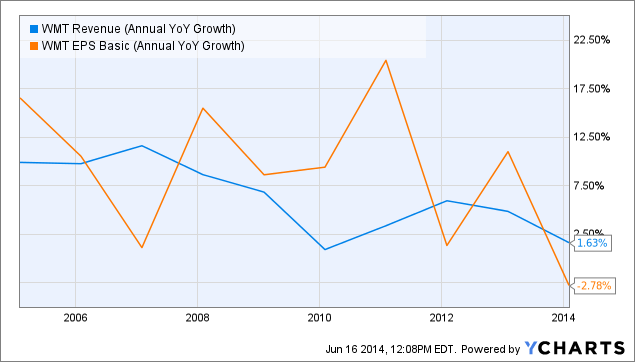 WMT Revenue (Annual YoY Growth) data by YCharts
However, the company's payout ratio over the past 10 years tells a more worrisome story. Wal-Mart has steadily increased its payout ratio over time, and over the past 3 years, it has rapidly expanded.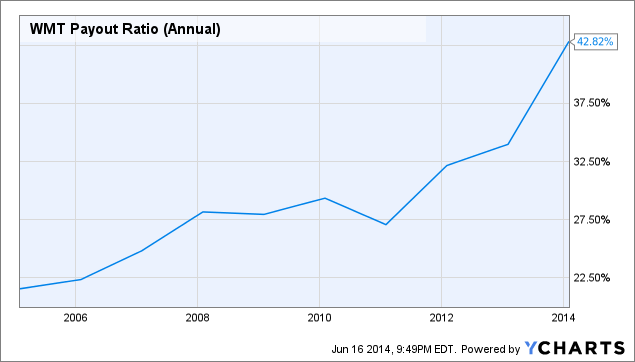 WMT Payout Ratio (Annual) data by YCharts
It was still well below 50% in FY 2014, but the rapid rise has two important implications. First, a significant portion of the dividend growth investors have experienced, particularly more recently, was derived from payout ratio expansion rather than EPS growth. Second, management will have less room to use these types of expansions in the future to grow the dividend.
That being said, Wal-Mart has consistently produced strong cash flow from operations, and annual capital expenditures have been pretty stable over the decade. Furthermore, there have been no major changes in debt ratios, so free cash flow has been pretty consistent.

In this past fiscal year, Wal-Mart took a hit due to changes in working capital, but the company still maintains negative working capital, and FY 2014 levels are more consistent with historical levels.
ROE & Future Growth
In addition to looking at historical growth and payout ratios for the dividend, analyzing Wal-Mart's return on equity performance may also provide some clues as to what future dividend growth may look like.
On average, Wal-Mart has provided an average ROE of 22% over the past 5 years (2010-2014).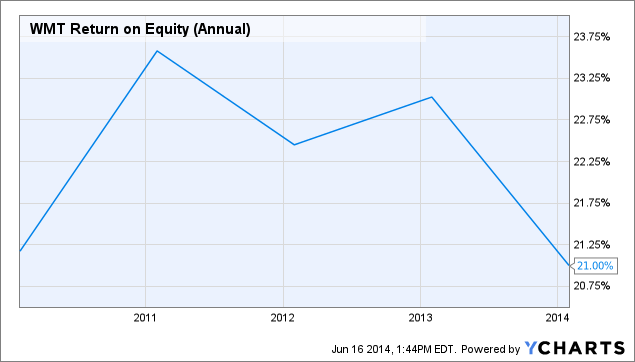 WMT Return on Equity (Annual) data by YCharts
Using the historical ROE and payout ratio trends, we can estimate a sustainable future earnings growth rate for Wal-Mart. In other words, if Wal-Mart's payout ratio stays at 38.8% and it is earning 22% on its equity, we can project a long-term sustainable growth rate of 14% going into the future.
Obviously, this is just one data point, and a very rough estimation at best. Additionally, it will not take into account any debt issuance or repayment, stock issuance, share repurchases or other major changes in Wal-Mart's capital structure. So it is more of a guide to what is possible, rather than a strict input for estimating future growth. However, it does give us a high-level view of how fast the company can grow, based on its internal funding (retained earnings).
Valuation & Dividend Discount Model
Using the dividend discount model, I determined the value of the company based on its future dividend payments. I started with a moderate outlook, using the following assumptions:
8% discount rate based on the long-term average return of the stock market.
I used Wal-Mart

's

current dividend to project the dividend payment for the rest of FY 2015 at $1.92/share, and applied future estimated dividend increases to this base.
I applied a 10% growth rate for years 2-4, an 8% increase for years 5-7, and a 6% increase for years 8-10.
I assumed a 3% perpetuity rate after year 10 (2024).
Based on these assumptions, I estimate that Wal-Mart's intrinsic value is $59 per share. At its current price of $75/share, the stock is considerably overvalued, with a potential downside of 21%.
But what if Wal-Mart's recent dividend hike was a temporary hiccup and the company returns to its previous growth rate? Using the 14% projected growth rate and the compounded dividend growth rate of 13-15% over the past 3-, 5- and 10-year periods, we can make some optimistic forward estimates: 12% growth for years 2-4, 10% for years 5-7, and 8% for years 8-10, before dropping down to 3% long term. This still puts the intrinsic value at $68/share, 9% below the current share price.
The potential overpricing becomes even worse if Wal-Mart's growth prospects are below my baseline assumptions. I actually do not believe this is the case, as the underlying cash flow from operations seems sufficient enough to support moderate dividend growth, even if it's not double-digit. And management still has room to expand the payout ratio to support growth over the next few years.
But obviously, investors are making some pretty optimistic assumptions about growth at the current price level of the stock. Based on these calculations, Wal-Mart seems to be way overpriced from the perspective of a dividend investor.
The level of growth necessary to support the market price is unlikely to occur, and the uncertainty created by the recent decline in dividend growth simply exacerbates this problem. The issue is not whether the stock is overpriced, but by how much. I would not be adding Wal-Mart to my income-oriented portfolios at this point in time, but each investor should, of course, do their own homework.
Disclosure: The author has no positions in any stocks mentioned, and no plans to initiate any positions within the next 72 hours. The author wrote this article themselves, and it expresses their own opinions. The author is not receiving compensation for it (other than from Seeking Alpha). The author has no business relationship with any company whose stock is mentioned in this article.
Additional disclosure: The opinions in this document are for informational and educational purposes only and should not be construed as a recommendation to buy or sell the stocks mentioned or to solicit transactions or clients. Past performance of the companies discussed may not continue and the companies may not achieve the dividend growth as predicted.