By Jeff Bailey
Xerox (NYSE:XRX) shares have nearly doubled since late 2012 and yet they trade at a forward P/E ratio of just about 11, and the company's forward EV/EBITDA ratio – the sort of number potential acquirers ogle – is below 7, suggesting Xerox operations could lend a big hand in financing a buyout.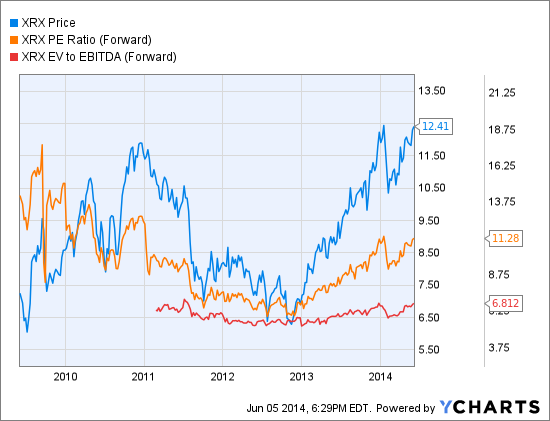 XRX data by YCharts
Those numbers helped earn Xerox a spot on a recent Barron's list of companies priced attractively for takeovers. Buying because you're hoping for a takeover, of course, doesn't make much sense. And as cheap as Xerox shares seem, investors should be warned that the company's business – outsourcing services for government and industry, followed by its historical copy sales and services – is at best sliding sideways and may be resistant to radical improvement.
Since Xerox CEO Ursula Burns in 2009 engineered the $5.6 billion acquisition of outsourcing giant Affiliated Computer Services, Xerox is blessedly a lot less reliant on copiers. But the acquisition refocused the company on a low-margin, people-intensive industry and despite several rounds of layoffs, the payroll remains daunting; its 141,400 workers, as of March 31, roughly equal to the population of Kansas City, Kansas.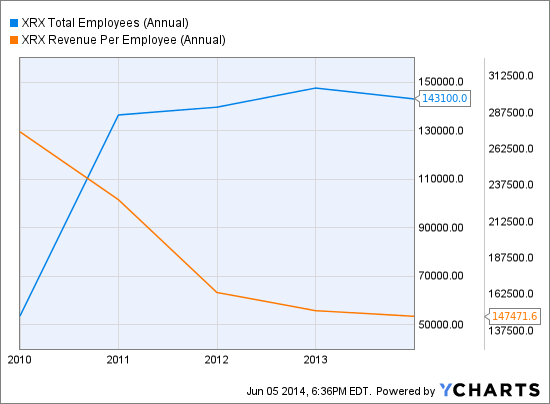 XRX Total Employees (Annual) data by YCharts
In 2012, there was a restructuring charge to get rid of 6,300 employees. In 2013, charges were recorded to send another 4,900 on their way. And already this year, a program to reduce the workforce by 1,250 was instituted. But it remains a people-intensive business, processing healthcare claims for insurers and others and running call centers.
The good news is Xerox's revenue if largely recurring – annuity, in company-speak – with a 91% renewal rate on existing contracts in the first quarter of 2014. The bad news is getting paid more and signing of new clients is tough, so revenue has been sliding sideways at best. Maintaining profit margins in that environment is rough enough.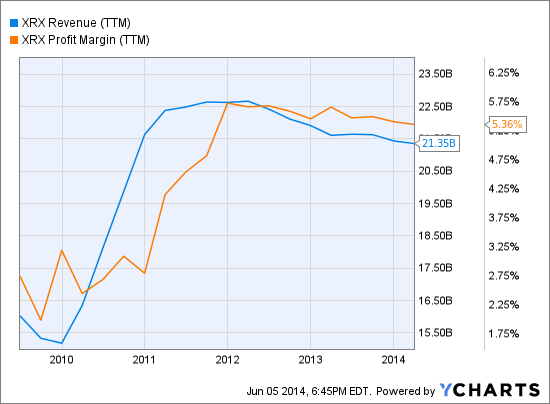 XRX Revenue (TTM) data by YCharts
There's about $8 billion in debt, so any takeover using borrowed funds would involve high levels of leverage.
Burns, the CEO, is shareholder friendly, recently boosting the dividend – though the dividend yield, at 2%, is nothing to write home about -- and focusing on buybacks. Overall, the shareholder yield is above 9%.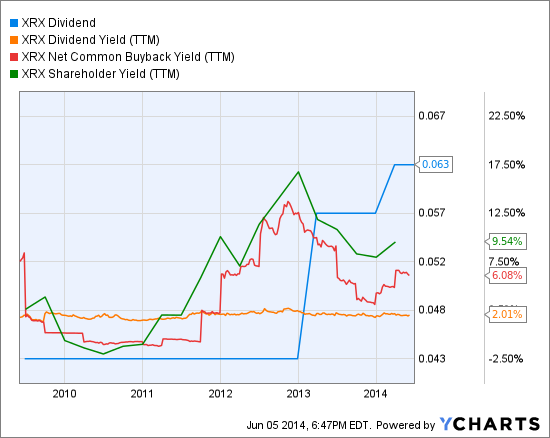 XRX Dividend data by YCharts
Absent a takeover, it's a long-term play – and hardly an exciting one – that involves watching management turn every screw a quarter turn tighter. And then doing it again.
Disclosure: None