A dip in deepwater rig market
Despite the considerable tumble in the offshore drilling market, Seadrill Limited (NYSE:SDRL) has significant long-term opportunity in deepwater drilling.
The global deepwater rig market, which was on the rise the past few years is now facing a dip. To strengthen cash flows and returns to investors, the major oil and gas producing companies all across the globe have axed their capital spending on drilling and exploration. Additionally, oversupply of deepwater rigs exceeded the demand and created a surplus, which in turn resulted in more un-contracted rigs and falling day rates. As a result, 38 ultra deepwater rigs are un-contracted, higher than the year-ago mark of 22 rigs. Also, the contracted day rates of high-specification rigs are down by around $50,000 per day compared to late 2013. The existing global deepwater rig fleet is also expected to increase by another 20 new rigs, which in turn will further increase the surplus.
Bright future in deepwater rig market
Although the current deepwater rig market is not favorable for the offshore drilling companies' short-term growth prospects, the maturing onshore oil reserves is creating interest for offshore drilling and reserves. As the demand of oil and gas consumption is increasing rapidly, oil and gas producing companies are focusing more on increasing total production, which has resulted in investment in unconventional gas and deep sea drilling activities.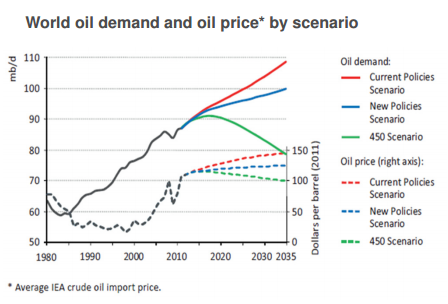 Source: Company presentation
As shown in the chart, global oil demand will rise this year and it will also improve the oil price. According to Research and Markets, the global offshore drilling market is expected to grow at a CAGR of around 10.9% from 2013 to 2018 and will drive the global offshore drilling market to $121.1 billion by 2018.
Seadrill nicely placed in low-demand scenario
The company has less exposure to the current volatile scenario compared to its peers Transocean (NYSE:RIG) and Ensco plc (NYSE:ESV). The delays in drilling and exploration projects and adequately supplied deepwater rigs in the market have minimized the chances of gaining additional contracts. This year Seadrill's 5 deepwater and ultra-deepwater rigs will be up for contract, whereas Transocean and Ensco will have 19 and 8 deepwater and ultra-deepwater rigs available for contracts, respectively. Hence, Seadrill is comparatively less exposed to the low-demand risk this year, which will help it to sustain its operating performance in the long term.
Moreover, Seadrill's comparatively younger and technically advanced fleet has helped it to secure a strong position against its competitors. The company's average floater age is in the range of six years and the average jack-up age is under five years. Whereas, the average age of Transocean's Jack-up fleet is around 14 years, and average age of Ensco's jack-up fleet is 27 years. Besides this, Seadrill's rigs are sixth-generation, which are considered to be more efficient, safer and able to work under extreme conditions. After witnessing the BP plc incident in 2010, major oil and gas producing companies are focusing more on using environmentally safe drilling rigs, which in turn has increased the demand of new and high-specification rigs.
| | | |
| --- | --- | --- |
| Company | % of Jack-up Fleet Less Than 10 Years | % of Floater Fleet Less Than 10 Years |
| Seadrill | 97% | 90% |
| Transocean | 36% | 20% |
| Ensco | 11% | 48% |
Source: Rig Fleets Status Reports
As depicted from the above table, offshore drillers with older fleets may be more impacted by the industry slowdown during the next few years, compared to drillers with newer fleets. Seadrill's fleet of Jack-ups and floating rigs has premiums of 30% and 16%, respectively, in the global market. Since Seadrill's overall fleet is much newer than its peers, which have more than 10 rigs in its fleet and these new fleets are more in demand, the company is able to maintain the high-price premium.
Apart from that, the demand of this offshore drilling is expected to grow in the long run as the oil and gas producing companies look to add offshore large reserves for replacing the normal onshore production decline rate. The addition of these reserves will help sustain long-term efficient production with lower capital investment. As the offshore reserves are present at a depth of more than 7,500 feet, the usage of ultra deepwater rigs is also increasing. As a result, the demand of new-build water-depth rigs of more than 7,500 feet has increased to 85% from 7%, which will ensure better performance and safety while drilling offshore wells at deeper levels.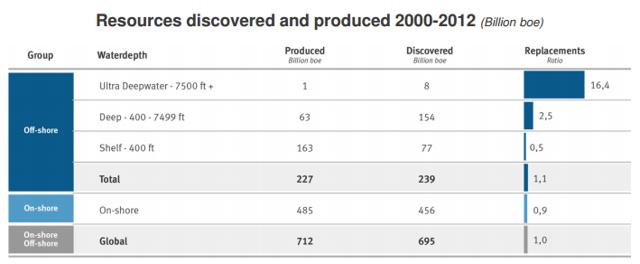 Source: Company presentation
This rising demand for ultra-deepwater rigs is expected to benefit Seadrill, as more than 90% of its floaters are ultra-deepwater rigs.
"Huge backlog" a tailwind for future growth
Along with capitalizing on the increasing demand of a new-build and young fleet range, the company also possesses rigs' contract backlog of around $20.2 billion. Out of this contract backlog, floaters contribute around $14 billion. The delivery for these backlogs is expected to start this year and will continue through 2016. This includes three ultra deepwater drillships - West Neptune, West Jupiter and West Saturn along with a semi-submersible Sevan developer. In my opinion, The West Jupiter would act as a high revenue generating asset for the company. It will be used in a contract signed with Total Upstream Nigeria Ltd. for 5 years and has a total revenue potential of around $1.1 billion. The West Jupiter is a sixth generation drillship currently under construction. The rig is capable of drilling depths up to 37,500 feet.
While the short-term downside has affected the global offshore rig market, the company's huge contract backlog will provide a growth opportunity in the longer term. This year 96% of the company's total capacity is already under contract, whereas in the next two years 66% and 47% of the total capacity is expected to be contracted.
Emerging deepwater area
Seadrill also has potential in Canada, which is full of natural resources, especially oil reserves. Apart from the oil reserves in oil sands, the country has discovered that it has a huge amount of oil in its Atlantic Coast. Earlier, Statoil and Husky Energy drilled the Bay du Nord exploration well and found more than 600 million barrels of recoverable oil. The important point is this area was discovered using Seadrill's West Aquarius semi-submersible rig. These two companies also discovered a new offshore area - the Flemish Pass Basin, which has significant potential to stimulate Canada's offshore industry. This is important for Seadrill because its two rigs - the West Hercules Drilling rig and West Mira semi submersible - will be used in this region in the coming years.
Conclusion
Seadrill is nicely-placed to face the downturn in the offshore drilling market. The company's new and comparatively young fleet range provides a better opportunity against its peers. It is also less exposed in this low-demand scenario due to a lesser number of rig contracts against its peers. The increasing demand in ultra-deepwater rig sections and a huge backlog will further boost its long-term growth and will strengthen its top line in coming years. Apart from this, Seadrill would benefit from drilling in the Canada's Atlantic Coast. I anticipate more good news for Seadrill when the global deepwater rig market recovers. Considering all these points, I recommend buying this stock for long-term growth.
Disclosure: The author has no positions in any stocks mentioned, and no plans to initiate any positions within the next 72 hours. The author wrote this article themselves, and it expresses their own opinions. The author is not receiving compensation for it (other than from Seeking Alpha). The author has no business relationship with any company whose stock is mentioned in this article.