Gold as an investment is one of the most difficult assets to forecast, predict and understand. Being a commodity, its price can vary rapidly due to events beyond anyone's control. So why then does gold belong in your portfolio? Investors use gold as an investment for a variety of reasons. Some investors use gold as a hedge against inflation, others as a hedge against a declining dollar and some as a safe haven during periods of political and economic turmoil. In my opinion, gold is a great portfolio hedge against a significant market recession as seen in 2002 and 2008. In this article, I'll show gold's performance versus the major indices during market corrections and offer a few suggestions on how to incorporate gold into your portfolio.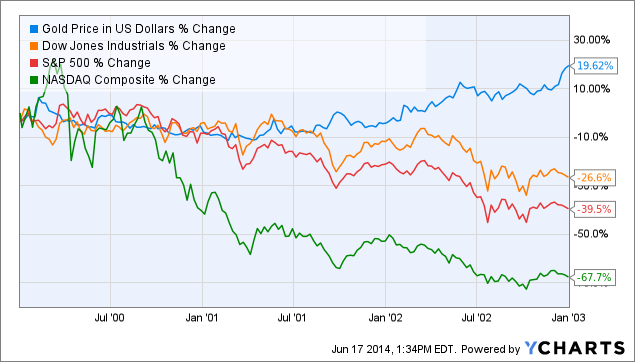 Since 2000, gold has seen a steady increase before reaching its peak at the end of 2013. More importantly, gold held its value during the dot.com bubble and most recently, the housing crisis in 2008. When significant underlying economic factors such as excessive valuations or reckless lending cause substantial market corrections, gold is often the go to asset to protect value. The graph above depicts gold versus the Dow Jones Industrial, S&P 500 and NASDAQ Composite during the crash of the dot.com bubble. Technology valuations reached a tipping point in the NASDAQ, and to a lesser extent in the S&P 500, which drastically fell from January 2000 to January 2003. During this free fall, which saw the NASDAQ lose nearly 70% of its value and the S&P 500 lose nearly 40%, gold retained its value and actually increased close to 20%.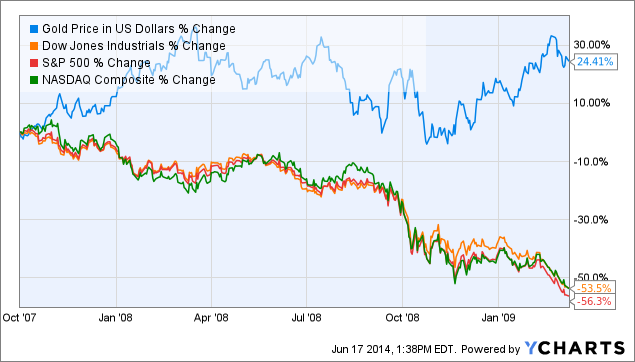 During the recession in 2008, the NASDAQ, S&P 500 and Dow Jones all dropped over 50% from October 2007 to March 9, 2008. Again, during this market weakness gold continued to increase up nearly 25%. This resulted in a 75% spread between gold and the major indices.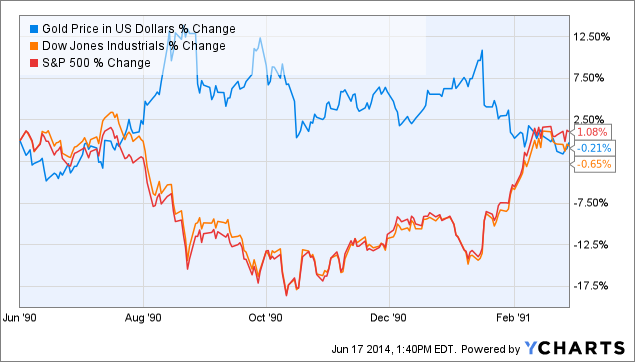 Gold has similar strength during times of war or extreme political tension. The graph above shows the timeframe of the first Gulf War, which officially started on August 2, 1990 and ended February 29, 1991. During this time, markets dropped around 15% while gold was stable to slightly higher. When the war came to an end in February 1991, the markets and the value of gold returned to similar performance levels, but having a portion of your portfolio dedicated to gold would have provided stability.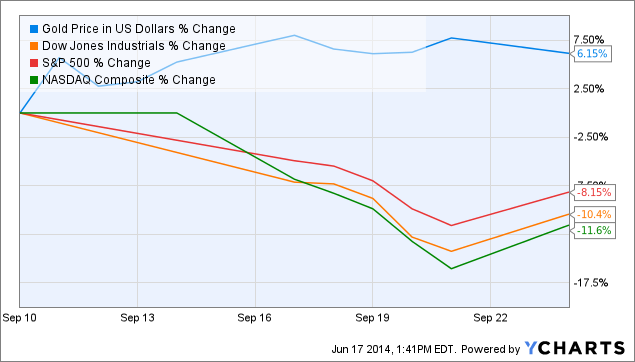 The terrorist attack on September 11, 2001 was another event that shook the financial markets. This unprecedented attack underscored the vulnerability of the markets to a threat no one saw coming. The world today is a much different and cautious place than it was before and the threat from small organizations to shake the world's largest economy is real. Talking from a strictly financial perspective, hedging your portfolio with small allocations in gold is one way to insulate your investment from events beyond your control or predictions.
Ways to invest in gold
The most obvious way to add gold to your portfolio is to buy physical gold. This, however, can be logistically difficult and complicated as you would have to find a way to securely store your investment. The easiest way to invest in gold is through ETFs, such as SPDR Gold Shares Trust (NYSEARCA:GLD) and iShares Comex Gold Trust (NYSEARCA:IAU). These ETFs track the price of gold by holding bullion. For the average risk adverse investor, gold ETFs are the simplest and easiest way to allocate a portion of your portfolio to gold.
Another way to invest in gold is through gold miners. Gold miners are extremely capital intensive companies that live and die based on the price of gold. Because miners must spend a vast amount of money to mine gold, their price tends to fluctuate more than the spot price of gold, which creates more downside. Market Vector Gold Miners ETF (NYSEARCA:GDX) and Market Vector Junior Gold Miners (NYSEARCA:GDXJ) are two large gold miner ETFs that investors with more risk tolerance may want to consider.
| | |
| --- | --- |
| Market Vector Gold Miners ETF - Top 5 Holdings | % portfolio |
| Goldcorp Inc. (NYSE:GG) | 17.6% |
| Newmont Mining (NYSE:NEM) | 10.6% |
| Silver Wheaton Corp (NYSE:SLW) | 6.9% |
| Newcrest Mining (OTCPK:NCMGY) | 6.5% |
| Randgold Resources (NASDAQ:GOLD) | 6.4% |
| | |
| --- | --- |
| Market Vector Junior Gold Miners ETF - Top 5 Holdings | % portfolio |
| Primero Mining (NYSE:PPP) | 5.2% |
| Semafo (OTCPK:SEMFF) | 4.8% |
| Torex Gold Resources (OTCPK:TORXF) | 4.5% |
| OceanaGold (OTCPK:OCANF) | 4.4% |
| China Gold International Resources (OTCPK:JINFF) | 3.9% |
Recommendation
For long-term investors looking to hedge their portfolio from unforeseen and uncontrolled political and economic turmoil, gold is an excellent investment. A simple 5-10% allocation to gold in your portfolio will give you a degree of downside protection. I'm not smart enough to predict where gold will be in 1 year, 3 years or 10 years, but by looking at past historical performance you can see gold is viewed as a safe haven during times of intense political and economic unrest. Investors must be willing to not touch this allocation until the bottom falls out of the market as it did in 2000-2003 and 2008. No matter what your view is of the market over the next 10-15 years, there will be another event that leads to a sell-off and a flight to a proven commodity. When this happens your portfolio will still take a hit, but at least a portion of it will appreciate and investors will have the funds to reinvest at the bottom of the market. It's a simple strategy that is almost guaranteed to pay off in the long-term.
"Those who cannot remember the past are condemned to repeat it"
-George Santayana
Disclosure: The author is long ABX. The author wrote this article themselves, and it expresses their own opinions. The author is not receiving compensation for it (other than from Seeking Alpha). The author has no business relationship with any company whose stock is mentioned in this article.