The U.S. Air Force has awarded a $29.4 million contract to L-3 Communications Holdings Inc. (NYSE:LLL) for effecting modifications to four MC-130W aircrafts. Under the contract, L-3 Communications' subsidiary TCS Inc. will install a precision strike package on the aircrafts. The MC-130W aircraft was originally developed by Lockheed Martin Corporation (NYSE:LMT) for use by the special operations forces for their missions.

L-3 Communications' business unit TCS is based in Warner Robins, Georgia. The company provides support for aircraft and avionics systems hardware and software integration, development, production, modification, test and documentation.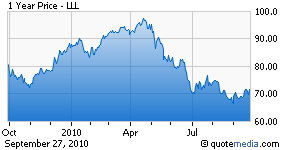 Headquartered in New York City, L-3 Communications is a prime contractor for C3ISR (Command, Control, Communications, Intelligence, Surveillance and Reconnaissance) systems, aircraft modernization and maintenance, and government services. L-3 is also a leading provider of a broad range of electronic systems used on military and commercial platforms.

L-3 Communications stands out among pure defense players by virtue of its non-platform focus, premier position as a sub-contractor/supplier to other defense primes, broad diversification of programs, strong order bookings, and order backlog of approximately $11.1 billion at the end of the first half of fiscal 2010.

Revenue and earnings growth continues to be driven by its strong presence in the current focus areas of command, control, communications, intelligence, surveillance and reconnaissance (C3ISR) equipment; precision-guided weapons; unmanned aerial vehicles; and other electro-mechanical robotic capabilities, networked information technologies, special operations forces and helicopter crew training programs.

L-3 Communications' strong balance sheet provides financial flexibility in matters of incremental dividend, ongoing share repurchase and earnings accretive acquisitions. As of first half-end of 2010, the company had a low long-term debt-to-capitalization of 33.7% (the Zacks industry average was 93.8%) with a total long-term debt of $3.4 billion along with cash holdings of approximately $1 billion and unutilized credit facility close to $967 million.

The company is focused on refinancing its debt through lower cost debt. Earlier the company came up with an offering of bonds worth $800 million in May 2010, at a coupon rate of 4.8%. The proceeds were used to pay down dearer debt –– $800 million worth of notes bearing a coupon of 6.1% due in 2013–2014, effectively reducing its interest liability.

L-3 Communications mainly competes with FLIR Systems Inc. (NASDAQ:FLIR), Herley Industries Inc. (NASDAQ:HRLY), and Raytheon Company (NYSE:RTN). We currently have a Neutral recommendation on the Zacks #3 Rank stock.