Hospira, Inc.'s (NYSE:HSP) biosimilar portfolio received a boost when the Australian Therapeutic Goods Administration (TGA) approved its biosimilar filgrastim product, Nivestim.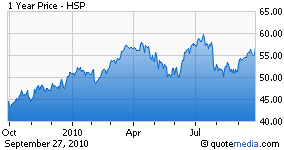 Nivestim received approval for multiple indications such as the prevention of febrile neutropenia and reduction in the duration of neutropenias induced by chemotherapy. Neutropenia refers to the most serious version of hematological toxicity that occurs due to chemotherapy. Moreover, neutropenia could result in reductions in doses of chemotherapy coupled with dose delays compared to the prescribed schedule.

Nivestim, the brand name for filgrastim (used for boosting white blood cells) is a biosimilar version of Amgen's (NASDAQ:AMGN) Neupogen. Nivestim was found to be as effective as Neupogen in preventing febrile neutropenia in a late-stage study with a similar incidence of adverse events. Furthermore, the tolerability of the biosimilar was found to be similar to Neupogen.

Nivestim is the company's second biosimilar. Hospira's first biosimilar erythropoietin has already hit the market in 17 European nations. Nivestim, which is the first biosimilar version of Neupogen to receive approval in Australia, was sanctioned by the European Commission in June this year.

We note that the current Australian sales of Neupogen stand at approximately AUD25 million ($24 million). Currently, Hospira is coordinating with the Australian government to ensure access to biosimilars. The company has submitted an application to get Nivestim listed on the Australian Pharmaceutical Benefits Scheme. Hospira expects the product to be listed and launched in the first half of 2011. Nivestim has already been launched in the UK, Germany and Ireland.

The Australian approval for Hospira's biosimilar product will strengthen its biosimilar portfolio. Hospira is working on expanding its biosimilar portfolio to help drive revenues.

In July 2010, Hospira commenced an early-stage study for biosimilar erythropoietin in renal patients suffering from anemia. The company intends to start an expanded late-stage study of the candidate in 2011, pending successful completion of the early-stage study. The successful development and commercialization of this candidate should further boost Hospira's biosimilar franchise.

Currently we have a long-term Neutral stance on Hospira, which is supported by a Zacks# 3 Rank (short-term 'Hold' recommendation) for the stock.