Overview

Kinder Morgan (KMI, KMP) is the leading transporter and marketer of carbon dioxide in North America. The company transports CO2 via pipeline from southwestern Colorado to West Texas where it is injected into oil producing fields. The Permian Basin produces approximately 20% of the total oil production in the lower 48 states. Kinder Morgan's current issue is the company doesn't have enough supply to meet demand at this point. Yet, that may be about to change. In the following section I will lay out why this is the case and why it is great news for investors.
Recent KMI stock performance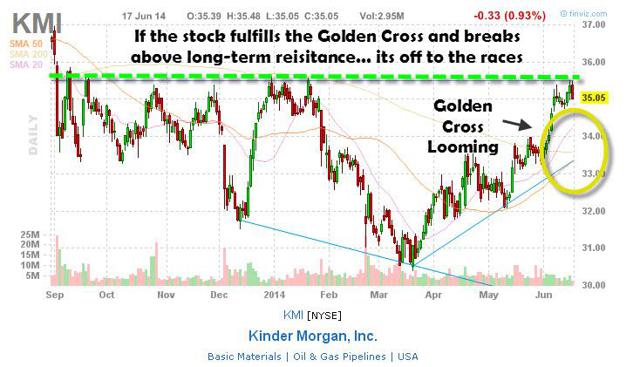 (Source: Finviz.com)
CO2: The big picture
Currently, oil well production can be broken into three major phases.
Phase one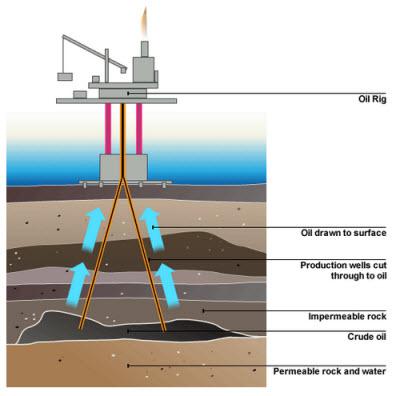 Production rates are the highest in the first stage. Geological pressure being applied to the reservoir rock forces oil to the well bore. An analogy would be the process of letting the air out of a balloon you just blew up. There was so much geological pressure built up inside Spindletop it was analogous to popping a balloon. After the initial pressure subsides, the petrochemicals are brought to the surface with the use of pumps.
Phase two
After the pressure and pumps have done all they can, production is brought to the surface by injecting water or gas into the well driving the petrochemicals to the surface. Think of how oil floats on the top of water. Even with all these techniques, on average, only 40% of the well's total reserves have actually been extracted.
Phase three
The advent of enhanced oil recovery, EOR, by utilizing CO2 has increased the recoverable rate to over 60% at this point. Many oil fields left for dead have been revitalized by pumping pressurized carbon dioxide into them. There is so much demand for CO2 at this point, Kinder Morgan is scrambling to increase its CO2 supply to meet demand. Now let's drill down a little further and dig in to Kinder's specific CO2 assets and plans to capitalize on this excellent growth opportunity.
Kinder Morgan's CO2 Assets
Most of Kinder's CO2 customers are located in the Permian Basin. This is the major enhanced oil recovery market today. See Kinder Morgan CO2 infrastructure asset map below.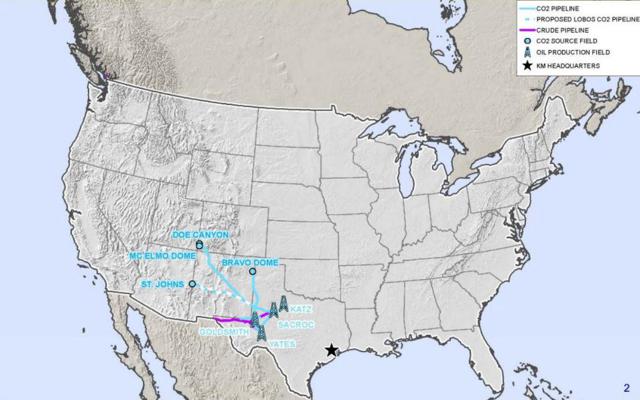 (Source: KinderMorgan.com)
The Permian basin region is one of the oldest oil producing basins in the country and has a great many mature wells. High crude oil prices have made it profitable to exploit these opportunities with CO2. Demand for CO2 is currently insatiable. Supply has been the issue. The following is a detailed review of the current supply level and assets.
Kinder Morgan CO2 supply sources
The CO2 supply sources are an important consideration for EP oil and gas upstream players considering CO2 enhanced recovery operations. For EP operators in the Permian Basin and the western Mid-continent region, Kinder Morgan is the go to CO2 suppler. Kinder Morgan CO2 Company, L.P. leads the industry in CO2 flooding. Currently, the company is in the process of extending CO2 technology to other producers as well. Kinder Morgan has ownership interests in the two largest CO2 source domes, the McElmo Dome and Bravo Dome, which together provide more than 1.5 BCFD to the Permian Basin, Utah, and the Oklahoma Panhandle. The following is a detailed summary of Kinder Morgan's supply sources and CO2 EOR projects. This information was obtained from Kinder Morgan's vice president of Investor Relations, David P. Michels.
The McElmo Dome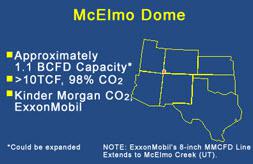 The McElmo Dome is one of the largest known CO2 supplies in the United States, containing more than 10 trillion cubic feet of CO2. Primarily owned by Kinder Morgan CO2, the McElmo Dome is one of the world's largest known accumulations of nearly pure CO2. This dome produces from the Leadville formation at 8,000 ft. with 61 wells that produce at individual rates up to 50 MMCFD. Due to increasing demand, both the McElmo Dome and its pipelines have recently been expanded. At present, more than 1.1 BCFD can be delivered to the Permian Basin and an additional 60 MMCFD to Utah. Additional expansions are underway as well.
The McElmo Dome development plan
According to a recent report:
"Kinder Morgan announced it will invest approximately $671 million to grow its carbon dioxide (CO2) infrastructure in southwestern Colorado and New Mexico. The company plans to expand its CO2 production operations in the Cow Canyon area of the McElmo Dome source field in Montezuma County, Colo., and expand the approximately 500-mile Cortez Pipeline that transports CO2 from southwestern Colorado to eastern New Mexico and West Texas for use in enhanced oil recovery (EOR) projects."
James Wuerth, president of KMP's CO2 group stated:
"These projects are designed to help address the market's growing demand for CO2 and enable companies, including Kinder Morgan, to increase incremental oil production by using CO2 in EOR projects. Kinder Morgan is a leading CO2 supplier and transporter, and we look forward to growing our CO2 network."
The Bravo Dome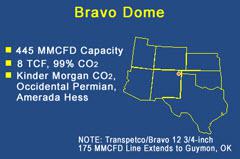 Initially holding reserves of approximately 8 TCF, the Bravo Dome covers an area of more than 1,400 square miles. This dome currently produces more than 400 MMCFD from more than 350 wells. Production here comes from the Tubb Sandstone at 2,300 ft. Recent developments include more than 40 new wells, as well as an upgrade to the compression plant.
The St. John's project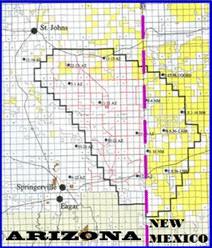 The St. Johns CO2 Field is located in eastern Arizona and western New Mexico and is divided into two separate units, with approximately 247 square miles in Arizona and 139 square miles in New Mexico. CO2 production from the St. Johns Field will be used for enhanced oil recovery in the Permian Basin of West Texas and eastern New Mexico, potentially increasing the nation's domestic oil supply by millions of barrels.
The St. Johns development plan
The St. Johns development plan includes the drilling of 160 new CO2 production wells, construction of a CO2 gathering system, a CO2 processing facility and a CO2 delivery pipeline from the St. Johns Field to existing facilities in Torrance County, N.M. Original Gas in Place (OGIP) at the St. Johns CO2 Field is estimated to be more than 2.4 trillion cubic feet.
The Doe Canyon Deep unit
Kinder Morgan CO2 owns approximately 87 percent of the Doe Canyon Deep unit in Colorado, which contains more than 1.5 trillion cubic feet of carbon dioxide. Kinder Morgan completed the installation of facilities and drilled six wells which produce over 100 million cubic feet per day of carbon dioxide.
Kinder Morgan CO2 Enhanced recovery projects
SACROC
Discovered in 1948, the SACROC unit is one of the largest and oldest oil fields in the United States using carbon dioxide flooding technology. The field is comprised of approximately 56,000 acres located in the Permian Basin in Scurry County, Texas.
Kinder Morgan owns an approximate 97% working interest in SACROC and has expanded the development of the carbon dioxide project initiated by previous owners and increased production over the last several years.
Yates
Kinder Morgan CO2 holds an approximate 50 percent working interest in the Yates unit - one of the largest oil fields ever discovered in the United States. The field is comprised of approximately 26,000 acres located about 90 miles south of Midland, Texas. Kinder Morgan's plan over the last several years has been to maintain overall production levels and increase ultimate recovery from Yates by combining horizontal drilling with carbon dioxide injection to ensure a relatively steady production profile over the next several years.
Katz
Kinder Morgan CO2 operates and owns an approximate 99 percent working interest in the Katz Strawn unit, located in the Permian Basin area of West Texas.
Goldsmith Landreth San Andres
The Goldsmith Landreth San Andres Unit (GLSAU) is comprised of approximately 6,166 acres located in the Permian Basin of West Texas. Kinder Morgan CO2 acquired GLSAU in June, 2013 and owns an approximate 99 percent working interest in the unit. The average production rate for the unit during the first six months of Kinder Morgan's operation was 1,276 barrels of oil per day.
Kinder Morgan CO2 pipeline details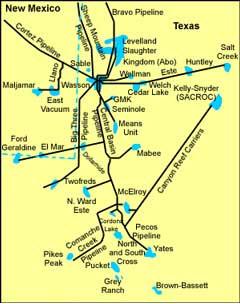 Kinder Morgan CO2 Company, L.P. owns interests in CO2 pipelines that deliver more than 1.6 BCFD to the Permian Basin, Utah, and Oklahoma. Denver City, Texas, the world's largest CO2 hub, distributes gas from the Cortez Pipeline, the McElmo Dome, the Doe Canyon fields, the Bravo Pipeline, and the Sheep Mountain Pipeline. A cadre of delivery lines carries the gas from Denver City to the over forty fields in the Permian Basin.
Historical CO2-EOR Production Growth
According to a recent report from Advanced Resources International published in the Oil & Gas Journal historical CO2_EOR project have steadily grown since the early eighties and are expected to double by 2020. This bodes well for Kinder Morgan. The following is an excerpt from the report.
"Oil production from CO2-EOR in onshore, Lower 48 oil reservoirs provided 300,000 barrels per day of incremental oil supply at the start of year 2014. This rate of oil production has grown steadily for the past 30 years."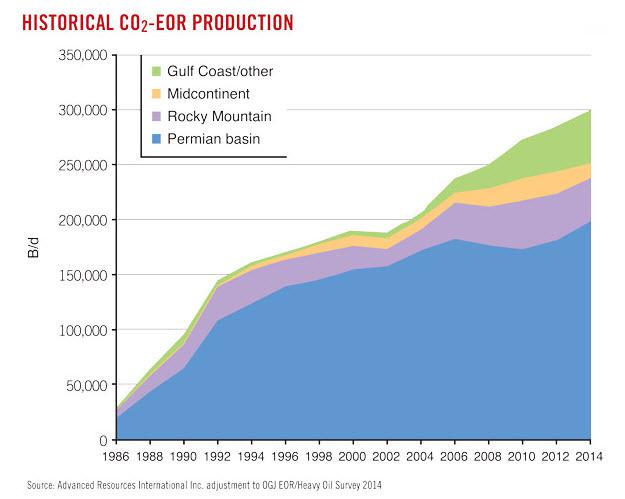 (Source: OGJ.com)
CO2-EOR outlook
"Given the new volumes of CO2 supplies and the numerous announced CO2-EOR projects, we envision strong growth in near-term oil production and CO2 utilization from CO2-EOR. Our analysis shows that incremental oil production from CO2-EOR operations is likely to double to 638,000 b/d by 2020 (Fig. 4; Table 2). Our outlook for CO2-EOR incorporates growth (or decline) in oil production from previously initiated CO2-EOR projects as well as expected oil production from recently announced new CO2-EOR projects expected to come online by 2020."
(Source: OGJ.com)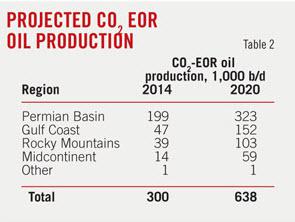 (Source: OGJ.com)
Conclusion
Kinder Morgan has identified CO2 growth projects totaling $1.8 billion and $2.1 billion in sales and trading and enhanced recovery operations respectively over next five years. The extremely strong demand for CO2 should drive demand for years to come. Kinder has more plans to capitalize on this opportunity by increasing volume as demand drives the price of CO2 higher. The downside risk is a drop in the price of oil. If oil drops below a certain level, the CO2-EOR projects will become unprofitable.
Final Thought
Kinder Morgan is well positioned to take advantage of higher oil prices with the company's own CO2-EOR operations. Billions of barrels of domestic oil are still left to be recovered in the SACROC, Yates, Katz and Goldsmith fields, as well as other residual oil zone opportunities. This opportunity may amount to at least a 20% increase in DCF over the next five years alone if everything pans out as planned. This is a major opportunity for Kinder Morgan that hardly gets any attention due to all the brouhaha regarding the company's structure and IDRs. I say Kinder Morgan is a buy for more reasons than one. As time passes, investors will begin to stand up and take notice of the exponential growth potential of Kinder's CO2 business. KMP and KMI remain buying opportunities at current levels.
Disclosure: The author has no positions in any stocks mentioned, and no plans to initiate any positions within the next 72 hours. The author wrote this article themselves, and it expresses their own opinions. The author is not receiving compensation for it (other than from Seeking Alpha). The author has no business relationship with any company whose stock is mentioned in this article.