Last week Bloomberg reported that an American Realty Capital Healthcare Trust (NASDAQ:HCT) shareholder had filed a lawsuit against the newly-listed REIT's planned $2.6 billion acquisition by Ventas Inc. (NYSE:VTR). The disgruntled investor is suing HCT to block the deal because he claims that the merger undervalues the stock-and-cash transaction.
On June 2nd Ventas entered a deal to buy HCT under which the former non-traded REIT shares will generally be converted into a fixed number of Ventas shares, based upon a negotiated Ventas stock price of $67.13 per share. HCT shareholders will have the option to elect to receive either 0.1688 Ventas common share or $11.33 in cash for each share of HCT common stock they own.
I'm not clear as to whether the unhappy investor purchased shares in HCT but in all likelihood he purchased shares before the public listing (over 60 days ago). If so, he shouldn't be terribly upset because he will get $11.33 a share for the illiquid shares purchased at $10.00. Remember, he also received a generous dividend and he recouped around $1.50 in fees (or load) that he would have paid when he forked out the dough to buy the shares originally.
More importantly, any investor who purchased shares in HCT would have been doing so without a driver behind the wheel. In other words, HCT is externally managed and that means that there's an arrangement whereby the management of the property is outsourced and HCT pays a fee (to the manager) for those services. I have often argued that the externally-managed REIT model is inherently misaligned resulting from various conflicts of interests.
To put in bluntly: If Ventas doesn't acquire HCT, the miserable investor will look foolish when he finds out he lost the buyer of his Ford who was willing to pay the price for a Cadillac (and an excellent chauffeur named Debra Cafaro). At that point, he will find himself stranded because he will not have a driver behind the wheel. Remember silly rabbit, tricks are for kids. Confucius said: don't ever walk away from an excellent profit.
Another Externally Managed Healthcare REIT
Senior Housing Property Trust (NYSE:SNH) is another externally-managed Healthcare REIT. This Newton (NYSE:MA)-based company was founded in 1986 and commenced as a public REIT on September 17, 1999. With more than 14 years of public trading history, SNH has evolved into a $4.8 billion company with 372 properties in 38 states and Washington, DC.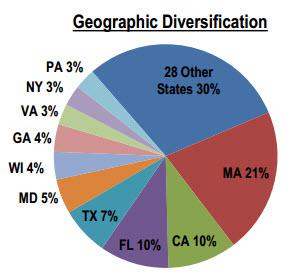 Much like HCT, SNH is considered a "diversified" REIT, and the company's property mix is primarily made up of Independent Living (29%), Medical Office Buildings (44%), and Assisted Living (29%). The smaller categories include Nursing Homes (3%), and Wellness Centers (3%).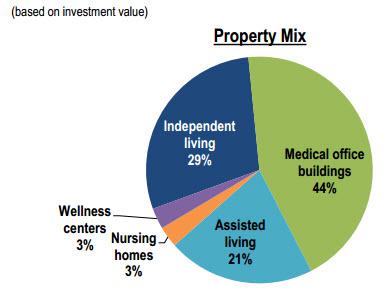 Externally-managed REITs like HCT and SNH typically underperform the managed ones. In addition, SNH has to compete with the dominating "big 3" diversified REITs: Ventas, Inc., HCP, Inc. (NYSE:HCP), and Health Care REIT (NYSE:HCN). SNH has a market cap of $4.85 billion or around 1/4 the size of the larger peers.

SNH has more than 620 tenants, and the top five tenants include: Five Star Quality Care (NYSE:FVE), Aurora Health Care, Sunrise Senior Living, Cedars Sinai Medical Center, and Life Time Fitness (NYSE:LTM).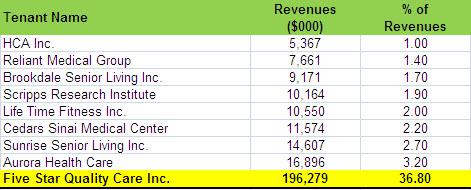 The Senior Living portfolio consists of 264 communities and more than 31,590 units. As referenced above, the largest senior living tenant, Five Star Quality Care, is also the largest tenant of the REIT. SNH derives around 42% of its overall revenue from Five Star's 186 communities (and 20,406 units). The occupancy for the Five Star portfolio is 84.2%.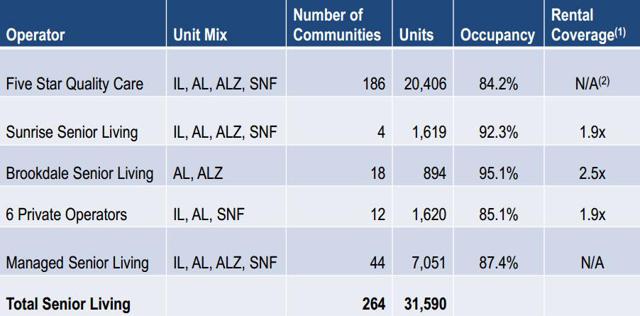 One big concern is that Five Star leases more than 70% of SNH's Senior Living portfolio and that concentration risk translates into considerable dependency on one tenant. Here is a snapshot of SNH's Net Operating Income by Tenant Mix:

As I said, it's common for externally-managed REITs to have conflicts of misalignment and given the fact that Five Star has common ownership in the external advisor and the tenant (Five Star), I find the association to be troubling. Remember, external management incentives are aimed to increase assets under management and that typically leads to higher remuneration. (This snapshot is Five Star Insiders - source is Yahoo Finance):

I can clearly see the potential for the conflicts of interest in Five Star negotiating a suitable, stable long-term economic arrangement with SNH (and RMR, the management company). Why should these parties expose themselves to ongoing charges of self-dealing, and why does SNH have such a large exposure to a non-investment grade credit?
When looking at just GAAP data, Five Star appears to be a profitable company (see FAST Graph below); however, when you factor in the true amount of capital invested in the company, you can see that the company actually makes negative economic earnings. In reviewing the company's off-balance sheet debt, Five Star's ROIC is around 6%, less than its weighted average cost of capital (or WACC).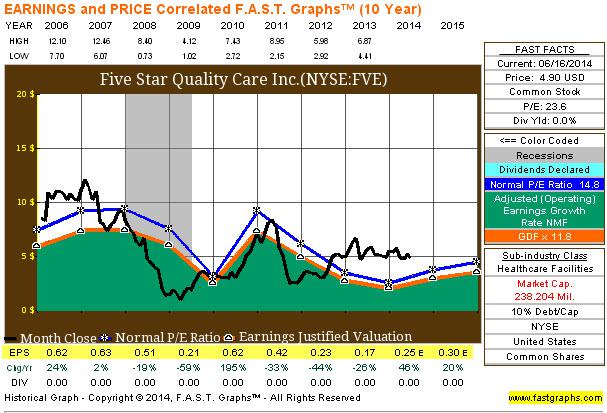 It's clear that Five Star's stock price has been volatile (one-year stock chart below) - source: Yahoo Finance.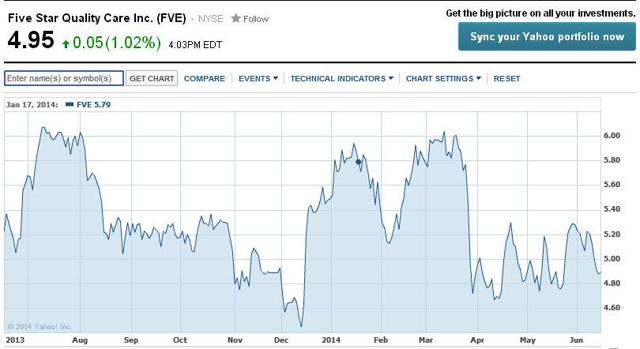 It' s important to note that SNH has (more recently) been focusing its efforts on owning assets with limited exposure to government funding, and the company has 96% of its sources of payment coming from private pay properties. Accordingly, SNH has one of the highest "private pay" models in the REIT sector.

SNH Has Better Debt Metrics
Although SNH has a disadvantage in terms of its exposure with one self-dealing tenant, the company does enjoy a competitive advantage in its balance sheet execution. As illustrated below, SNH is one of 3 Health Care REITs with a BBB- (S&P) debt rating.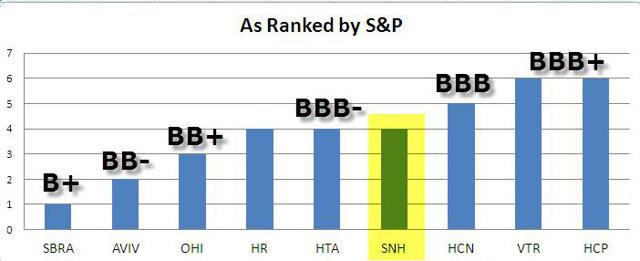 As of Q1-14 SNH had $33 million in cash, $1.1 billion of unsecured senior notes and $696 million of secured debt and capital leases. Subsequent to quarter end SNH sold 15.5 million common shares raising net proceeds of approximately $323 million and $650 million of unsecured senior notes.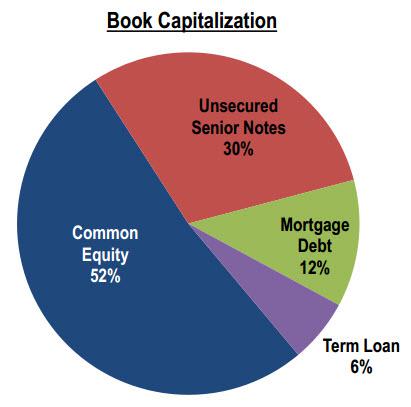 SNH recently acquired a $1.125 billion Biotech MOB acquisition (leased to Vertex Pharmaceuticals) in Boston. The initial cash yield is in the mid 6% range and the deal is being financed with 75% unsecured debt and 25% in equity. Following that transactions SNH's balance sheet and liquidity remains strong and in line with the peers with debt to total book capitalization of approximately 47% and adjusted EBITDA to interest expense of 3.5x.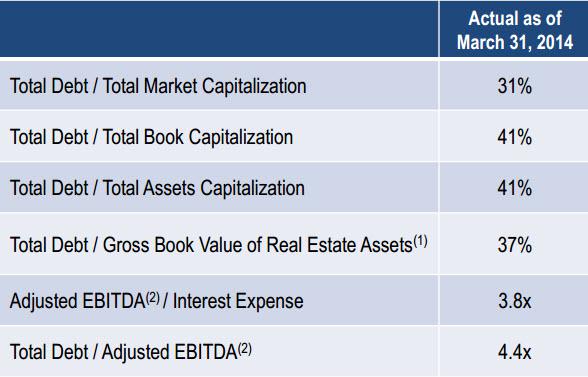 SNH's $750 million credit facility is fully available to fund future acquisitions and the company does not expect to go to the capital markets for the foreseeable future. The company's debt maturity schedule remains manageable.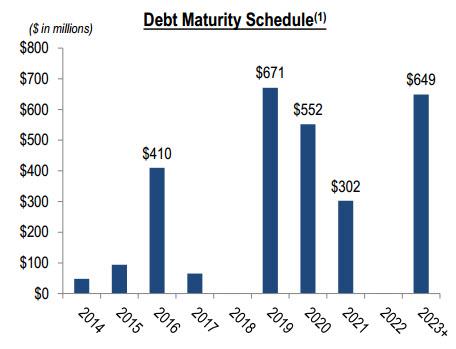 The Vertex deal will significantly increase SNH's exposure to the MOB sector and here is what David Hegarty (President and Chief Operating Officer of SNH) had to say on the recent earnings call:
…it takes our already high-grade and quality portfolio to next level and this brand new building that is truly state-of-the-art is an irreplaceable asset in a premier location.
Here is a snapshot of SNH's MOB portfolio (now Vertex represents 26% of revenue):

SNH Has Consistent Earnings
Yesterday I wrote an article called These REITs Should Weather The Storm and I provided a list of 15 REITs that have consistently paid annual dividends and never cut (during the Great Recession). Several of the REITs, included SNH, have actually increased their annual dividend payout with no interruptions.

For any investor, owning shares in a consistent dividend paying stock is important and SNH has successfully demonstrated its ability to grow earnings steadily. Here is a snapshot of the company's dividend record: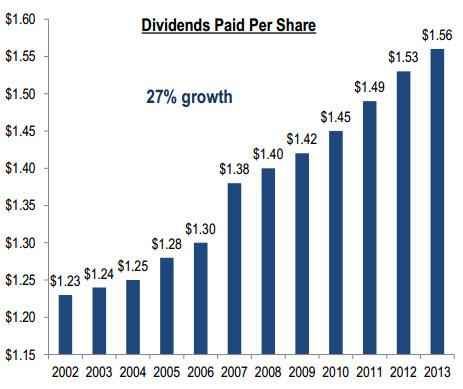 Let's examine SNH's dividend history compared with leading peers: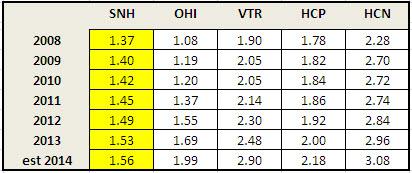 As you can see, SNH has maintained a relatively modest 5-year dividend growth record. With an average growth rate of 2.2% SNH looks more like a utility stock than a REIT.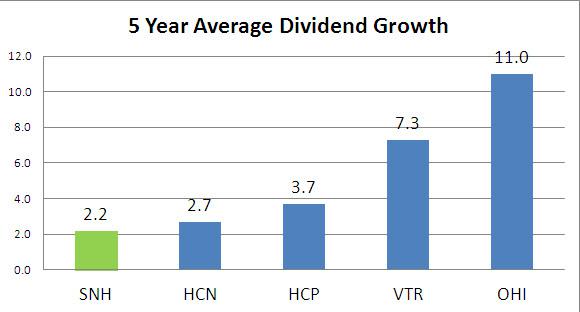 The same characteristics are evident with the company's 3-year dividend growth record. It's clear to see why I own VTR and OHI - both REITs that generate average double digit dividend growth.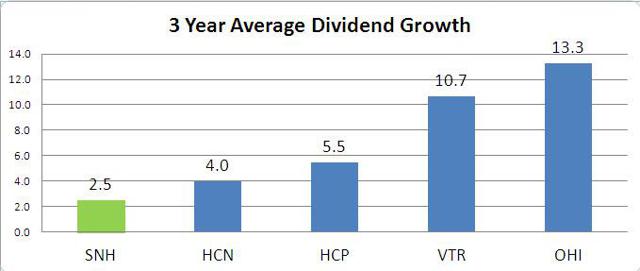 SNH's Funds from Operations (or FFO) per share in Q1-14 was $.43 and the company's recent dividend payout was $.39 - that equates to a payout ratio of 90.7%.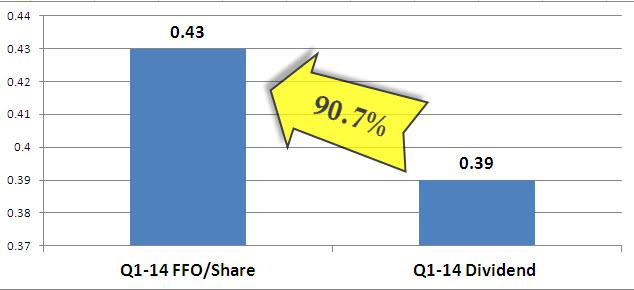 The company's current dividend yield is 6.54%. Excluding HCT (in proposed merger with VTR), SNH pays the highest dividend in the Healthcare sector.

In historical terms, SNH's dividend yield is fairly valued. As you can see below (in the shaded yellow area), there were periods over the last few months that SNH experienced higher risk. I consider the current 6.54% yield to be fair based on risk-adjusted metrics. The modest growth in income does not compensate for the concentration risk (Five Star) and the externally managed structure. In other words, I believe there are better opportunities that exist for this "bond-like" income stream.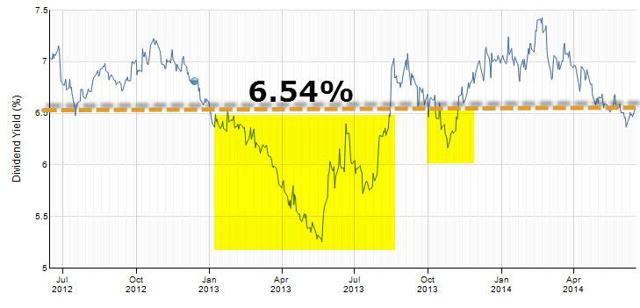 Should an Intelligent Investor Buy This REIT?
No. As I said, the risks referenced above do not compensate me adequately. SNH is currently trading at $23.84 with a P/FFO of 13.7x. It's true that OHI is exposed to more government pay risk as well as a lower debt rating (BB+); however, I like Omega Healthcare Investors (NYSE:OHI) because it's a "pure play" REIT that has one core business model. That's also why I like Healthcare Trust of America (NYSE:HTA), another "pure play" MOB operator with an investor-aligned internally-managed platform.

This FAST Graph below illustrates the modest growth associated with SNH's diversified business model (note: I did not include the black price line in this chart).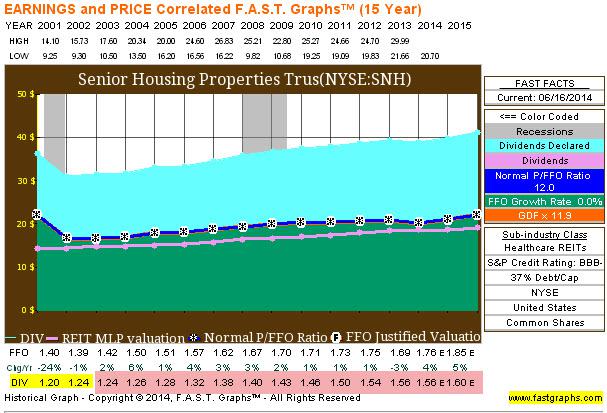 The best time to buy SNH was in February 2009 when shares fell to $12.62.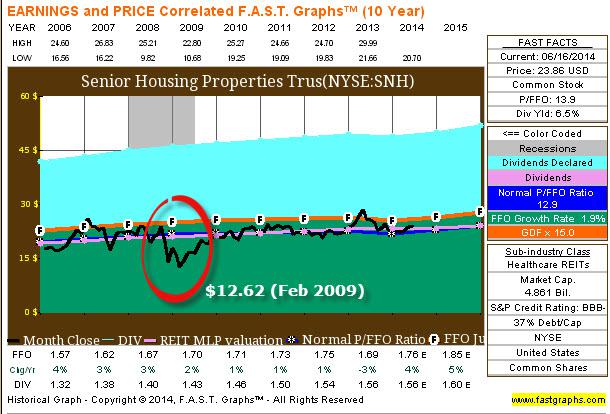 I just can't come to terms with buying SNH today. This REIT looks more like Consolidated Edison (NYSE:ED) than a REIT. If an investor is looking for income, there are plenty of alternatives in the Preferred REIT space (I have some great picks in my newsletter this month).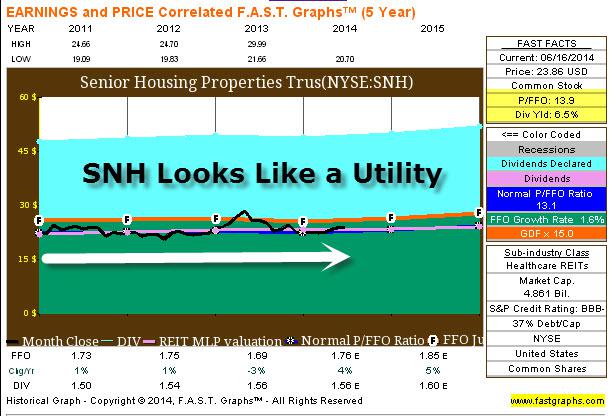 Besides, SNH is attempting to operate a multi-disciplined (senior living and MOB) model and it's not clear that the company can remain competitive as a smaller, diversified operating entity. (Remember, I predicted that Ventas would buy HCT and it's coming true. Perhaps Ventas or HCP should pounce on SNH?).
Finally, I just can't come to grips with investing my hard-earned capital into an externally-advised REIT. As my title suggests, "Silly Rabbit, Externally Managed REIT Tricks Are For Kids".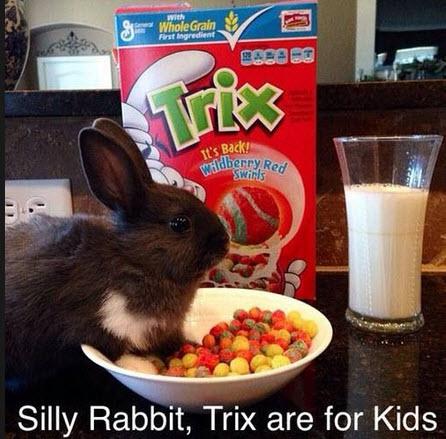 For more information on my REIT portfolio, check out my monthly REIT newsletter HERE.
Sources: SNL Financial, FAST Graphs, and SNH Investor Presentation.
REITs mentioned: (NYSE:NHI), (NASDAQ:SBRA), (NYSE:HR), (NYSE:LTC), (NYSE:UHT), (NYSE:AVIV), (NYSE:MPW), and (NYSE:DOC).
Disclaimer: This article is intended to provide information to interested parties. As I have no knowledge of individual investor circumstances, goals, and/or portfolio concentration or diversification, readers are expected to complete their own due diligence before purchasing any stocks mentioned or recommended.
Disclosure: The author is long O, DLR, VTR, HTA, STAG, UMH, CSG, GPT, ARCP, ROIC, HCN, OHI, LXP, KIM, WPC, DOC, UDF. The author wrote this article themselves, and it expresses their own opinions. The author is not receiving compensation for it (other than from Seeking Alpha). The author has no business relationship with any company whose stock is mentioned in this article.