International Game Technology (NYSE:IGT) shares have soared more than 27% so far in June amid speculation of a buyout offer. While the stock has already made a significant move, I decided to go long IGT via call options because I believe the risk/reward setup favors a bullish position.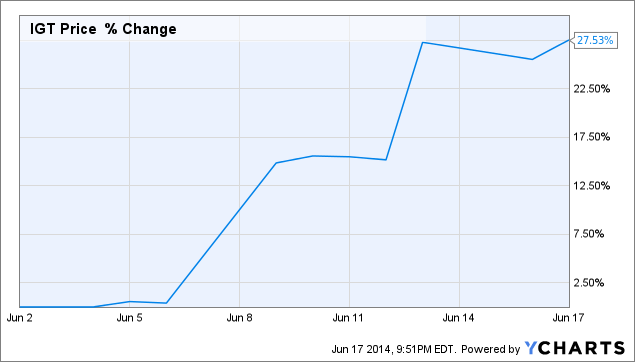 IGT data by YCharts
Potential Buyers
So far, all reports have named four interested parties: Italian lottery operator GTECH, Ron Perelman's MacAndrews & Forbes Holdings, Apollo (NYSE:APO), and Carlyle (NASDAQ:CG). GTECH appears to be in the lead right now. To see why a bidding war is likely to ensure, lets take a closer look at why IGT is a good fit for each potential buyer:
GTECH
Buying IGT would allow GTECH to diversify its business by gaining exposure in the U.S. and gaining a foothold in a new business. For GTECH, buying IGT would be transformational since the company is currently worth only $4.6 billion and IGT has an enterprise value of $6 billion.
MacAndrews & Forbes
MacAndrews & Forbes already owns a controlling interest in lottery solutions and gaming company Scientific Games Corp (NASDAQ:SGMS), so IGT would be an extension of that business. Perhaps MacAndrews & Forbes would push for some sort of merger between IGT and Scientific Games. In any event, I believe MacAndrews & Forbes should be classified as a strategic buyer, not a financial buyer in this case. This is important as strategic buyers are typically willing to pay more than financial buyers because there is a perceived way to create more value by merging the company with another controlled entity.
Apollo
Apollo is also already an active player in the gaming industry. Of course, Apollo's most notable investment is its position in Caesars (NASDAQ:CZR) which I have discussed in another piece. Apollo also recently acquired gaming machine maker American Gaming Systems for $240 million. Apollo is also a major stakeholder in Caesars Acquisition Corp (NASDAQ:CACQ), which controls Caesars powerful online gaming platform. Due to this, it is not surprising to see that Apollo is interested in IGT. Like MacAndrews & Forbes, Apollo should be classified as not just simply a financial buyer but also a strategic buyer.
Carlyle
Carlyle, like the other potential buyers, is also no stranger to the gaming business. In particular, Carlyle has moved aggressively into online gaming, an area in which IGT is rapidly growing. It makes sense that Carlyle is interested in IGT. Like the other players, Carlyle should be viewed as a potential strategic bidder, willing to pay a premium, as opposed to a strictly financial bidder.
Why I'm Bullish
I am bullish on IGT because I believe there will be at least two serious bidders, if not more. While no deal is a guarantee, it appears that a mid from GTECH is almost certain to surface over the next few days. Multiple interested parties means that IGT shares could be pushed significantly higher from here. IGT shares are currently trading just below $16 and the 52 week high is $21.2. I think there is a strong case to be made that IGT will end up being sold for something close to its 52 week high. IGT recently said it expects to earn between $1 and $1.10 for 2014. At current prices, IGT is trading around 16 times forward earnings. In the past IGT has traded at a significantly higher PE ratio, and thus I believe a strategic buyer, given a competitive bidding process, would be willing to pay at least 20 times forward earnings. That said, it is possible that the market has already factored in competitive bidding process and the final offer will not be much above the current price. However, as I mentioned at the beginning of this piece, I believe the current risk/reward profile for IGT favors a bullish position because the downside is limited.
Disclosure: The author is long IGT. The author wrote this article themselves, and it expresses their own opinions. The author is not receiving compensation for it (other than from Seeking Alpha). The author has no business relationship with any company whose stock is mentioned in this article.