This is a series of articles that discusses dividend coverage for most of the 26 BDCs that I cover in an effort to uncover companies that have the potential to sustain or increase current dividends. I will also be using this information to update my latest "BDC Rankings: May 2014". For more details regarding this series and for the dividend coverage results for Triangle Capital (NYSE:TCAP), Fidus Investment (NASDAQ:FDUS), PennantPark Floating Rate Capital (NASDAQ:PFLT), Gladstone Capital (NASDAQ:GLAD), Golub Capital BDC (NASDAQ:GBDC), PennantPark Investment (NASDAQ:PNNT), Hercules Technology Growth Capital (NASDAQ:HTGC), FS Investment Corp (NYSE:FSIC), Ares Capital (NASDAQ:ARCC), TCP Capital (NASDAQ:TCPC), THL Credit (NASDAQ:TCRD), New Mountain Finance (NYSE:NMFC) and Medley Capital (NYSE:MCC) please see:
Over the last five quarters TICC Capital (NASDAQ:TICC) has been able to maintain its portfolio yield through increasing the amount of collateralized loan obligation ("CLO") investments. As discussed in my "TICC Capital Articles" CLO's are riskier than other BDC investments due to the following issues: less transparent than direct investments in portfolio companies, repayment priority of more senior debt holders, thinly traded, not listed on traditional exchanges, making them less liquid, difficult to value and more volatile.
The following statement is from the recent 10-K: "Up to 30% of our portfolio may consist of equity and junior debt investments in CLO vehicles, which involves a number of significant risks. CLO vehicles that we invest in are typically very highly levered (10-14 times), and therefore, the junior debt and equity tranches that we invest in are subject to a higher degree of risk of total loss. In particular, investors in CLO vehicles indirectly bear risks of the underlying debt investments held by such CLO vehicles."
The following table shows the increase in CLO investments and the higher yield from this portion of the portfolio.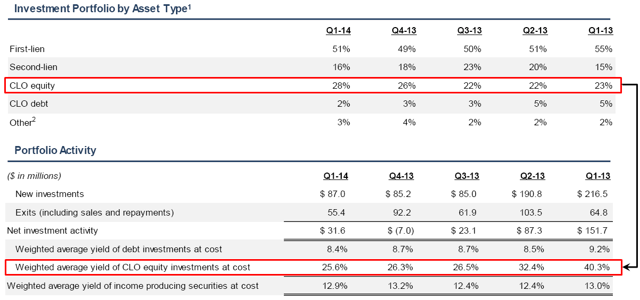 As you can see its CLO yields have declined from 40.3% to 25.6% over the last five quarters but the impact to TICC has been offset by increasing the amount of CLO investments as a percentage of the portfolio. However the company has now reached its 30% maximum 'unqualified' investment bucket and can only grow these investments proportionally with the portfolio. This means that if CLO yields continue to decline TICC's overall portfolio yield will start to decline more than in the past.
TICC has historically had higher amounts of leverage compared to other BDCs and is currently below its targeted debt-to-equity ratio of 0.80 to 0.85 due to a recent equity offering.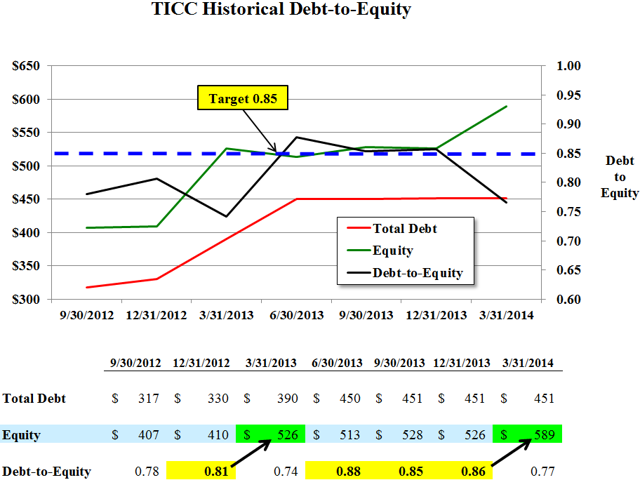 TICC breaks out its income between interest income from debt investments and distributions from its CLO investments that has recently accounted for over 50% of total income. The base management fee for TICC is 2.00% of gross assets a year paid quarterly and excludes idle cash which was beneficial to shareholders for the most recent quarter due to having excess cash from the most recent equity offering at the end of the quarter but as this capital is deployed these fees will rise.
Income Incentive Fees (TICC vs. PSEC)
As discussed in many of my TICC articles linked above and "TICC Capital: Lower Fees For Higher Yields In 2014?" TICC is one of the only BDCs that increases its incentive hurdle rates as interest rates rise to ensure that investors will receive higher income. Every year since 2005, TICC determines the annual hurdle rate for each new year on December 31 by adding 5% to the interest rate then payable on the most recently issued five-year U.S. Treasury Notes, up to a maximum annual hurdle rate of 10%. Also there is no 'catch-up' after the hurdle and the advisor is only paid 20% of the amount over the hurdle. The diagram below shows the incentive fee structures for Prospect Capital (NASDAQ:PSEC) and TICC.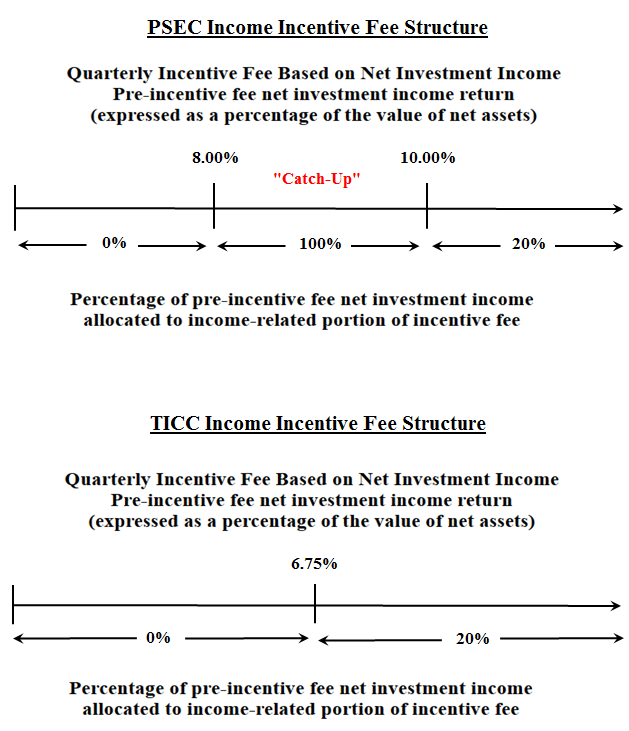 It should also be noted that there are many BDCs with incentive fee structures similar to PSEC including each of the ones listed in the last table of this article with a 7.00% to 8.00% hurdle rate including TCRD, GBDC, MCC, FDUS, TCPC, FSIC, GLAD, PFLT, ARCC, PNNT and NMFC.
So what does this mean to investors? Below is a table that shows the most recent quarterly results for TICC and PSEC. Both have similar amounts of leverage and portfolio yields for a more accurate comparison of how a lower incentive fee structure can impact dividend coverage. The last line of the table shows the incentive fee as a percentage of 'pre-incentive fee net investment income' which is what most BDCs use to calculate fees paid to the advisor.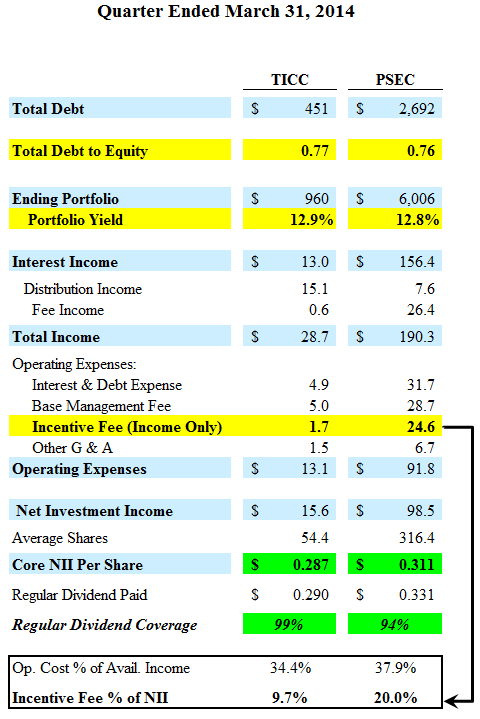 As you can see TICC has much lower fees and better dividend coverage for the quarter.
For projection purposes, I use core net investment income ("NII") that excludes both income and incentive fees related to capital gains. The following table shows the most recent quarter financial results along with projections at various levels of leverage assuming that TICC uses at around $50 million of its available cash along with a stable portfolio yield of 12.9% to determine the impacts on dividend coverage. Each of these scenarios assumes a full quarter of benefit from interest income but also a full quarter of interest expense, base management and income incentive fees.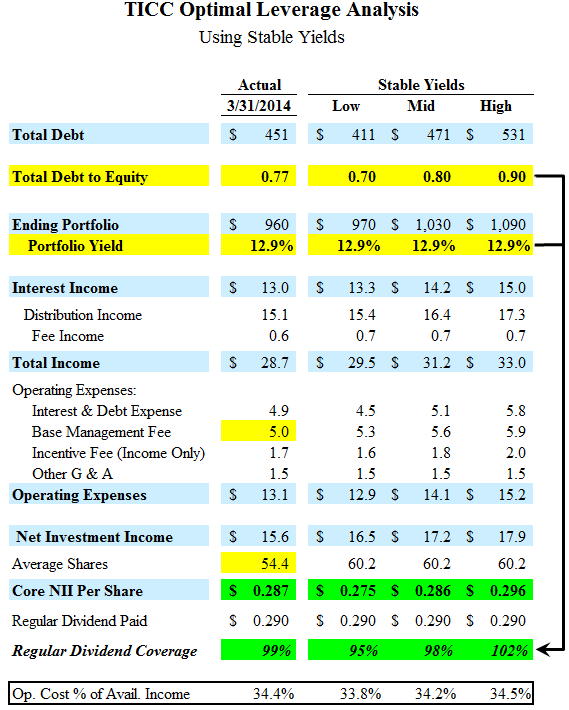 These scenarios assume the highest level of efficiency and actual results could be lower because there will always be some turnover in the portfolio (that could drive higher fee income). This analysis implies that TICC needs to use higher amounts of leverage to cover dividends in the future. My key concern for TICC is related to yields going forward on its CLO investments. As discussed earlier if these yield continue to decline, TICC's overall portfolio yield will start to decline and this could reduce its coverage of future dividends.
Side by Side Comparison:
The goal of using a side by side comparison is to show an 'apples to apples' view of each BDC with a stable portfolio yield, current cost structure and capital expenses with a portfolio that uses the same amount of leverage to increase return on equity investments. I will be using the amount of equity as of March 31, 2014 (or most recent) along with a debt-to-equity ratio of 0.80 and the current portfolio yield to project income and expenses, tracking the following metrics:
Dividend coverage (using a debt-to-equity 0.80)
BDC expenses (as a % of available income)
'Available income' is total interest and fee income less interest expense from borrowings and is the amount of income that is available to pay management expenses and shareholder distributions. BDCs with lower expenses can pay higher amounts to shareholders without investing in riskier assets.
The following table compares the results for TICC to the other BDCs (so far in this series). As you can see TICC has a lower than average 'operating cost as a percentage of available income' but also a lower than average dividend coverage. This should be a concern for investors and the yields on its CLO investments should be watched closely.
I still believe TCPC, HTGC and FSIC have a much higher potential for dividend increases than the average BDC. I will continue to add more companies in the following articles.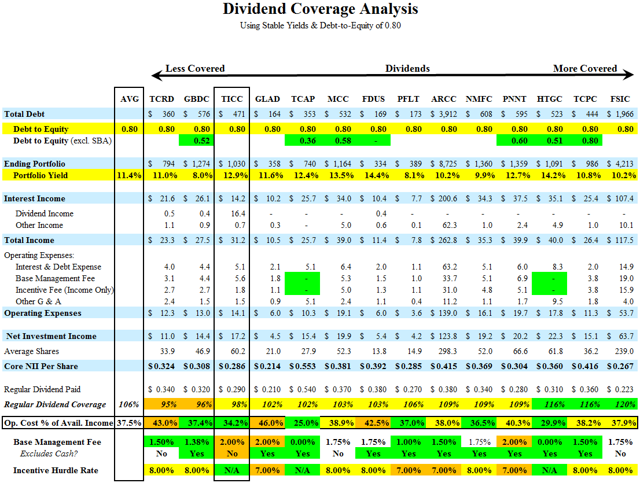 For more details including some of the potential variances to this methodology for assessing dividend coverage please see "Part 1" of this series.
Disclosure: The author is long ARCC, MAIN, FSIC, HTGC, TCPC, NMFC. The author wrote this article themselves, and it expresses their own opinions. The author is not receiving compensation for it (other than from Seeking Alpha). The author has no business relationship with any company whose stock is mentioned in this article.