Lululemon Athletica, Inc. (NASDAQ:LULU) is an apparel store that makes yoga and outdoors clothing for men and women. The stock has fallen approximately 50% from its all-time high in June 2013. A combination of management mishaps and slowing same-store sales growth has done considerable damage to the market's view of the company's prospects, but I think those worries are overdone.
Management Turnover and The Kitchen Sink
Laurent Potdevin has a strong track record in retail as President of TOMS Shoes and President/CEO of Burton. He is the focal point of a management turnover process that is now complete with the announcement of John Currie's retirement.
The company's mishaps claimed the Chairman, CEO, CFO, and CPO; Lululemon can now finally start fresh and a fresh start would not be complete without a "kitchen-sink quarter". The term was last commonly used in the thick of the financial crisis to describe the way Wall Street investment banks approached increasingly negative sentiment. Bloomberg writer Steve Rosenbush explains that "[w]ith expectations at rock bottom, banks" were "likely to throw in every bit of bad news they can find in hopes of laying the groundwork for a strong recovery".
In Potdevin's first complete quarter as CEO, results were admittedly negative and I believe that is no coincidence. Lululemon took a one-time tax charge to repatriate cash, announced the impending retirement of its CFO, and guided same-store sales, revenue, and adjusted EPS well below consensus. If a new management team does not use its first quarter as a chance to retire a firm's legacy issues, then it becomes tougher to move past them later in their tenure. Now, Lululemon is on strong footing to move forward.
A "kitchen-sink quarter" has three additional positive attributes. The firm announced a large share buyback plan at a time when the company's equity is as cheap as it's been since the IPO, which is very positive for shareholders in the long term. Lululemon won't be a slave to its creditors while it reinvents its product cycle like many retail firms because it has no significant debt and has plenty of dry powder in cash to buy back shares and invest in an international expansion. One more positive for a long investor is how a "kitchen-sink quarter" is a sign to a short-seller that the damage to the firm is done. Firms with rebounding prospects are a short-sellers worst enemy.
The quarter also opens up an attractive entry point for an activist shareholder, which typically results in abnormal returns for investors over the long term as funds accumulate large blocks of shares and slowly change market sentiment. Here's a chart that Aswath Damodoran put together to show the effects: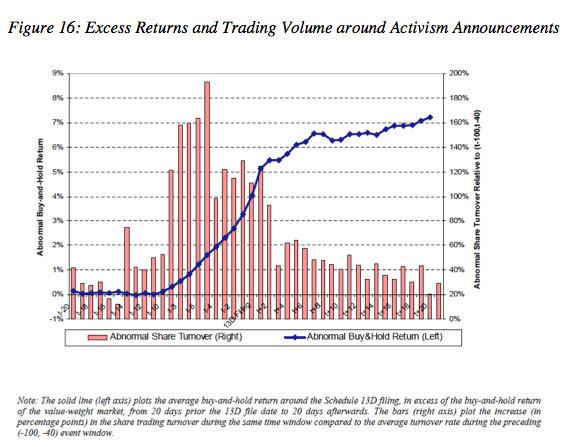 Comparable Companies Analysis
An EV/EBIT ratio (Enterprise Value / Earnings Before Interest and Tax) is the perfect tool to compare retail firms with differing capital structures. Firms with high debt loads are negatively impacted by their debt for the enterprise value calculation but positively impacted for the EBIT calculation because it omits interest payments. Many of Lululemon's competitors in yoga apparel are larger and highly leveraged. EV/EBIT evens the playing field between firms with different amounts of debt and cash on their balance sheets.
Here's a table comparing the EV/EBIT ratios, EBIT margins, and organic revenue growth of Lululemon and five of its competitors:
| | | | |
| --- | --- | --- | --- |
| | TTM EV/EBIT | EBIT Margin | 2013 Organic Rev. Growth |
| LULU | 11.77 | 25.0% | 16.1% |
| UA | 43.92 | 11.4% | 27.1% |
| GPS | 8.71 | 13.3% | 3.2% |
| JWN | 10.71 | 11.1% | 3.4% |
| PVH | 12.44 | 12.6% | 3.3% |
| LB | 11.78 | 16.2% | 3.0% |
Source: Company 10-K and 10-Q Filings
The only company that is competing in the yoga apparel business and growing at a similar pace to Lululemon is Under Armour (NYSE:UA), but it trades at a nosebleed valuation in comparison.
Calvin Klein, a brand of PVH (NYSE:PVH), and Victoria's Secret, a brand of L Brands (NYSE:LB), also compete in yoga apparel and trade at comparable valuations to Lululemon based on their respective EV/EBIT ratios, but their respective organic sales growth metrics are anemic after adjusting for Nordstrom's acquisition of Warnaco.
Gap (NYSE:GPS), through its Athleta brand, and Nordstorm (NYSE:JWN), through its Zella brand, compete directly with Lululemon in the high-end yoga clothing market. Gap and Nordstrom trade at discounts to Lululemon based on EV/EBIT; however, both grew as anemically as PVH and L Brands.
Lululemon looks attractive based on its EV/EBIT ratio and organic growth, but its EBIT margins stand out clearly from the rest of the pack. They tell the story of a truly differentiated firm with a defensible business model; as poor as 2013 was for Lululemon, the firm still posted gaudy EBIT margins in comparison to the other firms.
There is simply no comparison to Lululemon in terms of its EV/EBIT ratio, organic revenue growth, and EBIT margin amongst retail firms. The active wear apparel market grew 8% for the twelve months that ended in May, according to NPD. If the company's revenue can grow in line with the market, still below the firm's comparably poor showing of 11% revenue growth in Q1, then the stock is extremely attractive at these prices.
Risks
The market crucified Lululemon for its 'sheerness' scandal in March 2013 that led to mass recalls and a drop in sales. Inappropriate commentary from the firm's founder Chip Wilson has not helped the situation. This has led the firm to trade over 50% below its all-time high.
I view Wilson's 27% stake as one of two main risks to the thesis. His antics have hardly taken a breather; it was only ten days ago that he publicly lambasted two new members of the company's board. Wilson is somewhat of a wild card, but he does have a significant financial incentive to see the company succeed. He thankfully stepped down as chairman even though he was not required to, which should prevent him from impeding the retooling of the brand.
The other main risk is the chance that Lululemon's brand was permanently impacted by the scandal. Fashion is a difficult world where one false step can send a firm into bankruptcy. However, I think Lululemon's strong balance sheet gives the ample time to change and Tara Poseley's strong leadership in product design will rekindle the culture that set Lululemon apart from its competitors.
Conclusion
Lululemon Athletica, Inc. has been unfairly punished by the market. The company trades at an attractive EV/EBIT ratio of 11.77 with strong revenue growth and sector-leading EBIT margins.
Buybacks of cheap shares and the possibility of activist shareholders add more positive attributes to this unique opportunity that the market's overreaction has brought a patient investor. Significant short interest also acts as 'gas in the tank' for long investors as short-sellers buy back shares to close their positions.
The firm's first quarter was a "kitchen-sink quarter" in my view that allowed Laurent Potdevin to take care of legacy issues. The future is bright for Lululemon as long as its brand has not been ruined during its various 2013 fiascos.
Disclosure: The author is long LULU. The author wrote this article themselves, and it expresses their own opinions. The author is not receiving compensation for it (other than from Seeking Alpha). The author has no business relationship with any company whose stock is mentioned in this article.