Since announcing disappointing earnings for 1Q 2014, Molycorp's (MCP) shares have been under pressure. The company reported a loss attributable to shareholders of $88 million versus a loss of $39 million in 1Q 2013. Molycorp also experienced cash outflows of $78 million, raising red flags about an imminent capital raise. The stock declined from $4.55/share before the earnings announcement, to a 52 week low of $2.44/share on June 3rd; it has since settled around $2.80/share. The following chart shows projections for the company's cash outflows. Molycorp could run out of cash in 1Q 2015.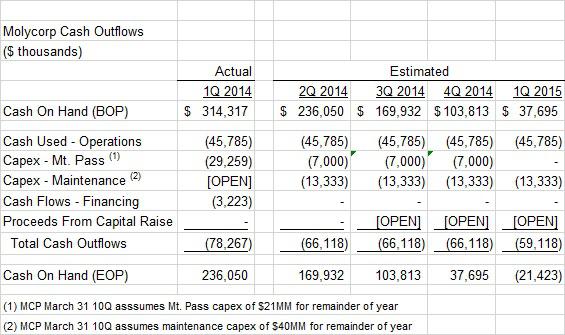 Major Insider Sales Raises Antennae
"Buy low, sell high" is the motto for investors. Whenever insiders sell, that is generally a sign that the stock is nearing its peak. Yesterday, Resource Capital Fund IV LP filed a Schedule 13D with the SEC stating that between May 22 2014 and June 13, 2014 it sold 6.1 million Molycorp shares (2.5% of issued and outstanding shares). Resource Capital Fund IV now has 6.9 million shares remaining in the company. There are various reasons why insiders would decide to dispose of their shares. However, such a large sale may imply that the stock is headed for a fall.
2Q Earnings Report Is Going To Be Ugly
Molycorp's 1Q earnings report was disappointing, but I expect 2Q earnings to be worse. Unit sales of rare earths may improve. However, there is nothing to indicate that average sales price, revenues or earnings will improve compared to 2Q 2013. That said, approximately $560 million of intangible assets are worthless. In addition to another quarter loss, layer in major asset write-offs and you get a disastrous quarter.
Molycorp Seeks Approval For 350MM New Shares
In its May 13, 2014 proxy statement, Molycorp is seeking approval to issue 350 million new shares. The company wants the flexibility for mergers & acquisitions, dividends or stock splits. I think the company needs approximately $250 million-$300 million of fresh capital to cover six quarters of negative outflows. To raise that much capital at $2-3/share would cause some serious dilution for current shareholders. Shareholders will vote on the company's request for new shares on June 25th.
Assuming shareholders approve issuance of new shares, I would not be surprised if Molycorp attempts to raise new equity prior to its August 2014 2Q earnings report which may drive the share price lower and jeopardize any capital raise. That said, it makes sense for Resource Capital Fund IV to get out of the stock while the getting's good.
Conclusion
Resource Capital Fund IV's recent sale of 6.1 million shares may be considered extremely prescient if Molycorp seeks to raise capital this year. I see the sale as a bearish sign and advise investors to avoid the stock until the company turns cash flow positive or a dilutive event materializes.
Disclosure: The author is short MCP. The author wrote this article themselves, and it expresses their own opinions. The author is not receiving compensation for it (other than from Seeking Alpha). The author has no business relationship with any company whose stock is mentioned in this article.
Additional disclosure: I own June puts and September puts on MCP