Overview
Barrick Gold's (NYSE:ABX) strategic changes have put the company in a position to finally realize significant stock price appreciation from recent declines.
Thesis & Catalyst For Barrick Gold Corporation
Back in June 2012 Barrick brought on a new CEO to primarily address the divergence between the company's stock performance and the price of gold. Almost immediately the company focused on specific means to cut costs. Over the course of 2013 Barrick managed to reduce it's all in sustaining costs (AISC) by approximately 11% to $856 per ounce. In Q1 2014 Barrick's AISC fell 10.7% year-over-year to just $833 per ounce. Even more impressively, Barrick produced in a AISC of $672 per ounce for its main five core mines which account for approximately 60% of total production.
In addition, Barrick will continue to pursue the sale of higher-costs, short-life mines and concentrate on becoming a leaner company. Management also believes it can reduce its capital spending in 2014 by as much as $1 billion by suspending construction at the Pascua-Lama mine in Chile.
Even with these reduced measures Barrick expects 2014 gold production to be between 6-6.5 million ounces while still focusing on free cash flow rather than overall production numbers. Management also expects copper production to be in the 410-440 million pounds in 2014.
As a result of these efforts Barrick has aligned itself to significantly capitalize on any potential rising gold and copper prices.
It is worth noting that on April 28, 2014 Barrick gold announced it was ending its merger talks with Newmont Mining (NYSE:NEM). Management believes a merger with Newmont could provide numerous benefits, however, confidence in their strategy going forward clearly shows in their desire to remain independent for now. That said, new terms for this deal could certainly show up without warning.
Valuation
Looking back at the beginning of 2014 Barrick Gold's stock price was around $18 per share. By March 2014 Barrick had risen to just over $21 per share or 17%. Since then Barrick's stock price has retreated back to the $17 per share level as of the writing of this article.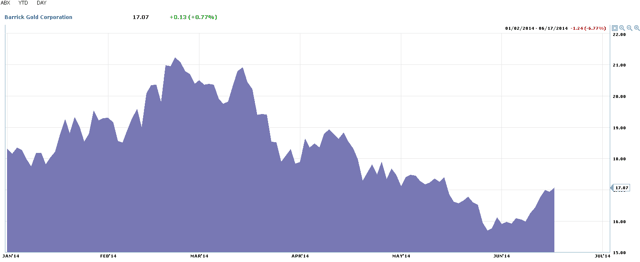 This drop is primarily attributed to the negative outlook for the price of gold in 2014 and the negative affects of a rising dollar. However, given the recent rise in geopolitical risk, as well as, rising inflation levels, Barrick stock price could be considered extremely undervalued.
Investors seeking both a short-term and long-term growth opportunity could initiate a position at the current level and remain comfortable with limited downside.
Therefore the details of the trade recommendation would be to purchase Barrick Gold at approximately $17 per share with a short-term target (3 to 6 months) of $21 per share (a profit of 24%) and a longer-term target of $28 per share.
Disclosure: The author has no positions in any stocks mentioned, and no plans to initiate any positions within the next 72 hours. The author wrote this article themselves, and it expresses their own opinions. The author is not receiving compensation for it (other than from Seeking Alpha). The author has no business relationship with any company whose stock is mentioned in this article.