By Chris McKhann
PulteGroup's (NYSE:PHM) stock is giving up some of its gains of the morning, and that is followed by option traders selling the upside.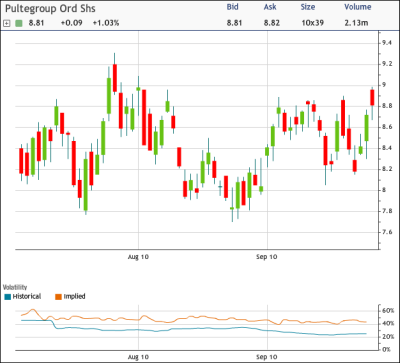 PHM is trading at $8.81 this morning, up 1.03 percent. The homebuilder's shares almost tipped $9 just after the open, getting up to $8.99. That is the highest price since early August as the stock seemed to break up through resistance just below $9.
The options volume is already 4 times the average, most of that volume consists of the more than 10,000 contracts in the November 9 calls. The volume is also more than 10 times the previous open interest at that strike.
Almost all of the volume came in large blocks within one minute, sold for $0.48. This call selling may have been done naked, with the expectation that PHM will stay below $9 through that November expiration. Given the nearness of the strike, howver, it may be more likely that they were sold against long shares, either as a hedge or as a covered call. In that case, the position would take a maximum profit with shares at or above $9 at expiration.
The covered call position is moderately bullish, as it will outperform the long stock position as long as shares do not push above $9.48.

Disclosure: No positions