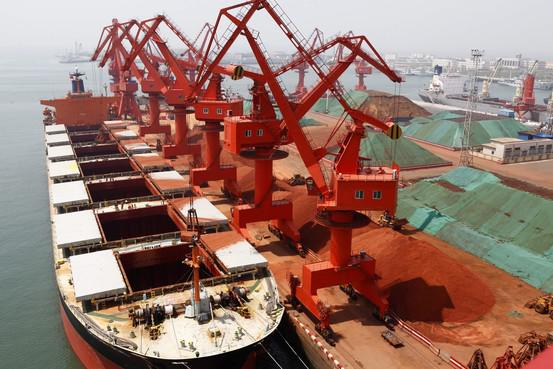 Last week we reported that Western banks like Citigroup Inc (NYSE:C) and Standard Chartered PLC (OTC:SCDRF) were investigating fraud for metals stored in China as collateral for loans. Several banks had made loans backed by metals such as copper and aluminum and suspected that one borrower in particular, the Quingdao Whale, had pledged the collateral for multiple loans. The collateral in question was held at warehouses in China's Qingdao Port and the banks were concerned the problem could spread to other clients in other ports.
My previous article, Citigroup: Exposure To Qingdao Whale Unknown, questioned whether Citigroup should even be in commodities lending given the risks involved:
Since many of the clients of commodities lending are (i) either cash-strapped or (ii) can only secure loans outside of China's traditional lending channels, should Citigroup be in the business? Such "shadow lending" circumvents China's curbs on lending, are risky by nature and there may not be much recourse if borrowers default on the loans. That's a long-winded way of saying, "Is Citigroup being rewarded for the risk involved?"
Just as its predecessor the London Whale, whose losses were originally estimated at $2 billion and ultimately increased to $6 billion, the Qingdao Whale is expanding its dragnet. (i) HSBC Holdings PLC (NYSE:HSBC), Qingdao's largest bank, has decided to examine all commodities financing transactions following reports of fraud. (ii) Citic Resources (OTC:CTJHF) shares fell nearly 10% in one day after divulging it owned copper and aluminum stored in warehouses at Qingdao Port. (iii) Zero Hedge, via 21st Century Business Herald, is reporting that the Qingdao Whale exposure has spread to nearly 20 Chinese banks and 15 billion yuan ($2.4 billion).
According to the 21st Century Business Herald at least 17 banks are involved in the financing of copper, aluminum and other nonferrous metals financing business in [Qingdao Port]. Such lenders include China Eximbank, Minsheng, Industrial, CITIC Prudential, Qilu, Rizhao, Weihai, Weifang, Shandong and other local financial institutions ... Informed sources say the exposure in nonferrous metals at Qingdao Port is 14.8 billion yuan.
Financing Whale Trade Not Without Risk
According to New York Times Dealbook, the carry trade orchestrated by the Qingdao Whale and financed by the Western banks works something like this:
Copper is imported using letters of credit, warehoused in duty-free zones and pledged as collateral for cheap bank loans. The loan proceeds are used by the importer to speculate in higher-yielding, short-term investments. When the letter of credit comes due, the importer then either sells the commodity or the investment product.
Below, the Wall Street Journal explains the carry trade in the form of a diagram, which may be easier to follow: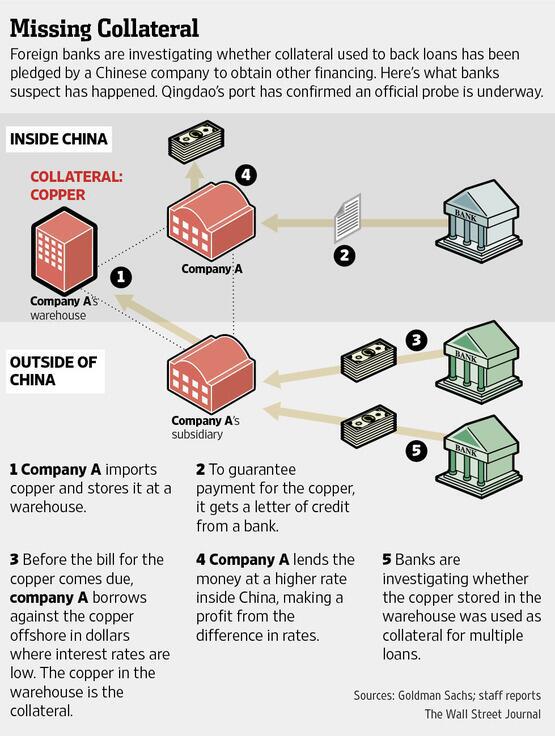 Because they hold the commodity as collateral, lenders believe they hold no risk from the trade. However, there are several ways the trade can go bad:
If the trader does not perfectly match the duration or maturity of investments with the timing of the letter of credit coming due, there could be a loss from having to sell the investment prior to maturity. Also, if the investment is not in "risk free" assets such as government bonds, there could be default risk.
If the yuan declines, the trader would lose profits when having to repay the dollar-denominated loan.
If the value of the commodities used as collateral decline in value, there would be fewer assets available to cover the letter of credit.
Lenders Battening Down The Hatches
To protect themselves, banks are not only monitoring their exposures to the Qingdao Whale, they are expected to wind down financing deals for commodities or stop doing them at all. According to Reuters, copper financing is already drying up, negatively affecting traders and copper prices:
Three traders said that their repo financing business had slowed down this week due to banks taking a more cautious approach to granting credit, which was likely to drag on copper prices and premiums.

"Right now, liquidity is very bad. Everyone wants to sell (copper), but no one wants to buy," said a physical trader in Singapore who sells metal in China.
Furthermore, Moody's Investors Service thinks that cutting off the spigot to companies with less than pristine credit could cause defaults in the steel, mining, and property sectors. The dry up in lending may also create a circular reference; a decline in financing lowers demand and prices of copper. As copper prices spirals down, collateral declines, making banks more reticent to lend to copper traders. There is also the fear that the Whale may have a lasting impact on other commodities such as iron ore, or spill over into other ports. The following chart shows the decline in copper prices to three month lows on the London Metals Exchange since the Whale was discovered: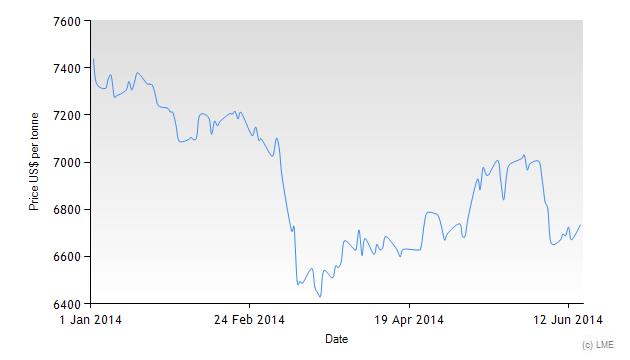 Conclusion
Current loss estimates from the Qingdao Whale may be the tip of the iceberg. Its impact may spread to other ports, other counterparties or to other commodities. Citigroup's revenue and earnings have been flat quarter-over-quarter. Given the Qingdao Whale Exposure, Banamex fraud, and DOJ reported $10 billion fine, I do not think the returns on the stock are worth the risks involved. I advise investors to avoid the stock.
Disclosure: The author has no positions in any stocks mentioned, and no plans to initiate any positions within the next 72 hours. The author wrote this article themselves, and it expresses their own opinions. The author is not receiving compensation for it (other than from Seeking Alpha). The author has no business relationship with any company whose stock is mentioned in this article.
Editor's Note: This article covers one or more stocks trading at less than $1 per share and/or with less than a $100 million market cap. Please be aware of the risks associated with these stocks.