Knightsbridge (VLCCF) is in a transformative period following the deal with Frontline 2012. Going from a niche player in bulk shipping to being centre stage and hailed on Wall Street as a low leveraged Capesize pure play. But what is the impact on Knightsbridge's per share earning capacity, and more importantly, will the bulk market recover to make a 39 Capesize-owning company profitable?
I have split my analysis into 2 articles, the first discusses the Capesize market and the second looks at Knightsbridge. In this article, I begin with a short review of the Capesize trade, review the Baltic Capesize Index (BCI) during 2013 and the Capesize bulk market during the first 5 months of 2014. I then review the prospects of the Capesize bulk market, firstly for 2014 and secondly from 2015 to 2017. For each of these 2 periods, I analyze supply and demand separately, and in summary analyze market equilibrium to assess if there will be downward or upward pressure on Capesize rates and a likely rate range. The second article builds on the analysis of the first article, and looks at Knightsbridge; challenging its cash breakeven rate of $15k per day, challenging the eco-ship theory on bunker savings, calculating cash flow per share for 2014 to 2017 and finally providing possible company valuations. The second article will hopefully be issued shortly.
CAPESIZE TRADING OVERVIEW
Capesize vessels trade mainly in the Pacific basin, on the long haul routes transporting iron ore, thermal coal and to a lesser extent, coking coal.
The main trade routes:
Iron ore from Australia and Brazil to China and Japan.
Thermal coal from Indonesia and Australia to other Asian economies.
These routes represent approximately 75% of both the iron ore and thermal coal global trading volumes. On the whole, Capesize trade is primarily dependent on Chinese demand, and in particular, Chinese iron ore imports.
Such a limited market explains the huge volatility in freight rates. BCI dropped from 4,000 at the close of 2013 to under 2,000 in May 2014, a 50% drop in 5 months.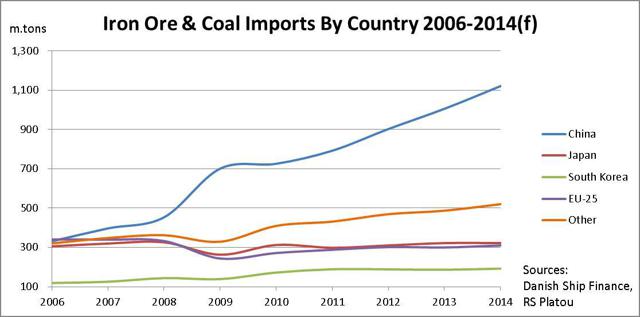 HISTORICAL CAPESIZE RATE REVIEW
BCI had one of the worst ever years in 2012, averaging 1,600, with the first half of 2013 being not any better, averaging 1,400. It was only in June 2013 that rates began to increase, and by December 2013, the index touched 4,000, averaging 3,000 for the last 6 months of 2013. The spike was primarily led by Chinese inventory restocking.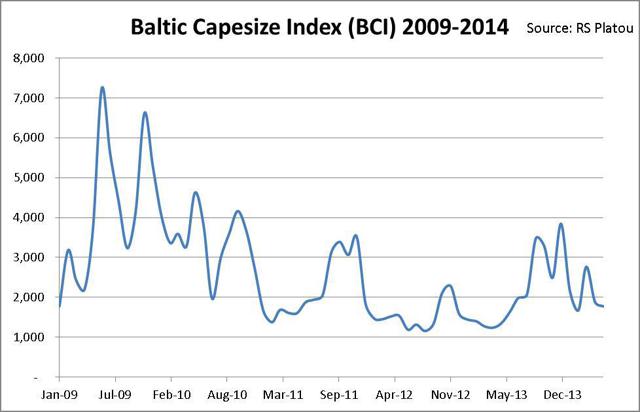 FIRST 5 MONTHS OF 2014
As expected, 2014 got off to a poor start due to the substantial build-up of Chinese inventories in the final quarter of last year. BCI for the first 5 months averaged 2,000. Seasonal factors put additional downward pressure on rates:
China was closed for business during their new year celebrations.
Weather-related seasonal drop in Australian and Brazilian iron ore cargoes.
Reduced demand for thermal coal after the winter.
Continued delivery of newbuilding tonnage.
REMAINDER OF 2014
In reviewing the Capesize market for the remainder of 2014, I used a number of free online resources. If I had access to the Fearnleys, Clarksons or RS Platou's member's area, it would have made this review a lot easier. Unfortunately, I don't, so I had to resort to:
Free publications from RS Platou, DNB and Danish Ship Finance.
Companies' press releases; Knightsbridge, Diana Shipping (NYSE:DSX), Dry Ships (NASDAQ:DRYS), Norden, Baltic Trading (NYSE:BALT) and Scorpio Bulkers (NYSE:SALT), but also reviewing their earnings call transcripts, as they go into further market analysis when prompted by analysts.
Analysts quoted in the press, including; Fearnleys, RS Platou, DNB, Evercore Partners and Global Hunter Securities.
On the demand side, total Capesize trade is forecasted to grow 7% in 2014 from the 6% growth of 2013:
Global iron ore trade is projected to grow 10%, driven by Chinese demand facilitated by an increase in Australian mine output.
Global thermal coal trade is projected to grow 4%; increase in Chinese and Indian demand met by increased Australian and Indonesian mine output.
Global coking coal trade is projected to grow 4%.
China is forecasted to account for 70% of the total predicted increase in 2014 Capesize trade; 90% of iron ore, 20% of thermal coal and 45% of coking coal trades. Despite the forecast, as of May 2014, Chinese iron ore imports have slowed due to high inventories accumulated after robust trade in March 2014, and coal imports have slowed due to increased domestic production and high inventories. However, Chinese demand should return as it rebuilds its huge inventories.
On the supply side, Capesize fleet growth is projected to slow to 4% in 2014 from the 5% growth of 2013, a significant reduction after double-digit annual growth between 2009 and 2012. Deliveries into the fleet are projected to be 7% of the total fleet, a tumble from highs of 8% in 2013 and 17% in 2012. Scrapping is expected to remain at 3% of the fleet, in anticipation of the rally in rates in the second half of this year.
However, the real driver of supply is slow steaming. Slow steaming is critical in the current environment, absorbing the surplus tonnage, but is a barrier for a material recovery in rates. The average Capesize fleet at the moment is running around 11.5 knots, with speeds reported as low as 8 and even 7 knots. 6 knots is the floor, as it is the minimum speed for safe steering. Charter parties place restrictions on operating speed, so the laden speed would average higher. To put vessel speed in perspective, for every 1 knot reduction in speed, 9% of the fleet is absorbed. If the fleet sped up to the Clarksons standard of 14.5 knots, the fleet size would expand by 25%, driving rates well below breakeven levels. Shippers tend to start speeding up when rates exceed $30k per day, which most likely will be the ceiling for rates in the foreseeable future. The potential for chartering of Panamaxes on Capesize routes if low Panamax rates persist is an additional burden on supply.
In summary, 2014 freight rates are expected to recover in the second half of the year and be significantly higher than 2013, as:
The bulk market is coming out of a seasonal low.
We are only just seeing the demand side outstripping the supply side, following multiple years of the opposite. However, the fundamental market balance is likely only to improve slowly. Demand and fleet size have developed at significantly different paces since 2006, so a 1% fleet growth is not absorbed by a 1% increase in demand. A 1% increase in the fleet requires a demand growth of 1.5% to maintain the same fleet/demand ratio as in 2006. Therefore, in 2014, 4% fleet growth will absorb 6% demand growth, leaving 1% surplus in demand were demand to grow 7% as forecasted - a welcome surplus to absorb over-capacity and the possibility of improved rates versus 2013, assuming same levels of slow steaming.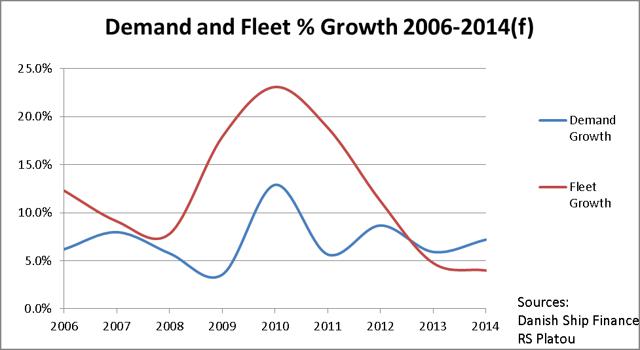 So 2014 rates are forecasted to improve, but to what level?
For the first 5 months of 2014, rates averaged $14k per day. If we assume a rate ceiling of $30k per day for the remaining 7 months, due to the impact of the fleet speeding up, rates would average $23k per day for the year.
Current 1-year time charter rates are roughly $25k per day.
RS Platou and DNB are forecasting average rates of $25k and $26k per day for the year.
Forward freight agreements for late 2014/early 2015 are averaging $20k per day.
From this, 2014 rates are forecasted to be in the $20k-$26k per day range.
Knightsbridge managed to earn $25.2k per day in Q1 2014. How is this possible in the current weak market? Its time charter exposure helped considerably, 3 of its 5 vessels are on time charters, which traded around $26k per day. Shipping is all about timing and spot market/time charter exposure. For instance, spot rates in the first half of 2013 averaged $6k, averaged $32k for the last quarter of 2013, and peaked at $42k per day in December 2013, resulting in an annual average of $16k per day. On the other hand, 2013 1-year time charters were in the $12k-$23k per day range. Shipping is hugely volatile, so an annual average rate is only a rough guide. If a company is fortunate with its spot market/time charter exposure and timing, its rates would far exceed the average.
Are rates already on the rebound? At the time of writing, the market was improving, with spot rates in the region of $14k-$15k per day, breaking out of the $10k-$13k per day range, in which they have been bound over the past several weeks.
FROM 2015 TO 2017
In reviewing the Capesize market from 2015 to 2017, I first established a base case using reasonable supply and demand assumptions discussed below. I then developed 2 scenarios to analyze the impact on my base case as a result of changes in my assumptions. The purpose of my scenario analysis is to understand whether there will be downward or upward pressure on shipping rates and compare my analysis with that of publicly available resources. I used reports or press quotes from various shipping analysts, and shipping companies' view of the market at their quarterly earnings releases.
On the demand side, for my base case, I estimate 2015 iron ore and coal import demand will maintain the 7% growth as in 2014, however, tapering off to 6% growth in 2016 and 5% in 2017, an annualised growth rate of 6% over the next 3 years. The reducing growth rate is reflective of a possible softening of Chinese demand and improved global growth replacing some of the lost Chinese demand.
Forecasts for Chinese economic growth suggest slightly lower growth than in previous years, but still in the 7% per annum range. Overall, the prospect of a growing global economy, 3.4% and 3.5% projected growth for 2015 and 2016, bodes well for bulk shipping. Shipping of commodities should, in general, expand in tandem with economic growth.
It is the continuing Chinese import demand that will remain the main influence on the Capesize market in the coming years:
Iron ore: Chinese government recently announced a stimulus plan, construction of railways, highways and airports to speed up urbanisation.
Thermal coal: Chinese attempts to reduce pollution, prioritizing imports at the expense of low-quality and highly pollutive domestic capacity and stricter regulation on domestic mining.
Coking coal: Price arbitrage between international and Chinese commodity prices, currently in favor of overseas commodities.
In the medium term, China can go either way; government initiatives make a material impact and drive commodity demand, or the economy gets derailed by an unexpected financial event and thus an economic slump (most likely related to their overheating property market).
However, China is slowly but certainly moving from an investment-oriented economy towards a more consumption-based one, which will most likely reduce Chinese hunger for iron ore and coal in the long run.
On the supply side, the Capesize fleet is forecasted to grow by roughly 5% annually from 2015 to 2017 using my base case of 8% delivery rate, incorporating a 10% cancellation rate and 3% scrap rate per annum.
The delivery picture is fairly clear for 2015 and 2016; it represents roughly 8% of the fleet each year. Deliveries are based on the current order book reduced by a 10% cancellation rate. Limited spare capacity at yards will prevent the likelihood of much higher than already anticipated deliveries up to the end of 2016. 10% cancellation rate is based on the 2013 rate, and it's fair to assume this rate continuing, considering the well-publicized problems at certain yards and zombie orders (orders placed pre-2011) still included in the order book. Deliveries for 2017 currently remain unknown. Orders with 2017 delivery date are beginning to be placed, and currently stand at 3% of the total order book. I estimate my 2017 base case to be equivalent to 2015 and 2016.
The 2014 order book currently stands at 22% of the fleet, fuelled by positive investor sentiment, driven by the recovery in the global economy, perception that the bulk market has bottomed out and the availability of credit. In the first half of 2014, ordering and sales activity abated slightly. Asset values fell by 2% below the peak achieved in April 2014. Resales of 180m.dwt Capesize fetched $63m in April 2014 versus $62m in May 2014, after increasing 53% since the start of 2013. Newbuilding prices maintained their gains, averaging $55m in May 2014, a 22% increase since the start of 2013. Many believe asset values have moved ahead of the bulk shipping recovery and rates need to catch up to support asset values. A slight correction was expected in light of the continued weak freight market. According to Fearnleys, as of early June 2014, ordering is on the rise just as the market appears to have rebounded, with orders being placed for vessels with a 2017 delivery date.
For my base case, I assumed an annual scrap rate of 3% for 2015 to 2017, maintaining the 2013 scrap rate. With the prospect of higher freight rates, shippers have less of an incentive to scrap vessels, and the low age profile of the Capesize fleet reduces the number of obvious scrapping candidates. Only 20% of the fleet is 15 years and older, representing 54m.dwt. A 3% scrap rate up until 2017 results in a radical change in the age profile of the fleet, only 5%, or 20 m.dwt, of the fleet will be 15 years or older. However, this scrap rate is reasonable, considering shippers will be forced to consider scrapping younger vessels due to:
Engine obsolescence of older vessels, as they are not suited to a slow steaming environment, resulting in expensive and disruptive repairs.
High costs to retrofit vessels to meet ballast water treatment regulations (2014 onwards) and US/EU exhaust emission standards (2015 onwards).
Vessels ordered in the boom years of 2006-2008 at greenfield yards in China have seen incremental mechanical issues.
2013 average scrapping age of a Capesize vessel was 23 years, however, vessels as young as 15 years were scrapped. This trend will continue and accelerate, supporting the forecasted 3% scrapping rate. Theoretically, 4% of the fleet should be scrapped each year, taking 25 years as the useful life of a bulk carrier.
In summary, to analyze the 2015-2017 shipping supply and demand and their impact on rates, it is necessary to calculate the forecasted fleet productivity, based on my base case discussed above. The ratio incorporates the amount of cargo transported, average voyage distance and the size of the fleet. The higher the fleet productivity, the greater the upward pressure on rates.


Over the last 8 years, the average haul varied only slightly, approximately 5,700 miles for iron ore and 4,300 miles for coal. I have assumed up to 2017, trade patterns will remain unchanged, therefore assuming the same average haul as the previous 8 years.
To my base case, I have applied 2 scenarios, one being a demand decrease scenario and the other being a demand increase scenario.
Base Case: Demand is assumed to grow at an annualised rate of 6%, order cancellations are based on the 2013 rate of 10% and a scrap rate of 3%.
Demand Decrease Scenario: Assumes demand falls by 10% to 5.4% annually. Due to the worsening of the market, shippers are forced to cancel/postpone deliveries, and the scrap rate will inevitably increase.
Demand Increase Scenario: Assumes demand increases by 10% to 6.6% annually. Shippers will ensure the maximum possible deliveries hit the water and they will postpone scrapping vessels, taking advantage of the rate recovery.
As can be seen on the graphs below, fleet productivity has leveled off since 2011, driving rates below $20k per day. I have included a further graph to illustrate my 3-scenario analysis more clearly, for years 2014 to 2017. For 2015-2017 forecasted fleet productivity, all scenarios show fleet productivity improving, coming out of the trough experienced in 2012 and 2013. All scenarios suggests a sustained recovery in rates, however any meaningful rate increase will be capped as the fleet speeds up to take advantage of higher rates. It appears that the supply/demand gap has widened enough to absorb the huge overhang of vessels delivered between 2009 and 2012.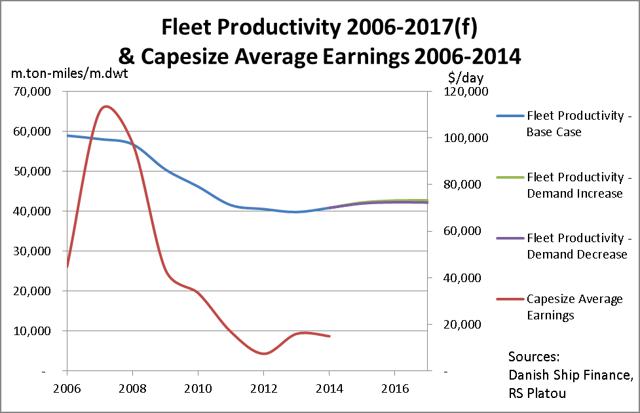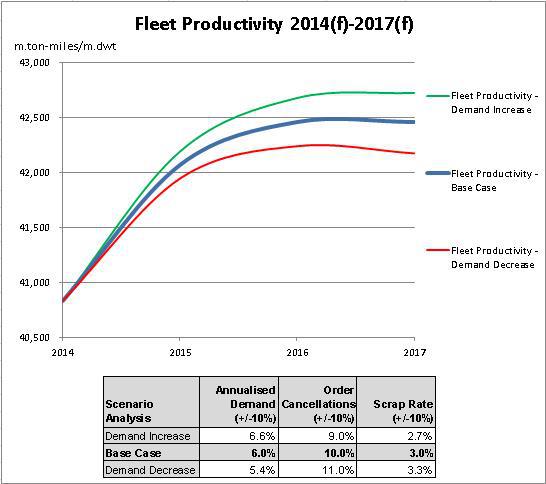 So what are the 2015-17 rate expectations?
Assuming rates will be capped around $30k per day due to the impact of the fleet speeding up and a minimum rate of $23 per day, being the 2014 average; this suggests an average of $27k per day over the next 3 years.
Active 2- and 3-year time charter market around $24k.
Morgan Stanley, DNB and RS Platou are forecasting average rates of $25k, $28k and $31k per day.
From this, 2015-2017 rates are forecasted to be in the $24k-$31k per day range.
2015 TO 2017 SUPPLY AND DEMAND WILDCARDS
In my scenario analysis above, I have assumed a maximum seaborne commodity demand of 6.6% and maximum scrapping rate of 3.3%. But what is the likelihood of a radical supply/demand re-balancing, i.e. larger-than-expected increase in Chinese demand or heavier-than-expected scrapping of younger vessels?
Increased Chinese Demand?
Unlikely; in the long run, China is embarking on reforms to rebalance economic growth away from exports and investment towards private consumption. Chinese dry bulk demand will eventually shift away from low-grade commodities (iron ore and coal) and focus on higher-grade commodities (aluminum, tin and zinc). Iron ore and coal import volumes could reach their maximum within the next few years.
Heavy Scrapping?
Possible; ship owners facing a vessel's third special survey (around 15 years old) will face the realization that scrapping is a real option, considering the combination of poor fuel efficiency, expensive retrofitting to meet regulatory changes and continued disruptive and costly repairs. They are also probably highly leveraged, with extremely high breakeven levels, if purchased during the 2006-2008 boom years. Counterparties are probably hesitant to charter the vessels due to the potential credit risk, risk of delays due to mechanical failure and high fuel costs if operating under a time charter. This avalanche of issues can only accelerate tonnage replacement.
Disclosure: The author has no positions in any stocks mentioned, and no plans to initiate any positions within the next 72 hours. The author wrote this article themselves, and it expresses their own opinions. The author is not receiving compensation for it (other than from Seeking Alpha). The author has no business relationship with any company whose stock is mentioned in this article.