Varonis (NASDAQ:VRNS), a software developer of big-data mapping and analysis tools for unstructured human-generated data, went public earlier this February in a very successful IPO. Varonis benefitted from excess demand for its shares that drove share prices up from an initial range of $17-19 to an IPO price of $22, and then to an amazing $44 at the end of the first day of trading. As shown in Chart 1, Varonis's debut took place in a very successful week for two big-data software vendors, Tableau (NYSE:DATA) and Splunk (NASDAQ:SPLK), which reached their all-time highs that week and had a positive impact on Varonis's stock price shortly after it went public.
Observing high correlation in the big-data market
In the same week of Varonis's IPO, the upward trend in stock prices of big-data software vendors reached its peak. That week, Tableau completed an 86% increase in stock price from its IPO in May 2013, and Splunk completed a 128% increase from its IPO in April 2012. Shortly after Varonis went public, prices of Splunk and Tableau began to decline, and the stock prices trend changed to a downward trend. As shown in chart 1, Tableau, Splunk and Varonis completed a 32% to 49% drop in stock prices since their peak in March.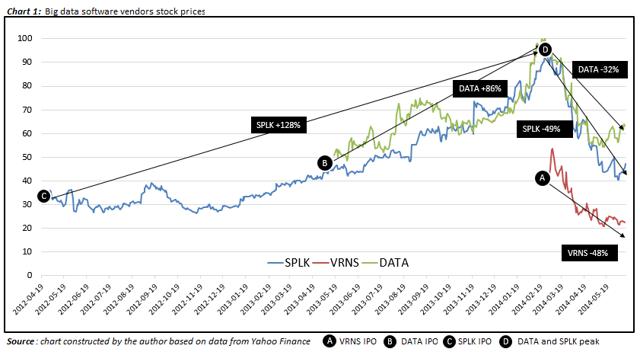 The constant increase in stock prices of Splunk, Tableau and Varonis, together with little income, created a bubble that was waiting to burst. There wasn't one trigger for the burst. However, a few events that seemed minor at the time were the catalysts for the trend change:
Splunk announced disappointing results for Q4'13 and lowered its revenue growth expectation for 2014.
Tableau announced a high second offering price and upsized its offering from 3.5M shares to 4M shares.
Varonis announced increased losses and disappointing 2014 guidance in its Q1'14 earnings call.
As shown in chart 1, all three stocks moved in the same direction before and after the March peak. Investors who believe in the potential of the big-data software market and hold long positions on all three stocks can experience big losses or big gains due to that high correlation. Chart 2 below validates the high positive correlation between the stock prices of Varonis, Splunk and Tableau. The highest correlation was found between Varonis and Splunk (0.96) and between Varonis and Tableau (0.95), while the correlation between Splunk and Tableau is slightly lower (0.88) than the correlation of Varonis with Splunk and Tableau.

The possible explanation for the high correlation between the three is that they are all active in the same market and offer complementary services. Varonis offers mapping and analysis tools for unstructured human-generated data, Splunk offers mapping and analysis tools for machine-generated data and Tableau offers visual analysis and presentation tools for big data.
How to gain from the price decrease and high correlation
Demand for analysis tools for big-data software will increase as the amount of digital data increases (see IDC research on digital data growth) and as corporations understand the importance of big-data analysis. Software vendors can translate the increase in digital data and demand for analysis tools into a higher number of licenses and higher revenues. The current downward trend in stock prices can be a good entry point to the big-data software market, which is expected to grow. One way to gain from the growth of the big-data market is to pick the winning horse, which one will become the next Oracle or SAP. However, this requires some luck, and it is not the preferred operation path for every investor. The other way to gain from the big-data market growth is to use the high positive correlation among the three stocks mentioned here in one of two alternatives:
Long-short position: Hold one stock that is expected to go up and short another stock that is expected to go down. The minimum profit from this position is the gap between the returns on the two chosen stocks. However, if the price of the short stock decreases and the price of the long stock increases, the gap between the two holdings will be bigger and yield a higher-than-minimum return. Which stock should be the long hold and which one should be the short hold? Varonis can be a good candidate for the long hold, and based on my earlier Varonis article, I believe it would gain profits for its shareholders. Splunk can be a good candidate for the short hold, and based on my earlier Splunk article, I assume that Splunk's stock price will not increase much after the actions its executives took. Varonis and Splunk have a 0.96 correlation between them, which means that the minimum return for that position is 4%, with a relatively small risk.
Buy one stock and defend it with puts on another stock. In this way, puts will help to protect the investment and will leave some room for gains. As currently, there are no options available on Varonis. However, options are available on Tableau and Splunk, so one of them could be a stock to buy put options on.
Conclusion
In this article, I analyzed stocks of three main software vendors for the big-data market. The stock price of each company increased since its debut in almost 100% to create a small bubble, until it reached a peak in March 2014. In March, the upward trend changed to a downward trend, when Splunk reported slower revenue growth guidance. Tableau announced a disappointing secondary offering term, and Varonis reported higher operating losses that drove stock prices down from 32% to 49%. The burst of the big-data software vendor bubble highlighted a high positive correlation between the three that can be used for future gains either through a long-short position or through holding one stock long and defending it with put options on another stock.
Disclosure: The author has no positions in any stocks mentioned, and no plans to initiate any positions within the next 72 hours. The author wrote this article themselves, and it expresses their own opinions. The author is not receiving compensation for it (other than from Seeking Alpha). The author has no business relationship with any company whose stock is mentioned in this article.
Additional disclosure: Information provided in this article is for informational purposes only and should not be regarded as investment advice or a recommendation regarding any particular security or course of action. This information is the writer's personal opinion about the companies mentioned in the article. Investors should conduct their own due diligence and consult with a registered financial adviser before making any investment decision. Lior Ronen and Finro Financial Consulting and Analysis are not registered financial advisers and shall not have any liability for any damages of any kind whatsoever relating to this material. By accepting this material, you acknowledge, understand and accept the foregoing.