Kite Pharma, Inc. (NASDAQ:KITE), a clinical-stage biopharmaceutical firm pursuing novel cancer immunotherapy products, plans to raise $78.0 million in its upcoming IPO.
The Santa Monica, California-based firm will offer 6.0 million shares at an expected price range of $12-$14 per share. If the IPO can find the midpoint of that range, at $13 per share, KITE will command a market value of $548 million.
KITE filed on May 19, 2014.
Lead Underwriters: Cowen and Company, LLC; Credit Suisse Securities LLC; Jefferies LLC
Underwriters: Stifel Nicolaus & Company, Incorporated
KITE's Cancer immunotherapy Products
KITE is a clinical-stage biopharmaceutical firm seeking to develop and commercialize cancer immunotherapy products designed to use patients' immune systems to destroy cancer cells.
The firm's engineered autologous cell therapy (eACT) genetically modifies a patient's T cells to recognize and eradicate cancer cells. KITE is currently conducting numerous early-phase clinical trials of products targeting various forms of lymphoma and leukemia. The firm is in close collaboration with the National Cancer Institute (NCI) in developing its products.
KITE's lead product candidate, a cell therapy known as KTE-C19, targets CD19, a protein expressed on the cell surfaces of B cell leukemias and lymphomas. KITE is currently funding an NCI Phase I-IIa clinical trial of the therapy; as of March 13, 2014, 86% of evaluable patients in the clinical trial had responded to the treatment, and 16 of the 24 patients involved in the trial were in remission. The FDA has granted orphan drug status to KTE-C19.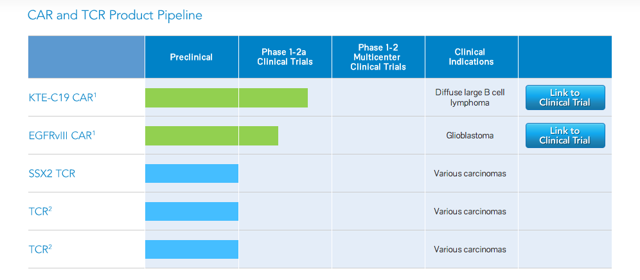 (Source)
Valuation
KITE offers the following figures in its S-1 balance sheet for the three months ended March 31, 2014:
Revenue: $0.00
Net Loss: ($3,141,412.00)
Total Assets: $20,330,183.00
Total Liabilities: $1,642,143.00
Stockholders' Equity: $18,688,040.00
KITE's current lack of revenues is normal for an early clinical-stage biopharmaceutical company, and should not be taken as an indicator of the firm's potential for future success. KITE will not be able to generate significant revenues or turn a profit until it has commercialized one or more of its products.
Business Difficulties: Recruiting Patients for Trials, Strong Competitors
While its products are still in clinical trials, KITE must compete with companies attempting to develop products for similar indications for trial resources, including a limited number of available patients and qualified clinical investigators. KITE also faces difficulties in finding patients for its trials due to the relative novelty of its techniques, as many patients prefer to use treatment methods with longer histories.
KITE's products, if approved, will compete with other cancer treatments, some of which are marketed by established pharmaceutical firms with far greater financial and marketing resources than KITE. KITE may also face difficulty in gaining physician acceptance of its products due to its novel approach.
Highly Qualified Management
Founder Arie Belldegrun, M.D., FACS, serves as executive-chairman of KITE's board of directors, as well as president and CEO.
He previously founded Agensys, Inc., a biotechnology company, and was the founding vice-chairman of the board of directors and chairman of the scientific advisory board of Cougar Biotechnology, Inc.
He is certified by the American Board of Urology, and is a Fellow of the American College of Surgeons and the American Association of Genitourinary Surgeons.
Dr. Belldegrun is professor of Urology, holds the Roy and Carol Doumani Chair in Urologic Oncology, and is director of the Institute of Urologic Oncology at the David Geffen School of Medicine at the University of California, Los Angeles, or UCLA. He also previously served as a research fellow in surgical oncology and immunotherapy at the NCI/NIH.
Dr. Belldegrun completed his M.D. at the Hebrew University Hadassah Medical School in Jerusalem, his post graduate studies in Immunology at the Weizmann Institute of Science and his residency in Urologic Surgery at Harvard Medical School.
Dr. Belldegrun serves as chairman of Arno Therapeutics, Inc. and of TheraCoat Ltd., and as a director of SonaCare Medical, LLC and of Teva Pharmaceutical Industries Ltd. (NASDAQ:TEVA)
Conclusion For Investors: Buy
We are positive on this IPO for aggressive investors.
Though early clinical trials of KITE's products certainly have shown promising results, the firm still has a significant distance to go before it will be able to gain regulatory approval.
Even if the FDA does approve KITE's products, there is no guarantee that they will see commercial success - although, if the firm's clinical trials continue to push patients' cancers into remission, commercial success certainly seems a likely prospect.
The illustrious career of the firm's CEO is an encouraging sign, both from the perspective of scientific capacity and in the sense of his connections to institutions like the NCI.
We suggest aggressive investors buy KITE at its IPO.
Disclosure: The author has no positions in any stocks mentioned, but may initiate a long position in KITE over the next 72 hours. The author wrote this article themselves, and it expresses their own opinions. The author is not receiving compensation for it (other than from Seeking Alpha). The author has no business relationship with any company whose stock is mentioned in this article.