The market feels slightly overvalued here as we have gained some 40%, including dividends, over the past 18 months. Earnings have moved up approximately 10% over that time frame. Obviously, this sort of multiple expansion within the market is unlikely to continue.
However, there are always bargains to be had if one is willing to put in the research work. Recently I have been adding to positions in a couple of small tech stocks that seem to have little downside but appear significantly undervalued for myriad reasons. Both have market capitalizations under $200 million, have cash-rich balance sheets and receive scant analyst coverage. They are profiled below.
I am currently building a position in Procera Networks (NYSEMKT:PKT). Procera provides intelligent policy enforcement solutions based on deep packet inspection technology that enables mobile and broadband network operators and entities to manage and control their private networks. Competitor Ciena (NASDAQ:CIEN) reported better-than-expected earnings in early June, along with raised guidance which should bode well when Procera next reports earnings in early August.
In addition, two directors added nearly $500K in new shares in May. One of these insiders bought almost $600K worth of shares in March as well. Revenues are increasing in the mid-teens annually and the company should break even this year, after posting small losses in 2013. The consensus calls for over 30 cents a share in earnings in FY2015. More than 50% of the current market capitalization of the stock is represented by net cash on the balance sheet.
The stock began the year at ~$15 a share, and looks like it recently bottomed at just under $9 a share. The shares have been rebounding to nearly $10 a share over the past month, and they feel like they can go higher. The six analysts that do cover the company have a $13.25 a share median price target on PKT.
I have held the stock of RF Industries (NASDAQ:RFIL) for a few months now. The company is a designer and manufacturer of innovative interconnect products and complex cable assemblies across diversified, high-growth markets including wireless carriers and infrastructure, medical and industrial.
Like Procera, the stock traded much higher to start the year at ~$9 a share. It now goes for just over $6 a share. It has been in a tight trading range since disappointing results in January caused a steep sell-off but has been moving up recently.
A good floor is provided on the shares by way of a dividend yield near five percent (4.8%). In addition, the company has more than $1.50 a share in net cash on the balance sheet. Subtracting cash and the stock is selling at roughly seven times operating cash flow. The company earned 50 cents a share in FY2013.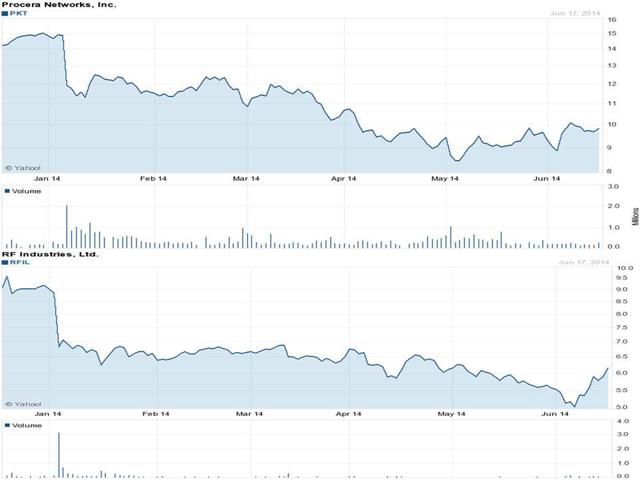 Disclosure: The author is long PKT, RFIL. The author wrote this article themselves, and it expresses their own opinions. The author is not receiving compensation for it (other than from Seeking Alpha). The author has no business relationship with any company whose stock is mentioned in this article.
Editor's Note: This article covers one or more stocks trading at less than $1 per share and/or with less than a $100 million market cap. Please be aware of the risks associated with these stocks.