It's no secret right now that the housing market has been gaining a great deal of attention for many of the wrong reasons. Lennar (NYSE:LEN) CEO Stuart Million told CNBC this past Wednesday that "Generational forces and still-tight mortgage lending standards are holding back housing from a more robust recovery."
He noted insufficient growth and a normalized mortgage market are two key challenges he sees which have affected a faster improvement. Even Shark Tank's outspoken "wise guy," Kevin O'Leary expressed his frustration in the housing market and estimates that real estate will be "a crappy investment" for the next 5-10 years. He states in a recent Closing Bell interview that investors should go as far as renting their homes and spending money in the market for a better return.
Where's the Market Today?
The Wall Street Journal reports that "home-building experts predict it might take a year, perhaps two, before the industry fully shifts to constructing a greater volume of homes at lower prices from its current focus of padding profit margins by selling fewer, more expensive homes."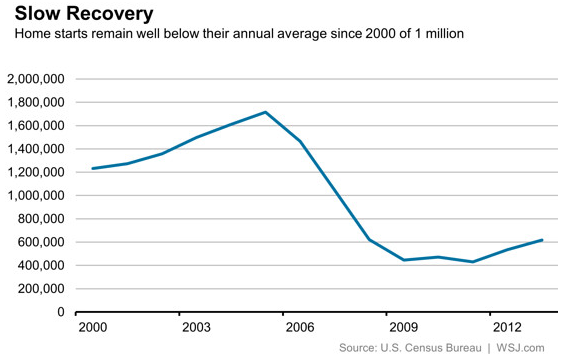 John Johnson, chief executive of Houston-based David Weekley Homes was interviewed and thinks that the industry will shift to "pace over price" within the next 12 to 18 months. He added that the "supply side of the equation is constrained, too, since builders still face a shortage of labor and lots. Meanwhile, demand will return despite lofty prices for new homes."
Contrary to what many analysts are saying, there has been realized growth in this "pace over price" strategy. D.R. Horton Inc. (NYSE:DHI), Builder Magazine's #1 homebuilder, is targeting the affordable market by rolling out a program to build smaller homes priced at roughly $120,000 to $150,000. Whatever the case may be, the facts still remain; housing is here to stay so how can you make money in a slower market?
Opportunity within Complementing Industries
As I have noted in several articles that direct investment into an industry may not always be the best angle to take. Buying shares in Bank of America (NYSE:BAC) may not be as profitable as purchasing stock in Brink's (NYSE:BCO) or, comparatively speaking, picking up some Ford (NYSE:F) may be less of a payoff than buying Monro Muffler Brake (NASDAQ:MNRO). Now these are both simple examples but the main focus is niche businesses within a major industry and for housing, the real money may be in complementing markets.
Housing and commercial construction have many service and product driven businesses. Whether its home owners going to Lowe's (NYSE:LOW) or Home Depot (NYSE:HD) to purchase home improvement items, or construction companies utilizing energy saving products from Owens Corning (NYSE:OC), The Dow Chemical Company (NYSE:DOW), and even Procter & Gamble Company (NYSE:PG), complementing industries offer investors alternative options when the overall market is a bit slower or even on the decline.
A recent ResearchAndMarkets study reports that the spray polyurethane foam market for residential walls, residential roofing, commercial walls, and commercial roofing is growing. According to the report, "demand from the construction industry coupled with supporting government regulations is expected to drive the global market for spray polyurethane foam from 2013 to 2019."
A small cap company that was recently included in the Research and Markets report and was even noted among "big boys" like Dow Chemical, BASF, and Bayer Materials as a "major industry participant" was one of the companies mentioned above in the bullet points; Lapolla Industries, Inc (OTCQX:LPAD).
It is a "global supplier, and manufacturer of spray polyurethane foam insulation, reflective roof coatings, and equipment, designed to reduce energy consumption in the residential, industrial and commercial markets, for both new construction and retrofit applications." Over the 6 months, LPAD has been growing by leaps and bounds with many of its more recent developments sparking positive investor sentiment in the market.
Earlier this year, LPAD announced Michael J. Kontranowski as VP of Sales, placing an experienced industry vet with 23 years of experience at the helm of the company's sales force. Mr. Kontranowski held roles in purchasing, sales, and marketing at The Dow Chemical Company with the last six years as Strategic Marketing Director responsible for developing the 3-5 year sales and marketing execution strategy focused on high margin sales. On the heels of this management announcement, LPAD appointed Pete Pierangeli as VP of its AirTight Division. In 2008, Lapolla acquired the assets of AirTight Marketing & Distribution, Inc., which provides turnkey equipment, training and start up for new spray polyurethane foam contractors.
Having looked into the company, the main goal is efficiency and effectiveness when it comes to energy savings so the addition of two experienced executives like these should bode well for a growth driven company. In fact, Lapolla is coming off of a banner year and as noted in its April release, the company has not only increased its EBITDA 349% to $2.1 million, but the company also realized a 15.8% increase to a total of roughly $15 million in Gross profit from a combination of both business segments: foams and coatings.
What may be more of a hot point is the company's new spokesperson who has quickly become a household name in industry. Ty Pennington is the host of Extreme Makeover: Home Edition and is now the main spokesman for Lapolla's leading spray foam insulation brand. Mr. Pennington is best known for hosting and leading the design team on "Extreme Makeover: Home Edition." Prior to that role, he was the lead carpenter on TLC's "Trading Spaces." He is also the author of two books on home improvement. Ty Pennington, will act as the Company's official spokesperson and will promote Lapolla's products in upcoming national and local campaigns. The company also states that he will also make appearances at international trade shows and participate in consumer events, media relations and social media activities.
"For years, I've been bringing attention to the importance of purposeful and creative home renovation. By teaming up with Lapolla, we have an opportunity to build awareness about the importance of proper insulation to create significant energy savings to the entire residential market. The best home construction in the world needs the best, most efficient insulation to be truly effective for home owners."

- Ty Pennington-
I know that celebrity spokespeople aren't a reason for investment but the added attention that Lapolla will receive from bringing someone like Ty on board should only add to the increase in the company's brand awareness translating into additional sales revenue. Beyond the celebrity appointment, Lapolla has also been building the company from the inside out. LPAD announced that its AirTight® Division is implementing a Multi-Family Energy Savings Program agreement with the multi-billion dollar REIT, Home Properties, Inc. (NYSE:HME), to implement its proprietary energy savings program at the Jacob Ford Village Apartments located in Morristown, New Jersey. The company's four-component program is a turn-key service that provides energy assessments and analysis with the assistance of independent consultants, project design, and regulatory due diligence to secure rebates from state and utility authorities.
This agreement could be beneficial to Lapolla based on the overall market share that Home Properties controls and opens the door for future opportunities with HME as a whole. "Home Properties is a multi-billion dollar Real Estate Investment Trust based in Rochester, New York that owns and manages more than 41,000 residential apartment units, primarily in the Mid-Atlantic and North Eastern United States." The potential for LPAD to quickly capitalize on the agreement could be big for a company of this size. AirTight also has a rebate/incentive plan in place to enhance an already solid return on investment for capital improvement in both the commercial and residential markets.
LPAD may be quickly becoming a leader in an industry positioned with strong growth especially with partnerships in place such as with Home Properties. The company's first endeavor with Jacob Ford Village, a two-story, garden apartment complex, consists of 270 residential units. According to a recent press release, "under the terms of the agreement, AirTight will implement and install its all-inclusive energy savings package throughout the entire multi-family unit complex at a cost exceeding $1 million. A recent assessment conducted by AirTight and Karpman Consulting LLC, an independent energy company, reported that the program will yield annual energy savings in excess of 55 percent for Home Properties."
Of course as with any small or micro cap consideration, there are risks involved. Lower market cap and higher volatility generally top the list. For Lapolla, an area of risk specifically falls in the company's latest Quarterly Filing. For starters, LPAD's assets fell by nearly 3% as a result of declining inventories and prepaid expenses. Total Liabilities increased by just over 7% as a result of a near $1 million jump in accounts payable. Sales declined slightly from just under $17 million to just over $16 million from December to March and gross profit fell by 15.5%. The silver lining to this may have been the 7% decrease in total operating expenses as a result of a dramatic decline in both professional fees and amortization of other intangible assets, which suggests that the company may have already begun to streamline and lean out its operations.
As noted further in these filings, management states that "although the Company generated $604,889 of cash from operating activities and has a working capital surplus of $5,217,135, it has an accumulated deficit of $87,542,168 and a net loss of $1,046,514 as of and for the quarter ended March 31, 2014. As a result, there are concerns about the liquidity of the Company at March 31, 2014."
At this point, cash is generated from operations and the "Revolver Loan availability" which is subject to borrowing base limitations, hinged on budgeted sales and expenses as supported by credit, margin and expense controls which Lapolla believes "are sufficient to fund the Company's operations, including capital expenditures, for the next 12 months."
Additional risk may also be found in LPAD's recent trading history which has been fairly sideways over the past 3 months. Even though it saw a 49% rally during mid May, this stock has settled right back in the mid $0.40's. Liquidity has also been lower as LPAD's trading average for the past 20 days is roughly 23,000 shares traded per day compared to much higher volume back in May.
It would appear that since June 10, Lapolla has been slowly heading back toward its 50-day moving average of $0.486; moving up about 14% over the past few days, so it's possible that investor sentiment is becoming more positive despite the lower liquidity. By starting with one of the biggest REITs in the country, LPAD has already shown the ability to lower costs and save a large company like HME significantly which begs the question of who's next to partner with Lapolla? In the small-cap world, the ebb and flow of financial statements is one of the risks when considering this type of investment but Lapolla has continued to post sales numbers above $16 million with gross profit holding steady above $3 million. Now that the company has decreased operating expenses and added another layer to its branding strategy through a celebrity spokesperson, Lapolla should be able to ramp up product awareness and, in turn, sales for the company. LPAD is also coming off of a great 2013 year and even with the slight decline on its income statement, this company is involved in an industry that is on the rebound (no matter how slow it may be). If the saying holds true, "a rising tide lifts all ships," I am interested to find out how this recovery will benefit complementing business in the space as Q2 comes to a close.
Editor's Note: This article covers one or more stocks trading at less than $1 per share and/or with less than a $100 million market cap. Please be aware of the risks associated with these stocks.
Disclosure: The author has no positions in any stocks mentioned, and no plans to initiate any positions within the next 72 hours. The author wrote this article themselves, and it expresses their own opinions. The author is not receiving compensation for it. The author has no business relationship with any company whose stock is mentioned in this article.
Editor's Note: This article covers one or more stocks trading at less than $1 per share and/or with less than a $100 million market cap. Please be aware of the risks associated with these stocks.