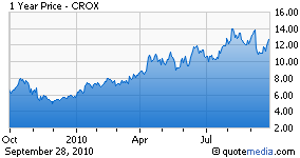 Click to enlargeBy Brian Sozzi

During one of my recent mall tours, I couldn't help but to migrate to a Crocs Inc. (NASDAQ:CROX) kiosk. Admittedly, the people I was with did not accompany me on the short walk from JC Penney (NYSE:JCP) to the kiosk (it donned shiny white paint and clear Crocs signage). So, sporting an iced soy venti redeye from Starbucks (NASDAQ:SBUX) in hand, I began to peruse the various offering by Crocs, the shepherd of the foam-esque material Croslite. I was pleasantly surprised by the assortment, consisting of sandals, children's faux-fur lined boots, and something that darn near resembled an athletic shoe. In spite of the increased level of detailing on the product, a long way from the original Crocs Classics in prior years, price-points were very attainable. Immediately I thought: "prices are higher on these embellished products relative to Crocs Classics, oil-based input costs have been benign on the inflation front, so Crocs must be making a killing on margins." As an analyst this is how my brain has been wired, I can't turn it off.
We have frequently recommended Crocs on our trading platform this year. However, is there reason to believe Crocs is a viable investment looking toward a two to three year time horizon? I fancy a case could certainly be made that even though the stock has risen 115% YTD, valuation is attractive. At a P/E multiple of 18.8x this year's expected EPS, or 14.4x next year's consensus, Crocs is valued well below its projected growth rates in earnings in each year (2010: $0.68 per share from a LPS of $0.49 in 2009; 2011: +28% YOY). Comparable peers (though each does not match Crocs' type of product sold, they sell footwear in many of the same global markets) such as Nike (NYSE:NKE), Timberland (NYSE:TBL), Columbia (NASDAQ:COLM), and Decker's Outdoor (NASDAQ:DECK) have P/E multiple ranges on forward earnings of 12.2x to 21.2x, yet will be delivering earnings growth at a rate slower than Crocs. The explanation for those types of valuation disparities is that many continue to not buy into the Crocs story, believing the company is still the one-hit wonder that burst onto the shoe scene in 2005, or the one that spent 2008 and 2009 ridding itself of unproductive inventory and manufacturing capacity. It's my view that Crocs shares, having pulled back from its 52-week high more on market drama (read below) than a shift in the fundamentals, has a favorable risk reward ratio.
(Market drama: Crocs beat consensus earnings for 2Q and issued above consensus 3Q guidance on August 5. On September 5, one month since the 2Q earnings release, Crocs reiterated its raised 3Q guidance range at a Credit Suisse conference. The market wanted another raise. However, in reviewing the company's Credit Suisse presentation, I was pleased by management's articulated three year strategy and the strong comp growth in June and July of +20%, far outpacing broader specialty apparel retailers.)
Inputs to Thesis
Assortment Diversification
The problem with Crocs historically was that it had only a sole ticket to fame, the Crocs Classic line, worn by Iron Chef Mario Batali right on down to a nurse emptying bedpans at the local hospital (note, Crocs shoes do qualify for reimbursement under Medicare). The Crocs Classic style was to Crocs what Grand Theft Auto was to Take-Two Interactive (NASDAQ:TTWO). The facts no longer support that viewpoint, however. Crocs has taken its molded footwear design and extended it to segments called Active (look like sneakers), Casual (think clogs), and Style (think $99.00 black ladies pumps on the company's website). There are now over 250 models (25 models in 2006) of Crocs available to consumers. Crocs Classic represents 16% of annual revenues, down from 30% in 2007. The company's financials in 2Q demonstrated that consumers have wised up to the more diversified nature of Crocs, and are willing to pay higher prices to get foot comfort. Pricing power in the current retail environment is virtually non-existent, so to see Crocs have it is very positive.
2Q Highlights
Sales increased 15.3% YOY, and were up in each segment.
Higher average selling prices (+12.4%), consolidation of global distribution centers, and a reduction in warehouse space propelled gross margin, which expanded 670 bps YOY.
Distribution Diversification
Another long held viewpoint on Crocs has been that it sells primarily into the US wholesale channel. That is no longer the case as well. Crocs sells its products in over 100 countries, mixing traditional wholesale with retail stores, kiosks usually located in the middle of malls, and outlets. The increased diversification of product distribution has driven greater awareness to the Crocs message, which is that of fun, comfortable, and functional footwear products. Moreover, it has allowed Crocs to tap into international growth markets, such as China (though increased imitation products will always be an issue here). Of particular importance is that Crocs operates 23 transactional websites globally (in local languages), and has plans to launch in Canada and Australia shortly. Across retail, many are lagging in developing websites that cater 100% to the international community, so to see Crocs already positioned is a positive.
Revenue Breakdown
Americas: 46% of annual revenues, down from 59% in 2007
Asia: 36.8% of annual revenues, up from 19.8% in 2007
Europe: 16.6% of annual revenues, down from 21.2% in 2007
Summary
Investing in equities of course is not absent risk. The risks I see on Crocs include (1) limited barriers to entry to this particular footwear product; (2) input cost spike; (3) more durable shoes, say toning, gain share of wallet with a cautious US consumer; and (4) management falls back into old habits of flooding the channel with inventory and re-entering too much production capacity.
That said, investors should remember that Crocs once produced EBITDA margins approaching 30% (2005-2007), and with 2009 only at 10.88% on constrained sales, the opportunity going forward is obvious. Though I do not expect Crocs to return to its faddish ways of yesteryear, where products are flying off the shelves, it doesn't have to in order to expand EBITDA margins aggressively in the next two years. Through the building of new products on a lower manufacturing footprint and increased points of distribution globally, Crocs is poised to win.
Disclosure: No position