The recent series of potentially positive news announcements has propelled Tesla (NASDAQ:TSLA) to new heights. Last week, investors lauded Elon Musk's announcements that he would be opening up Tesla's patents. Yesterday, news broke out of the NJ State Assembly passing a bill to allow Tesla to sell directly in the state, leaving just the NJ Senate to pass it. More information on this can be found here. Governor Andrew Cuomo also recently signed legislation to allow Tesla to keep selling directly in NY. A deeper analysis of the NY direct sales legislation can be found here. To top it all off, rumors were also sparked this morning about Tesla possibly collaborating with Nissan and BMW on a supercharger network. All of these developments have sparked investor optimism, which has thrust this stock to levels where it will prove difficult for management to justify.
There is no denying that Tesla is a terrific company. The products they develop are superior, and the positive impact it has on society is unquestionable. However, investing in Tesla at these levels is not a prudent move. The business fundamentals do not support these levels, and eventually investors will realize that which will burst the momentum out of this irrationally priced security.
Size of Operations
With the level of news surrounding Tesla, it would be easy to fall into fallacy of believing this company is one of the largest in the U.S. Upon reviewing where it falls within the industry in terms of revenue, many would be shocked. In 2013, GM (NYSE:GM) had sales of $155 billion, which makes Tesla's figure of $2 billion seem like a rounding error. Comparing these two is like comparing apples to oranges, however, once growth rates are considered. Sales for Tesla grew 386% from 2012 to 2013 while sales for GM only grew at 2%. This level of growth has investors salivating.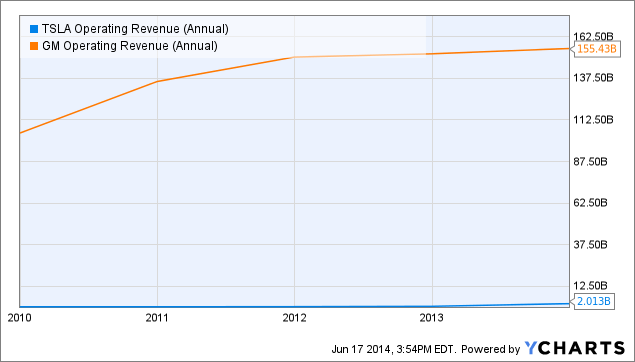 Major car manufacturers are entering the electric car market slowly. The reason for this is evident by the net income line of Tesla. Unfortunately for investors, this tremendous level of revenue growth has still led to no profits. In Q1 of 2014, Tesla lost $50 million or $.40 per share, which includes $6.7 million net gain from a favorable foreign currency impact. Further, management has guided for Q2 to be unprofitable as well on a GAAP basis.
No Competitive Moat
In the minds of some investors, these levels of unprofitably is not alarming, as they believe the company is "investing in the future." However, capital expenditures do not show up on the income statement directly; only a small percentage of the actual expenditures effect each quarter through depreciation and amortization. Additionally, Tesla is bearing the R&D costs that competitors are not willing to take on. R&D is generally positive, as it creates a moat in the form of a patent that prevents competitors from entering their market. However, with Tesla releasing its patents, last week, it is allowing competitors to reap the benefits of what it sows. Although Tesla has a first mover advantage into the electric vehicle industry, that will not be enough to hold competitors back. The auto industry is acutely price sensitive, and although Tesla will be able to retain some loyal customers, a significant portion will switch to lower cost alternatives if available.
Releasing Patents Points to Limited Upside
The impetus for Tesla to release these patents was probably two-fold. First, the level of goodwill created by this move was tremendous. However, it will not have much of an effect on sales, as the segment of the population that can afford a Tesla is extremely limited, currently. Second, Tesla is facing supply chain problems and would like competitors to enter the market to drop the COGS and galvanize investment for electric vehicle development. This seminal move, however, limits the upside in the market for Tesla.
Manufacturers such as GM, Ford (NYSE:F), or Nissan (OTCPK:NSANY) will be able to undercut Tesla prices significantly, which will limit Tesla to a niche, high-end market. Many companies have been successful relying on just niche markets, but Tesla is set to face challenges. Remaining in the niche, high-end market for a retailer is one thing, but for a car manufacturer, it is entirely different. Tesla will need to invest a prodigious sum of money in order to stay atop of this segment. High ongoing R&D expenditures will mute profits going forward. If Tesla reined in the R&D costs, it would likely fall out of favor with its niche.
Gigafactory - A Competitive Advantage?
The Gigafactory is designed to reduce cell costs much faster than the status quo and, by 2020, produce more lithium ion batteries annually than they produced worldwide in 2013. By the end of the first year of volume production for their mass market vehicle, it expects the Gigafactory will have driven down the per kWh cost of our battery pack by more than 30 percent. This project is certainly ambitious and seeks to ease its widely discussed supply chain constraints. Although this factory does create a moat to some degree against competition, this figure is still a paltry sum to larger manufacturers to replicate. In the event of the market growing to a sizeable amount, where profits can be had, competitors will erode Tesla's market share. It is also important to realize that the direct sales legislation that investors are praising as a boon helps competitors as well. Tesla is more apt to reap the benefits from this change in the short term, but in the long term, the positive effect will be limited.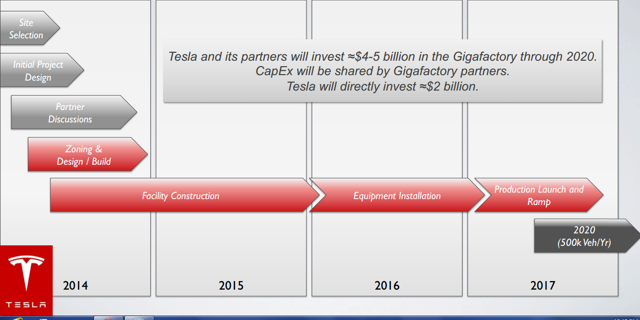 Evidence of Risks
A few weeks ago, Standard and Poor's rated Tesla's debt junk-level.
"We believe there is considerable uncertainty in Tesla's long-term prospects and believe that the company is less likely to successfully adapt to competitive and technological displacement risks over the medium to long term," S&P's report says.
Source: WSJ
Credit agencies have their concerns over just the debt of this company. That should stimulate concern in investors over justifying the extremely high trading multiple. Tesla's revenue last year was 1.3% of GM's, but trades at roughly half of its market capitalization. Moreover, Tesla trades at a 13.80 price to sales compared to GM's .392. Growing sales enough to justify this lofty multiple is unlikely.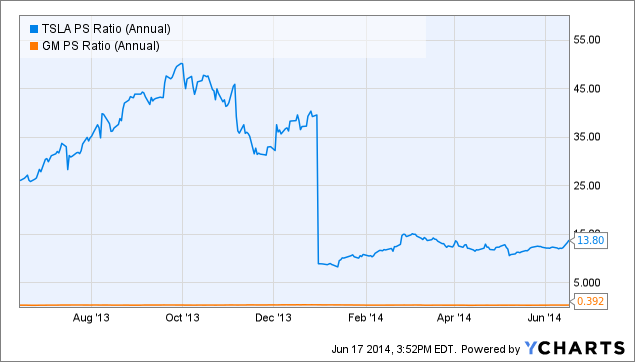 Leveling Off of Sales
In Q2 of 2014, management has given guidance, expecting production of 8500-9000 vehicles. With waiting times remaining steady at 60-90 days, it is likely that demand is leveling off and the backlog is being reined in. Further, even if management hits its forecasted growth in vehicles sold at 35,000, that only would be a 55% growth compared to last year.
Final Remarks
The momentum in Tesla has taken off as a result of many positive news developments. It is unquestionable that Tesla is a great company, but as the market begins to saturate, and competitors enter the fray, investors will realize that it won't be able to support this lofty trading multiple. The stock has growth priced in that is simply unattainable.
Disclosure: The author has no positions in any stocks mentioned, and no plans to initiate any positions within the next 72 hours. The author wrote this article themselves, and it expresses their own opinions. The author is not receiving compensation for it (other than from Seeking Alpha). The author has no business relationship with any company whose stock is mentioned in this article.