FedEx (NYSE:FDX) blew out its Q4 earnings release this morning. The Street was expecting $11.66 billion in revenue resulting in $2.36 eps. FedEx reported well above those levels with $11.8 billion in revenue and $2.46 eps. This release marks a significant improvement from last year's fourth quarter earnings of $2.13 per share when one time charges were excluded. Further, CEO Fred Smith opined his optimism for the future in the release:
"An outstanding fourth quarter helped FedEx post solid results for fiscal 2014, and we believe we are well positioned for a strong fiscal 2015."
Source: Q4 Earnings Release
Moreover, FedEx's operating margin grew to 10% from 9.6% in the same period last year (on a non-GAAP basis). The business fundamentals are improving as revenue growth was coupled with margin improvement to drive net income growth. Management is also creating shareholder value by buying back shares and expanding the dividend.
On June 9th, FedEx declared a quarterly cash dividend of $0.20 per share which represents a $0.05 per share increase from the prior quarter's dividend. To receive this dividend, inventors must be stockholders of record at the close of business tomorrow. Investors are also benefiting from a shrinking number of shares outstanding. During the fourth quarter, FedEx acquired 9.9 million shares, increasing the fiscal 2014 purchase total to 36.8 million shares. As of May 31, 2014, the company still had 5.3 million shares remaining under the existing repurchase authorizations.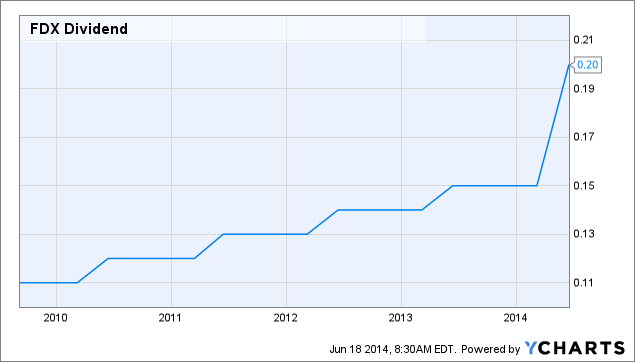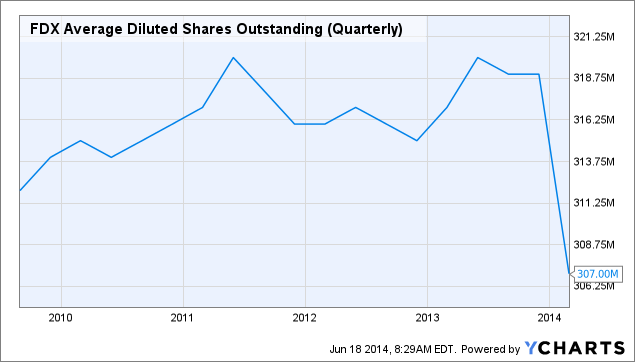 Future Outlook
Management has given a positive outlook in its guidance. For fiscal 2015, management projected earnings to be $8.50 to $9.00 per share. SG&A costs should be reduced as its voluntary buyout program departures were completed this year. The company will also become more efficient from a modernization of the company's aircraft fleet. Upgrading to new B767 planes represents a 30% reduction in operating costs compared to its current MD10-30 planes. The company expects capital spending to increase to $4.2 billion, a large portion will be dedicated to these new planes.
FedEx is not merely just focusing on improving its current business operations, but is also in an expanding. On May 1, 2014, Express completed the acquisition of Supaswift businesses in South Africa and six other countries: Botswana, Malawi, Mozambique, Namibia, Swaziland and Zambia. The acquisition of Supaswift will increase FedEx's capabilities in one of the world's most rapidly developing regions and offer tremendous opportunities for both local and international customers to access new markets.
Final Remarks
FedEx's business fundamentals are improving and its future outlook is bright. Management is undoubtedly creating shareholder value and a long-term investor will benefit from a share buyback program and increasing dividend. FedEx is a stable company that can be a cornerstone of a long-term portfolio.
Disclosure: The author has no positions in any stocks mentioned, and no plans to initiate any positions within the next 72 hours. The author wrote this article themselves, and it expresses their own opinions. The author is not receiving compensation for it (other than from Seeking Alpha). The author has no business relationship with any company whose stock is mentioned in this article.