Chatter has hit the Street and an analyst suggested that Warren Buffett could take Coke (NYSE:KO) private yesterday on CNBC, and although this notion has been discounted by Buffett himself it does bring to light some of the valuation issue surrounding the company. The P/E multiple, 21x, is high compared to others, and growth trends have recently changed. Investors should take notice.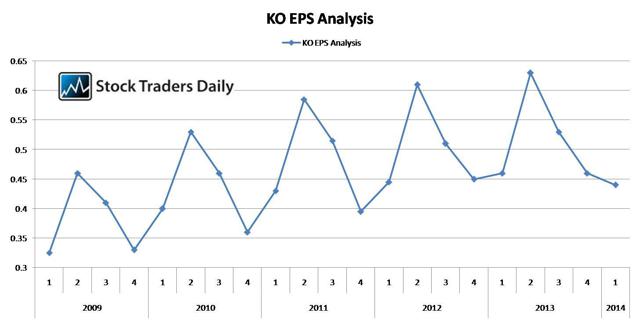 As shown above, Coca-Cola has been increasing earnings steadily since 2009, but not at a rate that justifies such a high multiple anymore. Earnings have been growing, and that is a good sign, but at current levels the company has two years worth of growth built into it. Normally this would not be a concern, but something very interesting has just happened and will likely continue for at least the next quarter. Specifically, EPS trends are starting to break.
Since 2009, the trend has been a weak fourth quarter followed by a bounce back in the first quarter of the following year. This is the first year that has not happened.
In addition, the forthcoming quarter is not expected to show any growth from the previous year either, so investors could be concerned that Coca-Cola has hit an earnings growth roadblock so to speak.
When this happens, general investors should be concerned, but institutional investors who are looking to reap the rewards of the cash flow generated from this company may not be as concerned with earnings growth as they are with consistency.
As a result, the notion of a private equity takeover of Coca-Cola is not off of the table even though earnings growth trends are beginning to change.
Of additional and important note, according to our real time trading report for KO the stock is in the process of increasing towards a longer-term level of resistance, it has already tested our longer-term support level, and now resistance is within striking distance of the current stock price. Additional upside does look likely, to a moderate extent, but barring any private equity activity our combined analysis will suggest that investors should sell Coca-Cola at resistance when resistance is tested. The stock appears headed that way.
Disclosure: The author has no positions in any stocks mentioned, and no plans to initiate any positions within the next 72 hours.
Business relationship disclosure: By Thomas H. Kee Jr. for Stock Traders Daily and neither receives compensation from the publicly traded companies listed herein for writing this article.