Less than two months ago, in late April, I wrote a bullish piece on Express Scripts (NASDAQ:ESRX). Subsequent to my article, I loaded up on shares before and after the company's Q1 earnings release, with the result of 80% of my investable funds now in ESRX stock at an average cost of about $68. I remain bullish on ESRX, but feel an update is necessary as a result of some feedback from readers and additional thought on my part.
Issues
It is difficult to analyze Express Scripts' performance and value the stock, due to the company's many acquisitions over the years and the implications for the balance sheet and cash flows. Central to the search for the sort of high-quality companies I desire is the return on invested capital, or ROIC, metric. There are several different accounting definitions and methods for calculating ROIC.
Include Goodwill and Intangibles?
Some investors include intangibles and goodwill in the denominator, while others only include tangible invested capital (Working Capital + PP&E). The choice of whether to include goodwill and intangibles is critical for ESRX. Substantially negative working capital and little in the way of PP&E results in ESRX actually having negative tangible invested capital, ($1,149.9M) most recently at FQ1E 2014. However, if we add the company's goodwill and intangibles of $42,875.3M, invested capital is $41,725.4M.
Include Acquisition Costs?
On the numerator side, many different methods are used again. I typically use EBITDA - Capital Expenditures - Changes in Working Capital to represent the "pre-tax return." The issue here comes in determining whether to include or exclude acquisition costs in capital expenditures. In FY13, Express Scripts didn't do anything major in terms of M&A, so capex including acquisition costs was only $437.5M, whereas in FY2012, the company merged with Medco, and capex including acquisition costs was $10,486.2M.
How to Account for Changes in Share Count?
Express Scripts has partly paid for acquisitions using new shares, frequently repurchases stock, and executives are also paid in part with stock options and RSUs. This all has resulted in wide fluctuations in share count, which impacts true shareholder returns.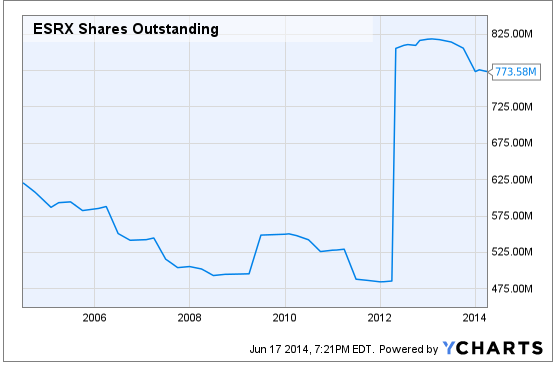 Dealing with the Issues
I've been told that, faced with difficult accounting issues, it is best to keep things as simple as possible. In attempting to calculate Express Scripts' ROIC accurately, what I've really been trying to do is determine whether the company is as profitable and high-quality as its cash flows and long-term stock performance would indicate. What's really causing the issues in both goodwill & intangibles as well as capex is the M&A activity. Considering that Express Scripts has been very active on the M&A front and done very large deals since George Paz became CEO 10 years ago, M&A is certainly part of ESRX's business model and strategy. What I want to know is whether these deals are paying off. I think this can be accomplished by weighing the costs and benefits of a single deal.
Medco
In 2012, Express Scripts merged/acquired Medco. Cash and stock consideration of $29.1B was paid. Including Medco's net debt, Express Scripts paid $33.9B. Medco's FY2011 EBITDA was $3.089B, and Express Scripts claimed cost synergies of up to $1B could be achieved. Assuming ¾ of the cost synergy target and adding that to FY2011 EBITDA, effective EBITDA equals $3.839B. Adjusting for capital expenditures and changes in working capital brings the "pre-tax return" to $2.553B. Express Scripts paid 13.3x that on an EV basis. That seems a bit rich. However, Medco grew EPS 18% annually between 2010 and 2011, and the transaction increased Express Scripts' market share by 72% in an industry where scale is critical. In addition, Medco boasted attractive pre-tax ROIC of 17.6% in 2011, and that's calculated including goodwill and intangibles. It seems like a pretty good deal to me.
Maintenance FCF/Share
Maintenance FCF attempts to capture cash flows after all expenditures necessary to maintain the current level of profitability, but before projects and acquisitions intended to fuel growth. I like this metric in this situation, because it eliminates the need to consider the acquisition costs, as they are definitely growth expenditure and it accounts for changes in share count. For FY2005, maintenance FCF/share was $1.17. Express Scripts' FY2014 guidance implies maintenance FCF/share of 5.82. That represents a CAGR of 19.5%, and at the current quote of $69.85, ESRX trades at 12x that. The company has given long-term guidance for adjusted EPS growth of 10-20% annually, and since changes in working capital and stock-based comp typically exceed maintenance capex, growth in maintenance FCF/share should at least track this. The guidance is also for over half of that 10-20% growth to come organically. Even if I ignored growth derived from acquisitions and just considered the 5-10% per share growth ESRX should achieve organically, the stock still seems cheap to me at 12x maintenance FCF/share, given the qualitative aspects of the company.
Creating Value?
Rather than computing cost of capital and the works, Warren Buffett is known to determine if a company is creating value through growth by comparing the increase in the market value of the company by the total amount reinvested in the business over a long period.
I totaled all the capital expenditures, acquisition costs, changes in working capital, and share repurchase costs from 2005-2013, and got $24.383B. To account for the changes in share count, instead of taking the change in market cap, which would overstate the increase in market value for holders of ESRX stock 2005-present, I took the change in price of a share of ESRX stock from the beginning of 2005-present and multiplied it by the share count at the beginning of 2005. I found that significantly more than $1 of market value has been created per dollar reinvested:

Further, ESRX's stock price has increased 639%, or 23.4% annually since January 2005. I don't think so much market value could be accumulated so consistently over such a long period if the company was not also growing underlying intrinsic value significantly.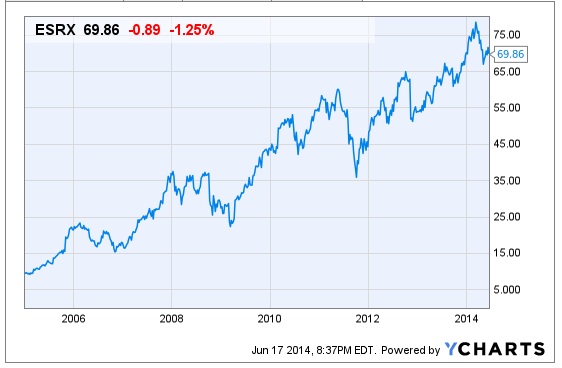 Conclusion
Express Scripts is a bit more financially complicated than my original article would indicate, but I continue to be bullish. I stand by all my qualitative points, and though the company's performance and profitability is blurred by a history of acquisitions,
the Medco deal
maintenance FCF growth
Warren Buffett's value creation test
ESRX's long-term stock performance
All indicate a highly profitable enterprise.
Disclosure: The author is long ESRX. The author wrote this article themselves, and it expresses their own opinions. The author is not receiving compensation for it (other than from Seeking Alpha). The author has no business relationship with any company whose stock is mentioned in this article.