Intel Corp. (NASDAQ:INTC), considered the largest chipmaker in the computer world, has had a recent change in forecast.
The revenue outlook is up from $12.5 billion to $13.5 billion, and is now $13.4 billion to $14 billion. The Santa Clara, California-based company has high hopes for strong profit margins as well.
Reasons Behind The Shift
The change could stem from the fact that Microsoft Corporation's (NASDAQ:MSFT) recently retired its Windows XP operating system. Many PC users are upgrading their PCs, as a result. The adjusted revenue amount has also been credited to the sales of personal computers.
"Intel now expects some revenue growth for the year as compared to the previous outlook of approximately flat," the company said in a statement. "The change in outlook is driven mostly by strong demand for business PCs."
Intel's processors are inside more than 70% of the world's PCs. But the previously stable business of providing chips for personal computers has diminished as consumers purchase smartphones and tablets in place of PCs.
Intel's Recent Fine: Not Much Impact
The EU court recently levied a $1.43 billion fine on Intel, finding that Intel had abused its leading position as a maker of microprocessors.
The lawsuit centered on rebates from Intel paid to four computer manufacturers for using its chips from 2002 to 2007: Hewlett-Packard (NYSE:HPQ), Dell, Lenovo (OTCPK:LNVGF) and NEC.
The investigation alleged that Intel had marketed the rebates along with its dominant position to undercut a rival, Advanced Micro Devices (NYSE:AMD); and alleged that Intel made payments to Media Saturn Holding, an electronics retailer, to ensure the company sold only computers with Intel chips inside.
INTC Stock Overview
Despite the recent negative news from Europe, shares of Intel have experienced a recent increase of over 6%.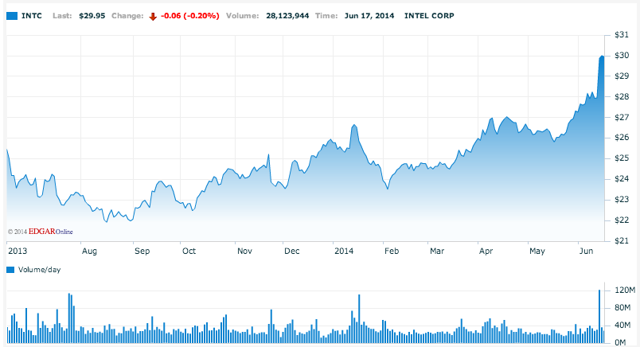 Click to enlarge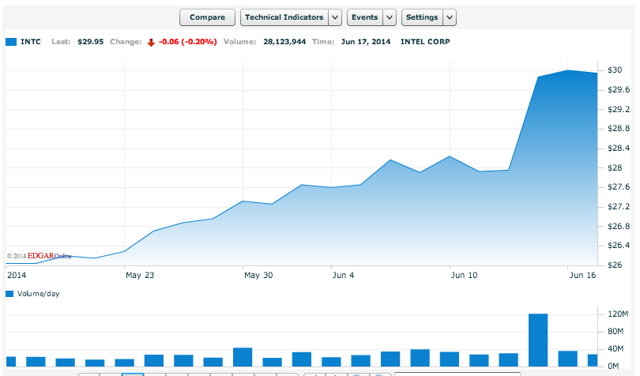 Click to enlarge
(1-year and 1-month charts via: Nasdaq.com)
Moving Forward With Mobile Partnerships
Despite its main interest being in chips, Intel has kept an eye on the mobile market and recently announced a new partnership. Intel has partnered with China's Rockchip with hopes to increase the company's stake in tablet chips. Among other vendors, Intel has previously trailed at fifth place when it comes to units sold.
Wells Fargo's David Wong states,
"We expect Intel's 7260 modem to continue to ramp into a growing customer base for Intel. Intel expects to launch its 4G LTE integrated modem/processor SoFIA product in the first half of 2015. The 3G and 4G SoFIA chips should help Intel begin to penetrate the low and mid- range smartphone market, which its stand-alone modem and processor products do not address."
Intel's president, Renee James sees no problem with Intel handling both mobile and PC products. The two markets may be at odds with each other now, but that may not always be the case.
"In five years' time I don't think we'll be talking about PCs versus tablets, what we're going to see is a blending between them," said Ms James, cited by the Financial Times. "In the end that will look like significant growth, if not a doubling, of what was just known as the PC business."
Outlook for Intel Investors
With the recent fine from the EU behind it and strong industry catalysts, we are positive on Intel going forward in 2014.
While the market has been tough on many small and/or high-flying tech stocks, Intel is an established industry leader.
INTC beat earnings estimates last quarter, and Deutsche Bank has consistently reiterated its Buy rating. Recently, Canaccord and Topeka Capital Markets joined Deutsche Bank in strong ratings as well.
Intel has a strong, consistent dividend payout - affording dependable income, along with current growth.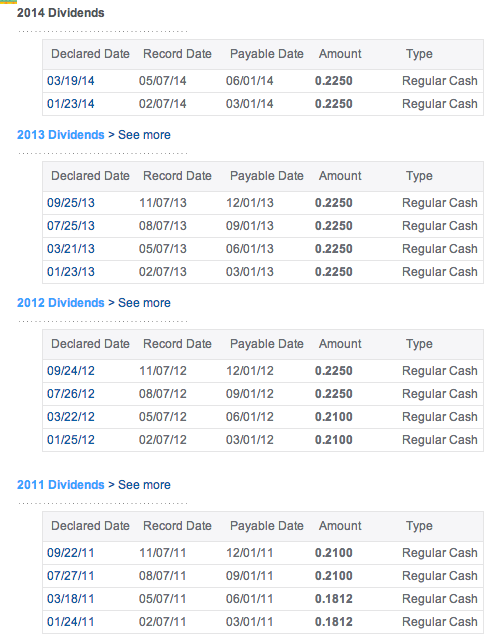 (Source)
Disclosure: The author has no positions in any stocks mentioned, and no plans to initiate any positions within the next 72 hours. The author wrote this article themselves, and it expresses their own opinions. The author is not receiving compensation for it (other than from Seeking Alpha). The author has no business relationship with any company whose stock is mentioned in this article.