Some Parts of the World Acting Like an El Nino; Other Areas Are Not
While El Nino is still expected to form and be announced by NOAA and others in coming weeks, the global atmospheric conditions have not completely corresponded to a typical El Nino. For example, the Southern Oscillation Index (SOI), discussed in my previous post, has remained mostly positive this spring--a phenomenon quite atypical ahead of an El Nino.
Nevertheless, it is the warm ocean temperatures in the central equatorial Pacific and what we call a neutral to negative Indian Dipole (IOD), that portends problems with the Indian Monsoon in coming weeks. In contrast, the U.S. Midwest has been wet (too wet in some areas) and the prospects are for a normal to cool U.S. summer to prevail.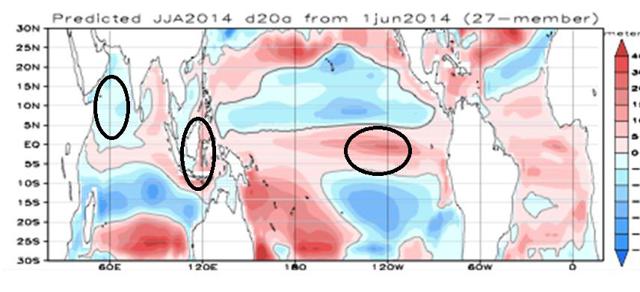 Click to enlarge
The 3 areas, circled above, represent ocean temperatures that are important to drive the Indian Monsoon. If the circle on the far left cools, while the one in the middle over Indonesia warms, this suggests a weak negative Indian Dipole this summer. There is a high correlation of a weak Indian Monsoon, when this occurs, in conjunction with warmer ocean waters at the circle to the right.
It is the circle to the right, (warm ocean) that will provoke NOAA and others to issue an El Nino, even though it may be weaker than some have been forecasting.
Source of Map-JAMSTEC
Importance of the Monsoon to the Indian Economy
The world bank announced in a report in late April that India overtook Japan as the world's third largest economy in terms of purchasing power parity (PPP). According to the World Bank, India holds a 6.4% share of global GDP on a PPP basis. America, of course, remains in first with a 17.1% share and China about 14.9%. Japan, while still the world's third largest economy in nominal terms, holds a 4.9% share of global wealth.
Incredibly, India went from 10th place in 2005 to 3rd place in the last few years. India's economy has now moved ahead of Japan. However, the bad news for India, is of course the widespread poverty. India's GDP per capita in PPP terms still ranks a dismal 127 out of 199 countries. The country has an awful lot to do in combating poverty. In other words, the largest economies were not necessarily the richest.
The World Bank's recent report, if anything is more or less an attempt of boosting the morale of a country plagued by years of high inflation, stagnant growth and corruption.
The importance of the Indian Monsoon to their economy is nothing short of miraculous. Even a 10-15% decline in summer rainfall, can have a multi-billion dollar economic effect. The good news for Indian farmers is that winter rainfall was above normal, that will allow irrigation operations in the north to potentially operate at full throttle. The bad news is our forecast for a below normal monsoon in some regions, particularly in the central and southwest sugarcane areas.
Much of India's gold demand comes from farmers. When crop production is lower, that means less money for them to purchase fine jewelry for their loved ones. Part of the reason for gold's sideways to down price action the last few years, is not only due to the upturn in global stock markets, the U.S. economy and hence there is less of a "fear factor" in gold as an alternative investment, but because of high duties levied by the Indian government on its citizens to curb gold demand.
Probably one of the best trade recommendations (other than natural gas and grains the last few years), that I had, was selling call options out of the money in gold. This was a way the last 2-3 years, to collect a hefty premium in a market, which until recently, had very high volatility.
While high oil prices tend to make it less cost effective to mine gold, as long as the global economy improves, a weak Indian Monsoon will probably prevent any major rally in gold prices. I still see little upside for the gold ETF (NYSEARCA:GLD) and most others.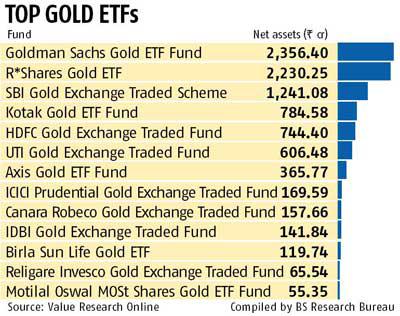 Coffee Prices Take it on the Chin--Largest Crop Estimates, Harvest pressure
While there has been much talk about a bull market in coffee (NYSEARCA:JO) again, I have been reluctant to paint such an outlook the last 2 months. Much of the "news" about the poor Brazilian crop is in the market, and harvest pressure and no freeze potential has pressured prices. Plus Colombia is expecting a big crop and will offset some of the shortfall of Brazilian production. Nevertheless, longer term, it is possible that after more of a wipeout in prices, that come late summer or fall, a weak El Nino could affect Brazilian production. We are also watching Vietnam dryness, which could be a factor, later.
From some of my sources, the Brazilian coffee crop this year may be worse than the market expects. Hence, we may be getting to the point, that coffee prices do not have a lot more downside, especially since soil moisture levels may run low heading into fall. However, it would not surprise me if harvest pressure takes coffee back close to $1.60 first in the next few weeks unless there is cold weather potential (a tough call about this market for now)
Weak Indian Monsoon will put a Floor on Sugar Prices
The world has seen 3-4 years of increased global sugar production. Also, harvest weather for the Brazilian crop has gone well, after a drought reduced situation last winter. Hence, while I don't expect the explosive nature in sugar prices (NYSEARCA:CANE), as I did in coffee last winter, the charts below reveal the relationship of sugar prices rallying during El Ninos. Typically this happens in the summer and or fall, but not in the winter, during the normal height of most El Ninos.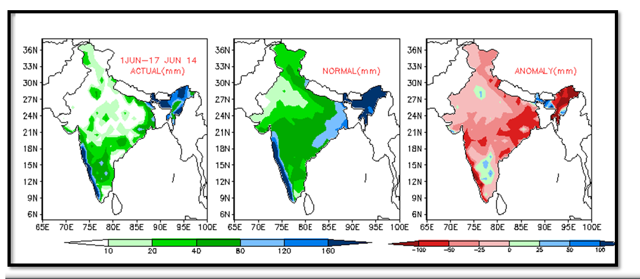 Click to enlarge
The Indian Monsoon has been weak with below normal rainfall (right map) in red.
SOURCE OF MAP ABOVE: Indian Meteorological Center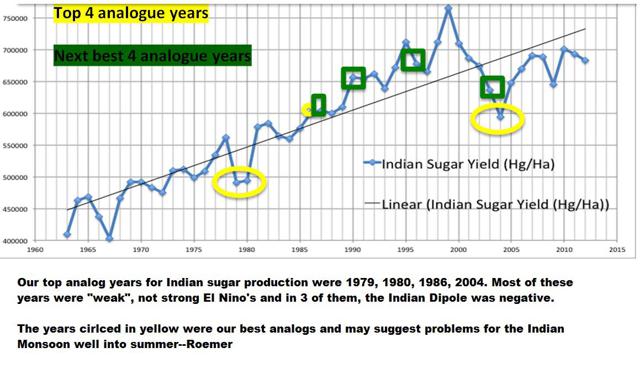 Click to enlarge
The relationship below of weak and strong El Ninos with sugar prices. Historically, about 70% of the time with the approach of even a weak El Nino, sugar prices rally during the summer, or fall.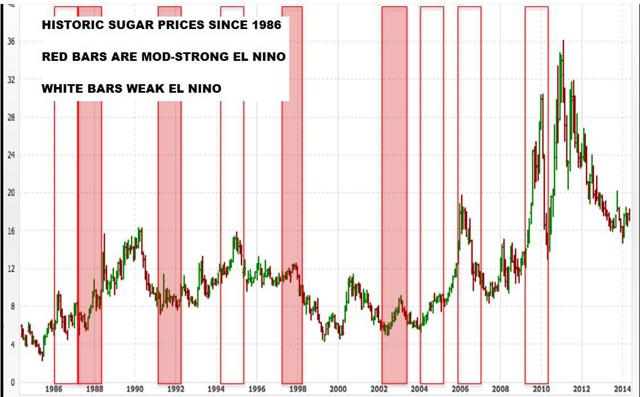 Click to enlarge
Disclosure: The author has no positions in any stocks mentioned, and no plans to initiate any positions within the next 72 hours. The author wrote this article themselves, and it expresses their own opinions. The author is not receiving compensation for it (other than from Seeking Alpha). The author has no business relationship with any company whose stock is mentioned in this article.