By Chris McKhann
Option traders are selling Amedisys (NASDAQ:AMED) calls as shares of the home healthcare company plummet on news that federal investigators have demanded business documents.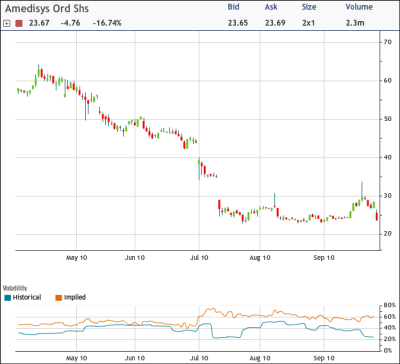 AMED trades at $23.67, down 16.74 percent on the day, falling from resistance at the $30 level just last week that has been in place since mid-July. The stock tumbled 64 percent from the 52-week high above $64 in April to the 52-week low below $23 four months later.
The options volume is 6 times the average, which isn't surprising given the move, and traders are selling calls to try to capture some of the downside. The volume at the March 27 calls is more than half of the total on the day, with almost 4,000 contracts changing hands.
The trading at this strike has been active all morning, with blocks of 100 calls sold starting just after the bell for $3 and continuing as the price has fallen to $2.50. The largest block of 900 was sold for $2.60.
This call selling was likely done naked. Anyone long these shares would presumably be getting out or paying up for the protection of puts, not just selling calls.
The positions will profit as long as AMED remains below $27 through expiration. And while the stock was above $27 yesterday, traders are betting that this federal investigation will not go away quickly.

Disclosure: No positions