Longtime SA readers know that I listen to what markets and traders say about the economy, rather than government agencies or bureaucrats. The latter look backwards and have no skin in the game. The former look forward and place billions of dollars of their own money on the line every day.
What better example than FedEx (NYSE:FDX), which beat consensus estimates of $2.36 for the company's fourth quarter by $0.10, on a 3.5% increase in revenue? (source: ETrade). Shares are up nearly 5% in this morning's trading.
Both Dow Theorists (technicians) and fundamentalists will tell you: strength in the transportation sector means the economy is doing well.
Now, if FedEx was the only transportation stock posting good numbers, perhaps we dismiss it as one-off event. But it is NOT. The Transportation Sector, shown by the eponymous ETF (NYSEARCA:IYT), has gone from strength to strength. Both the advance/decline line and new highs/lows for the ETF have outstanding.
A/D Line For Transportation ETF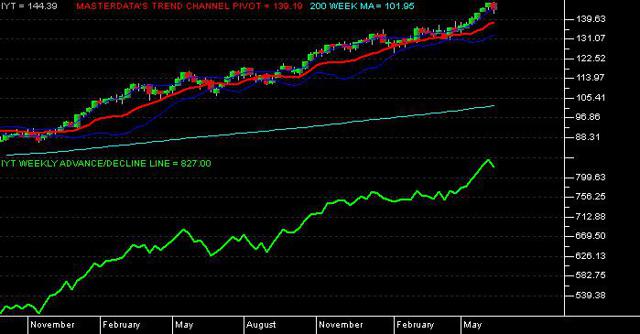 source: masterdata.com, with bmp to jpg conversion.
Highs/Lows for the Transportation ETF.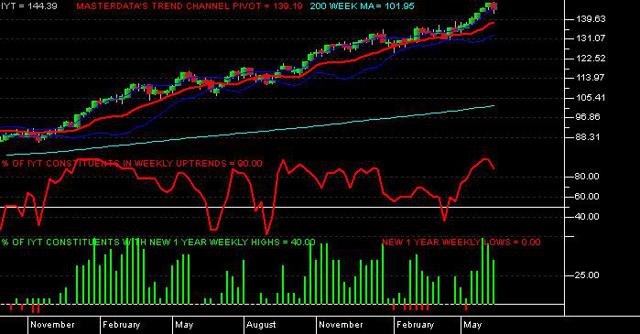 This article is short and its premise is simple: even in the face of the highest oil prices in almost two years, goods are being produced, sold, and shipped to markets across America. This is bullish for stocks and proof the economy will get stronger in the very near future. Forget about ten minute market responses to this afternoon's Fed shenanigans. Focus on the long term and your portfolio with thank you for it.
Disclosure: The author is long XLE, XLK, IHI. The author wrote this article themselves, and it expresses their own opinions. The author is not receiving compensation for it (other than from Seeking Alpha). The author has no business relationship with any company whose stock is mentioned in this article.