When it comes to biotech name Dendreon (NASDAQ:DNDN), the company's weakening balance sheet has been a reason I've argued shorting the name for a couple of years now. The company, which brings you the prostate cancer treatment Provenge, has continued to push closer to the brink. One of the important items for this current quarter was a maturity of debt. Dendreon recently provided an update on the situation, and today, I'll discuss the latest news.
The 2014 notes:
Dendreon's 2014 notes were due on June 15th, which was a couple of days ago. There was no news on this debt leading up to the maturity date, or even the few days following, so many were wondering what was going on. Well, Dendreon recently had an 8-K filing, which detailed the following:
On June 17, 2014, the indenture, dated as of June 11, 2007, between Dendreon Corporation (the "Company") and The Bank of New York Trust Company, N.A., as Trustee (the "Trustee"), was satisfied and discharged pursuant to its terms, following timely payment by the Company of the final principal and interest payment on the Company's 4.75% Convertible Senior Subordinated Notes due 2014.
As I detailed in my pre-debt maturity article, the carrying value of the notes on the balance sheet was $27.685 million. However, as I stated in the article, the company had a contractual commitment of $28.343 million in regards to the notes and interest, when looking at the most recent 10-K filing. In the next section, I'll discuss what this debt repayment means for the balance sheet.
Looking at the balance sheet:
Dendreon finished Q1 2014 with just under $170 million in cash and investments, so the company had enough money to pay back these notes. Paying back these notes would leave the company with approximately $141.4 million, when using the $28 million-plus number from above. This also assumes no other cash changes to the balance sheet, which we know is not likely. Dendreon is still burning through cash, so the end of Q2 number for cash and investments is likely to be a bit less.
Dendreon is expected to show a sequential revenue increase in Q2, along with a smaller loss, when looking at current estimates. The company's restructuring plan has certainly helped reduce expenses, and that has helped to improve cash burn a bit. Management provided the following statement on the Q1 conference call about Q2 cash burn:
Our cash burn during the first quarter was $30 million which was down significantly from the first quarter of 2013 and down slightly from the fourth quarter of 2013. Due to changes in our working capital our cash burn was less than as we expected for Q1 therefore we anticipate our cash burn for Q2 to be consistent with our Q1 cash burn.
Dendreon cannot afford too many more of these $30 million cash burn quarters. At the current rate of cash burn, Dendreon is likely to go under $100 million in cash and investments during Q3 this year. Again, the biggest problem for Dendreon was not the 2014 notes, but the more than $600 million that's due in January 2016. That deadline is approaching, and is only about 19 months away now.
An update on short interest:
Since Dendreon remains a heavily shorted stock, I'm always asked to provide updates on short interest. Well, just about a week ago, we got the end-of-May update. As you can see in the chart below, there was not too much movement in short interest.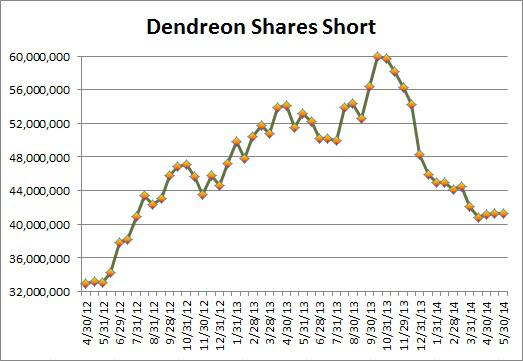 Short interest decreased by about 65,000 shares in the last couple weeks of May. That's not much, considering more than 41 million shares remain short. While short interest has come well off its highs, Dendreon's float is about 150 million, according to Yahoo Finance. That means that roughly 27.5% of the float is short, meaning Dendreon could be a short squeeze candidate on good news.
Final thoughts:
Dendreon has paid back its 2014 notes, according to a recent filing. Investors were waiting on this news, and it further reduces the company's cash pile. With Dendreon expecting to burn through another $30 million this quarter, the company is getting closer to the point where it needs more funds. With a terrible balance sheet and more than $600 million coming due in early 2016, Dendreon is getting closer to a major event, either bankruptcy or a buyout. The speculation over those two possibilities has further increased after the company's CEO left recently.
For now, I'm continuing to recommend investors short the name on rallies, as I think Dendreon has to go lower from here. However, it is always nice to have some sort of hedge on your short, just in case Dendreon finally has some positive news. There were a couple of bonuses in CEO John Johnson's termination filing if he delivers a contract manufacturing agreement or co-promotion agreement before he leaves on August 15th. So some sort of deal there could be a reason for shares to rally, and of course, Q2 earnings will come up before he leaves. But other than that, Dendreon probably needs more funds, which could push shares much lower.
Disclosure: The author has no positions in any stocks mentioned, and no plans to initiate any positions within the next 72 hours. The author wrote this article themselves, and it expresses their own opinions. The author is not receiving compensation for it (other than from Seeking Alpha). The author has no business relationship with any company whose stock is mentioned in this article.
Additional disclosure: Investors are always reminded that before making any investment, you should do your own proper due diligence on any name directly or indirectly mentioned in this article. Investors should also consider seeking advice from a broker or financial adviser before making any investment decisions. Any material in this article should be considered general information, and not relied on as a formal investment recommendation.