Introduction - Valuation and Major Risks
"Price is what you pay, value is what you get." - Warren Buffett
China Modern Agricultural Information (OTCQB:CMCI) is worth multiples of its current price. At the end of this article, I discuss various valuation methods and metrics that all reach the conclusion that CMCI is severely undervalued. These methods support a valuation anywhere from a conservative valuation based on book value of around 3x the current price to a discounted cash flow valuation at more than 10x the current price.
In January, Andrew Granowitz discussed CMCI. That article is also worth reading to get additional perspective on this company. In the rest of this article, I discuss CMCI's business, financials, industry, risks and valuation. But before we dive into the details of the company, I want to start with a summary of the investment case in a single graph.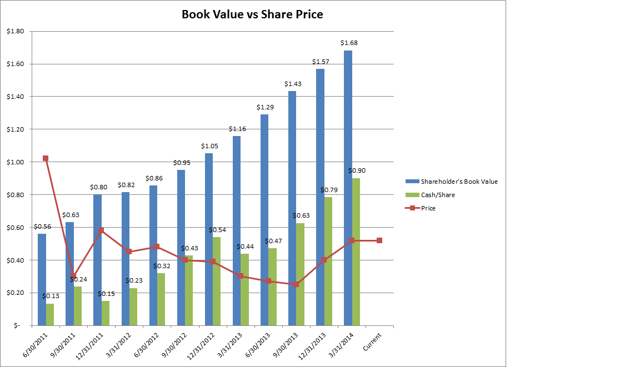 This graph shows the following:
From June 2011, CMCI increased book value 180% but the share price decreased 50%. (Note: Unless otherwise stated, all references to CMCI's financials are as of the quarter ending 3/31/2014.)
Book value has increased at an annualized rate of 50% during this period. That is, the historical return on equity plus adjustments (mostly for currency translation) is 50%. There are not many companies that can boast of a similar growth rate.
At the beginning of this period, the book value was roughly one-half the share price and is now three times the share price. In other words, for every dollar invested, the shareholder gets $3 of equity in the company. And this in a company that has historically grown book value at 50% annually.
Given this information, I would tend to think that there is something very wrong at the company. There has to be some reason for the share performance during a period of robust growth and profitability. While I have been able to find many potential risks, I haven't been able to find anything that comes close to justifying the current price.
The most likely cause of the lack of investor interest is that CMCI is a Chinese company that backed into the OTC market through a reverse merger. There is a general distrust of Chinese reverse mergers and the words "fraud," "scam," etc. are thrown around a lot in this arena. Some have even coined terms such as "ChiScam" that, if repeated often enough, can replace fact and analysis with conclusion and fear.
My goal here is not to argue that China is fraud-free. It's not. There have been frauds and there will certainly be more. But the risk of fraud -- or more appropriately the fear of fraud -- creates an obvious potential for the loss of capital but it also creates an atmosphere of fear that can be exploited. As Warren Buffett said, "We simply attempt to be fearful when others are greedy and to be greedy when others are fearful." This may be one of those opportunities to buy a great company for an amazing price.
For CMCI, in particular, the fear of fraud appears to be overstated. While I do not provide conclusive proof that CMCI is not a fraud, I found a number of factors that when taken together seem incongruous with fraud:
CMCI annually files audited financials with the SEC.
CMCI has not experienced turnover in their auditor or CFO.
An independent consulting company verified their financials
CMCI's transactions and business are simple and transparent. There are no off balance sheet items.
Management owns a third of the company.
Management does not pump the stock. In fact, management is too hands off with investors.
Management does not take large salaries or bonuses.
CMCI's largest customer is one of the largest dairies in China.
Cash flow is very positive and is higher than earnings. Cash balances are very large and, again, audited.
In recent years, CMCI has used cash produced by the business to make significant investments acquiring land and cattle. For example, in 2011, CMCI purchased Yulong Cattle for cash and shares.
While none of these items disproves fraud, the actions of management and the reported financials do not seem to be consistent with fraud. Frauds are often associated with management taking large salaries/bonuses, pumping the stock and using creative accounting to disguise the true business performance. None of this is happening. If this was a U.S. company, I can't imagine there would be any discussion of fraud. Unfortunately, they are not a U.S. company, so here we are discussing fraud instead of their business.
For anyone interested in research suggesting the fear of fraud for Chinese reverse mergers may be overblown, this study is a good place to start.
Another major risk is the lack of liquidity or volume of the shares. As you can see in the chart below, average volume has decreased significantly since 2011. While volume has edged up in the most recent quarters, buying CMCI still involves significant liquidity and trading risk.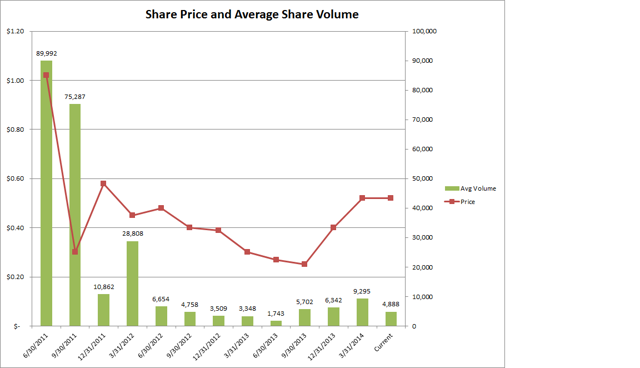 The irony is that the company itself is very liquid. CMCI has $48M in cash, amounting to 170% of the company's market value.
Out of CMCI's $29M in liabilities, $28M is related to deferred income taxes. That is, liabilities are almost exclusively an interest free loan without a due date. Each quarter CMCI books a roughly $2M charge for taxes it doesn't pay. The liability accumulates on the balance sheet but will only need to be paid if and when the earnings are brought up from the operating entities to the parent company.
The impact of the deferred tax liability can be seen in the following chart comparing cash flow to net income. The largest item contributing to the difference between cash flow and net income is deferred income taxes. Over the last year, cash flow was $7M higher than earnings, consisting of a $9M contribution from deferred taxes partially offset by $2M in working capital changes. The reported earnings of $27M over the past year substantially understates the cash flow generated by the company.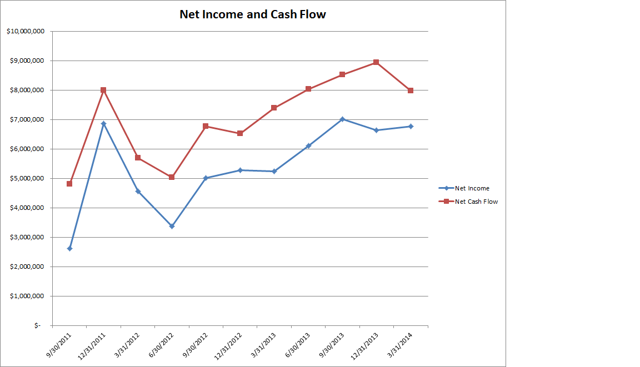 (Note: I am defining cash flow as cash flow from operations excluding depreciation and prepaid land leases. Prepaid land leases are excluded because they are akin to an investment item rather than an operational item. For depreciation, I am assuming that depreciation equals maintenance capex and therefore shouldn't be counted as cash flow.)
Business/Company
CMCI is in the business of producing and selling milk in China. Overall, it's a fairly simple business split along three lines: milk sales, commissions from helping farmers sell their milk and fertilizer sales. The fertilizer sales are insignificant so we will limit the discussion to milk sales and commissions. The following chart shows the growth in revenue and breaks out revenue into its two major components.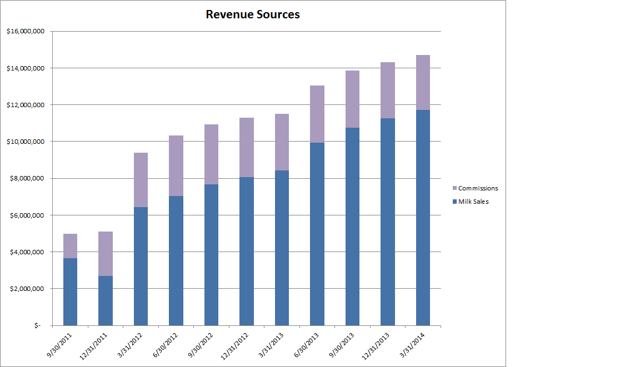 Milk sales have increased from two-thirds of revenue to four-fifths of revenue. The reason for this is that milk sales have been increasing at 35-40% annually and commission revenue has been decreasing at 0-5% annually.
Milk Sales
CMCI sells milk under annual and biannual contracts with dairies. Under these contracts, the dairies pay CMCI a fixed price for the milk delivered. CMCI sells milk to five separate dairies but the majority of milk (58% according to their 2013 10-K) is sold to Mengniu Dairy, one of the largest dairies in China.
The care of most of the cows owned by CMCI is outsourced to small farmers. These small farmers care for, feed, and milk the cows in exchange for a monthly fee. The monthly fee is based on the number and age of the cows under the care of the farmer. The milk and fertilizer produced by the cows is the property of CMCI.
So their business model is to purchase the asset, in this case the cow, and realize the spread between the fixed rate it receives for milk and the fixed cost of maintaining the cow. Through this model, they are able to keep costs to a minimum and reduce their exposure to market (price) risk. They simply own the assets and the contracts and let others do the farming and the milk processing.
CMCI's growth comes exclusively from milk sales. The growth has come primarily from an increase in the number of cows owned, with some contribution from an increase in the price of milk.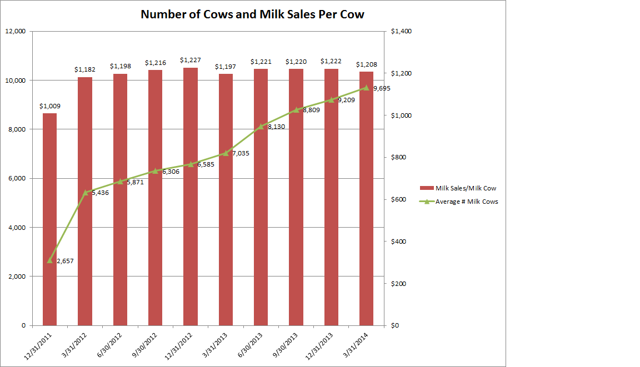 Commissions
CMCI received commissions for working as a middleman between farmers and the dairies and take a commission for their services. Much of this business is related to cows they sold in 2011. As the contracts related to those sales expire, I expect this business to continue to wind down.
Company Structure
CMCI backed into a U.S. listing through a reverse merger in 2011. The parent company, China Modern Agricultural Information, is a U.S. company that owns Jiasheng Consulting. Jiasheng Consulting, through a series of contractual arrangements, controls and holds effective ownership of Heilongjiang Zhongxian Information. Heilongjiang Zhongxian Information is the Chinese-based holding company for the two operating entities, Heilongjiang Xinhua Cattle and Shangzhi Yulong Cattle. Heilongjiang Zhongxian Information owns 99% of Heilongjiang Xinhua Cattle and 100% of Shangzhi Yulong Cattle.
This ownership structure allows the management of a non-Chinese company, CMCI, to own and operate a Chinese company, but is not without risks. This structure allows the management of CMCI to effectively control the operations of their Chinese companies. It also allows the Chinese companies to reap the rewards of the tax preferences of operating a Chinese dairy. For additional information on this structure, see the CMCI 10-K.
Financial Highlights
Return on Equity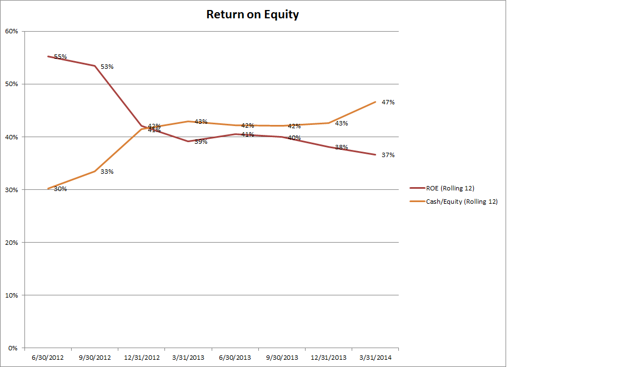 Returns are decreasing primarily due to an increase in cash but are still at very attractive levels.
Margins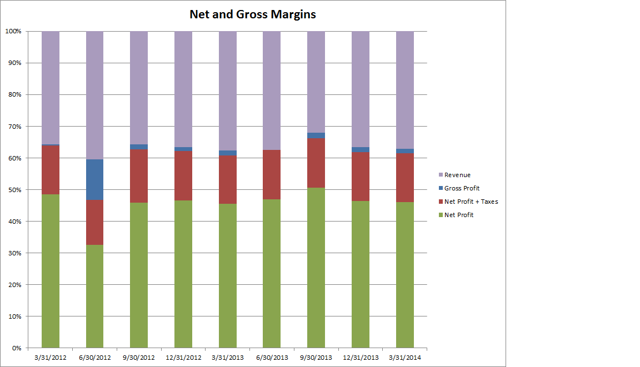 Net Margins have averaged 45-50%. Net Margins adjusted for deferred taxes have averaged 60-65%. In other words, for every $1 of revenue, CMCI produces over $.60 in cash flow and over $.45 of earnings. Obviously, this is a very profitable company with a high margin of safety. And since CMCI holds fixed price contracts with both the farmers and dairies, these margins are locked-in.
Growth
| | | | |
| --- | --- | --- | --- |
| Item | March 31, 2013 | March 31, 2014 | Growth Rate |
| Milk Sales (TTM) | $31,199,124 | $43,634,348 | 40% |
| Commissions | $12,837,467 | $12,291,745 | -4% |
| Revenue | $44,036,591 | $55,926,093 | 27% |
| Net Income | $18,891,469 | $26,537,574 | 40% |
| Cash Flow | $25,700,362 | $33,455,173 | 30% |
| Book Value (as of March 31) | $1.16 | $1.68 | 45% |
| Number of Cows (as of March 31) | 15,247 | 19,593 | 29% |
| Shares (as of March 31) | 53,100,000 | 53,100,000 | 0% |
Historically, CMCI has produced top line growth exceeding 25%. This is due to an increase in the number of cows and the increase in the contract price for milk, partially offset by a decrease in revenue from commissions.
CMCI has increased the number of cows owned by over 25% annually. They have accomplished this while only investing a portion of their cash flow in additional cattle. Over the last 12 months, CMCI has produced $33M in cash but has only spent $7.8M on cows, adding $25M in cash to their balance sheet. If CMCI invested more of their cash in the business, the growth rate could obviously be much higher than 25%. In addition, as commission revenue becomes a smaller proportion of sales, total revenue growth should more closely follow the growth in milk sales. In my modeling, I have assumed a near-term milk sales growth rate of 20%, but this probably understates their growth.
The best part of this growth is that it is self-financing. We, as shareholders, are getting the benefit of growth without being diluted.
Balance Sheet
| | | | |
| --- | --- | --- | --- |
| Balance Sheet Item | March 31, 2013 | March 31, 2014 | Growth Rate |
| Assets - Cash | $23,262,055 | $47,872,939 | 106% |
| Assets - Cows | $24,234,263 | $30,631,401 | 26% |
| Assets - Land | $15,581,031 | $21,845,631 | 40% |
| Other Assets | $17,843,854 | $17,777,182 | 0% |
| Total Assets | $80,921,203 | $118,127,153 | 46% |
| Liability - Deferred Tax Asset | $18,782,724 | $27,797,398 | 48% |
| Other Liabilities | $572,602 | $952,832 | 66% |
| Total Liabilities | $19,355,326 | $28,750,230 | 49% |
| Shareholder Equity | $61,565,877 | $89,376,923 | 45% |
Potential Catalysts
While I base my investment thesis on the potential long-term value creation of the company, there are a couple potential catalysts that could drive the share price in the near term:
CMCI could use some of its $48M in cash to expand its current operations or acquire other dairies similar to its 2011 acquisition of Yulong Cattle. Any significant deployment of their current cash or even using more of their cash flow to purchase cattle could significantly increase their growth rate.
Through the National Champions program, the government is encouraging consolidation within the dairy industry. The National Champion program gives capital to preferred Chinese dairies to consolidate the industry to compete with foreign firms. CMCI's biggest customer, Mengniu, is a National Champion. Given Mengniu's recent investments in suppliers and the government's emphasis on consolidation, it's not a stretch to think that Mengniu could make an investment in or acquire CMCI.
Chinese Dairy Industry
CMCI is a small participant in a fast growing industry with a great long-term outlook. CMCI runs a very small operation in relation to the Chinese dairy market so their growth rate is not limited by the size of the market.
That being said, demand for milk products in China is increasing at an incredible rate. Chinese demand is driving dairy prices throughout the world. While in the last few months, softer demand from China and increased supply from New Zealand dairies has reduced the price of milk, the long-term outlook still looks very good. (Note that for CMCI, the fixed contracts provide some protection from short-term dairy price fluctuations.)
Chinese demand for milk is being driven by the following factors:
Very low current consumption of dairy products, even after adjusted for income. As China moves towards a more Western diet, they should increase their consumption of dairy.

In 2011, Chinese dairy consumption was 12% of the US's, 40% of Japan's, 26% on India's and 12% of Russia's consumption per capita.

Demand for milk increased with income and China is on a long-term path of growth and increased consumerism.
Demand for milk is greater among urban households and China is in the middle of a large movement to the cities, with hundreds of millions of people moving from the farms to the cities.
Chinese public policy is supporting the dairy industry through:

Industry tax subsidies. For example, CMCI's operating entities are not subject to income tax.
Government encouraging the consumption of milk through, for example, school milk programs.
The creation of the National Champion program discussed earlier.
Risks
There are a number of risks of investing in CMCI. I separate these into company specific risks and industry/macro risks.
Company Specific
CMCI's shares trade on the OTC market and the trading volume (as discussed above) is thin. I would only recommend an investment for long-term holders as the lack of liquidity increases transaction costs.
The perception of fraud discussed above. I won't rehash the factors here, but for CMCI, this risk is mitigated.
CMCI does not have any meaningful contact with shareholders. If I could change one thing about the company, this would be it. I believe the lack of communication has fed the lack of investor interest. And the lack of investor interest has in turn encouraged management to concentrate on running the business at the expense of telling their story.
CMCI has accumulated a large amount of cash over the last year. The level of cash they hold is well in excess of their current needs. Until this cash is redeployed, the following are likely: returns on capital will be lower than they could be, there will be questions about their ability to reinvest cash in the business at similar returns, and there will be questions about the motivations of management. While I don't see management returning cash to shareholders through dividends or buybacks, I wouldn't be surprised to see them invest more cash into the growth of the company. Of course, if you're going to have a problem, having too much cash is a great problem to have.
CMCI has one major customer, Mengniu Dairy, which accounts for 58% of sales. If something were to happen to this contract and CMCI could not find another buyer for its milk, their operations could be affected. Mitigating this risk somewhat is the fact that China cannot produce enough milk to satisfy its own demand so Mengniu would be unlikely to refuse milk from CMCI.
CMCI's board consists of three members, each of whom is not independent. There is a risk that these board members could take actions that are not shareholder friendly. Offsetting this risk, insiders own 32% of CMCI's shares, with the majority held by the Chairman's son.
CMCI's primary business model is to outsource the production of milk to small farmers. Due to the 2008 Chinese milk scandal and other quality concerns, the Chinese government is highly encouraging scale in the industry at the expense of smaller operations. It's too early to know how, if at all, the business model of CMCI will need to change but there is at least a risk that they will be subject to increased regulation in the future in addition to their current quality initiatives.
Industry/Country Risk
Milk prices have fluctuated a lot recently. Chinese demand has encouraged both Chinese and foreign dairies to increase production. The increase in production has put downward pressure on prices. While this shouldn't affect CMCI's current revenues (due to the fixed price contracts), it could affect prices in subsequent years.
China is the Wild, Wild East. There is tremendous opportunity and amazing potential but there are also huge risks. The size of the transformation to a more market based economy is hard to comprehend. The urbanization of hundreds of millions of individuals is not going to happen without tremendous risks and setbacks. Some of the risks we are seeing right now are in the construction and shadow banking industries. These will likely affect many provinces, banks, construction companies and consumers. These risks may spillover into unrelated industries such as the dairy industry, especially if consumers are hard hit. (For more on this transformation, I highly recommend "The One Hour China Book.")
The dairy industry is currently favored by the government. This is always subject to change.
The Chinese government has been cracking down on polluting industries. As far as I'm aware, methane production by dairies is not on the radar yet but may be a future concern. In addition, the production of milk takes more water, land and resources than the production of other foods. This may also be a concern in the future.
After the 2008 Chinese milk scandal, prices for domestically produced milk have trailed prices of imported milk. This is both a risk and an opportunity. Any additional quality issues in China could exacerbate the discrepancy, while a lack of issues could narrow the pricing gap.
Valuation
There are a number of ways to value a company. The primary valuation method is a discounted cash flow (DCF) model. As the name suggests, this method discounts projected future cash flows at a discount rate reflecting the risk of the company. However, that method can be overly sensitive to certain assumptions, such as the assumed growth rate and discount rate. So in addition to performing some sensitivity analysis on the DCF assumptions, I also like to use a number of other methods to get comfortable with the valuation.
Discounted Cash Flow (DCF)
Using a discounted cash flow (DCF) model with my base assumptions, CMCI's business is worth between $7-8 per share. The price, as of 6/6/2014 is $.52. In other words, my DCF model of the company suggests that the company is worth 13-15 times the current price.
I arrive at this valuation assuming CMCI's growth and returns on capital moderate from current levels. At a high level, my model starts with the current cash flows of $33M per year, current cash on hand of $48M, a short-term growth rate in milk sales of around 20%, a long-term growth rate of 4%, and a discount rate in the mid-teens. The range in the valuation is roughly the range of values produced by varying the growth in milk sales between 15% and 25%. Note that in my model the growth in commissions is pegged at -4%.
This valuation places a probability of zero on the risk of fraud. The reader is encouraged to adjust this value for their own estimate of the risk of fraud. For example, if you estimate that the risk of fraud is 10%, the valuation should be multiplied by .90.
Metric Multiples
Other metrics I used to check the value of the company I calculated using the DCF method are:
Price/Book: Current book value is 3x the price of the shares. If CMCI were to sell at 1x book value, the value is 3x the price. However, CMCI has earned returns on equity many times "normal" returns. A company earning 37% ROE should be valued at a multiple of book value well in excess of 1x. If we assume "normal" ROEs are 10% and valuation is simply a multiple of company ROE to normal ROE, we would expect the ROE multiple to be 3.7x book value. This puts the value at 11x current price. (Note that this valuation should understate the value, as any investor should prefer the higher ROE/multiple choice.)
Multiple of Cash Flow + Cash: Alternatively, we could value CMCI at a multiple of cash flows plus current cash. If we assume a multiple of 5 times cash flow, this methodology produces a price of around $4.00 per share, or between 7-8 times the current price. While I believe this method places too low of a value on CMCI's growth (cash flow has been growing at 30% YOY, so a multiple of 5 is conservative), it provides additional evidence of the undervaluation of this company.
PEG Ratio: The current P/E of the company is .52/.50 = 1.04. The growth rate assumption is always subjective but it has historically been around 30% (see section on growth). If we assume 20% future growth, this means that the PEG is 1.04/20 = .052. To get to a PEG of 1.0, which to me is a "normal" PEG, the stock price would need to increase 19x.
While no single valuation method should be used in isolation, I do think that the various valuation methods suggest that this company is seriously undervalued, possibly on the order of more than 10x the current price. Over time, I expect the value and share price of this company to converge. I don't know when that will happen but my money is on the table and it will be out there for the long term.
Conclusion
CMCI has all the qualities of a good investment. It has a simple business model with attractive returns on capital, large margins and an ability to grow for many years to come. Further, the company is able to self-finance its growth from cash produced by operations, avoiding shareholder dilution. And investors can purchase a piece of this company for less than the company's cash on hand because of general fears of fraud in China.
Disclosure: The author is long CMCI. The author wrote this article themselves, and it expresses their own opinions. The author is not receiving compensation for it (other than from Seeking Alpha). The author has no business relationship with any company whose stock is mentioned in this article.