Netflix (NASDAQ:NFLX) is a stock that has entrenched bulls and bears on both sides of the investment landscape that are seemingly always battling it out on TV. It usually generates passion on both sides among investors and generates good TV for CNBC and other media outlets. In my opinion Netflix is a trading vehicle that can be played as a long and a short depending on the sentiment, which direction the price momentum is going in, and the valuation metrics.
Many times the bulls and the bears mention different long term prospects and challenges that the company faces as reasons to invest in or stay away from the firm's stock that never change. For example, the bulls usually mention the long term growth opportunity that international expansion represents for the company. This is certainly a valid point. Morgan Stanley's analyst Benjamin Swinburne is projecting that the company will double its share of the broadband market in international countries from 10% to 20%. I understand that these estimates keep getting raised as new information about the company is realized, but I believe that this bullish case on the stock could have been made when it was at $300. In fact I believed in this argument when I bought the stock at $330. The bearish argument is similar in that it can only change in response to earnings reports and not the price action. Bears argue that the increases in content costs will hurt profitability. Content costs rose 19% last year and the prices will continue to increase as new competing companies such as Amazon (NASDAQ:AMZN) increase the bids on content. This opposing thesis is also true regardless of where the price is at. I believe that in most cases stocks can be invested upon by this type of reasoning, but with Netflix the price varies so much that it must be traded based on the three timing mechanisms that I mentioned earlier.
Before I discuss why I believe that Netflix is entering the overbought territory I will quickly explain why I believe the company, not necessarily the stock, will perform well in the long term. Netflix is a disruptor, it is changing the way we consume content as it gives viewers the ability to watch shows whenever they want without any ads as well. This provides high flexibility and this is widely viewed by consumers to be a positive thing. According to a consumer survey Netflix scored 78 out of 100 in a satisfaction survey. Netflix's originals are giving it a competitive edge over other services such as Amazon Prime and Hulu. Their original series "House of Cards" was nominated for 9 Emmy's last year. The company has been able to follow this up with a successful season of "Orange is the New Black", which is expected to be nominated for Emmy's this year, as it will compete in the comedy category. Along with these original series' the other factor is international expansion as I previously stated. Netflix will be entering 6 new countries this year: Germany, France, Austria, Luxembourg, Belgium, and France. These entries will provide international subscriber growth which will help the international margins improve. I believe that if content costs increase substantially that Netflix has leverage to increase the price of the subscriptions, since they provide such great value to consumers for just $8.99 per month. The Net Neutrality issue is complex and it is difficult to figure out how the FCC will decide on the issue. For a person that enjoys internet freedom I hope that Netflix doesn't have to pay ISPs for higher internet speeds. This is a wild card that could help or hurt the company's long term success. Overall, the company should succeed in the future.
If the company has these positive factors in its favor then why am I recommending selling it to take profits or possibly buy puts on the stock? In short the stock has risen too much. This has happened to the stock on numerous occasions in the past. Recently when I purchased it two months ago the stock had moved too far to the downside. The stock at one point had declined 17 out of 20 trading days. Now the stock is 3% away from its 52-week high and has gone up 18 out of the last 22 days. The highest price estimate on the street ($525) only represents about an 18% increase from yesterday's close. The 14 day relative strength index for Netflix is at 68.15 signifying that it is overbought. If you look at the recent past, the RSI was a little too early in flashing the warning signs at about $400 leaving you to miss $58 worth of gains. The RSI has been around 70 for about 3 and half weeks. This is why I am flagging it now. It took about 6 weeks for the RSI's overbought signal to prove to be true last time around.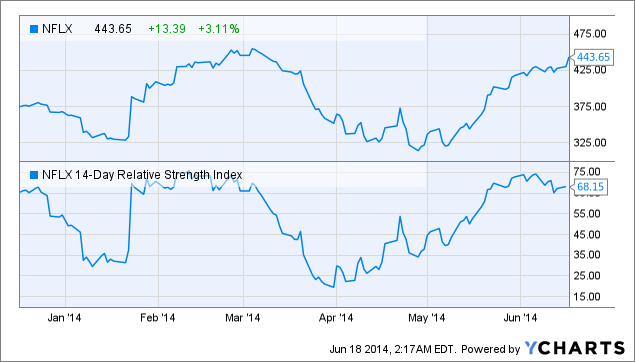 As a contrarian investor I am worried about the stream of upgrades that analysts have initiated. If the company comes out with a slightly disappointing earnings report the stock could be downgraded by many firms. I find last week's upgrade by Evercore to be ridiculous as it previously had a market perform on the stock, which would have made you miss much of the recent gains, and now when the company is near its high it is telling you to buy it. This is poor timing to say the least. I was not writing for seeking alpha at the time I purchased Netflix or else I would have written an article praising the stock before this recent run up.
If you look at the PE multiple of the company, it is now overvalued. At a projected 2015 earnings of $6.94 per share the company is trading at a multiple of 63.93. This is extraordinarily high for a forward multiple considering the fact that the company has a 24.08% long term growth rate. It is difficult to find companies in a similar position to Netflix and if you compare it to other momentum stocks they will be similarly overvalued. For comparisons sake, the forward PE multiple of Priceline (NASDAQ:PCLN) is 19.77, which is much lower than Netflix and it has a 19.38% long term growth rate, which is similar to that of Netflix. Based on this quick check it would seem that Netflix is much more expensive than its momentum stock peer Priceline. Netflix has substantially outperformed its momentum peers in the past month. Netflix is up 26.8% in the past month. I took an average of the price performance of Pandora (NYSE:P), Stratasys (NASDAQ:SSYS), Tesla (NASDAQ:TSLA), Twitter (NYSE:TWTR), Chipotle (NYSE:CMG), Facebook (NASDAQ:FB), Priceline , Buffalo Wild Wings (NASDAQ:BWLD), and Autozone (NYSE:AZO) which are all momentum stocks and came up with a price increase of 12.48%. Netflix had highest increase out of all these stocks and is therefore overheated.
The trade to make on Netflix would be to sell all of your stock if you are a short term trader and to sell half of the stock if you are a long term investor. Taking profits at the right time is important in outperforming the benchmark and I believe that it is prudent to do so in the next few days as it moves higher. If you trade options, I would buy Netflix puts. Shorting momentum stocks is too dangerous and I would advise against doing this.
The risk to taking profits is, of course, that the stock moves higher. It is impossible to time the top of a stock perfectly, but I believe that there is little upside to current prices. The stock currently has great momentum, but as we saw earlier this year, that momentum can evaporate quickly. If the next earnings report in July is way above estimates the stock may pop, but I believe much of the possible good news that could come this company's way is already priced into the stock. The biggest risk is that irrational exuberance is in charge of the stock price for longer than I expect. The stock may gain momentum after it breaks its 52-week high and continue to power higher.
Disclosure: The author has no positions in any stocks mentioned, and no plans to initiate any positions within the next 72 hours. The author wrote this article themselves, and it expresses their own opinions. The author is not receiving compensation for it (other than from Seeking Alpha). The author has no business relationship with any company whose stock is mentioned in this article.