We predicted that the insurgents would eventually target energy infrastructure in the south of Iraq yesterday; however, they have turned to the infrastructure in the north, as the news today is that they have attacked the largest refinery in the country. This is further hampering supply and causing widespread shortages and hoarding. This might also lead to demand of US gasoline exports which could push up prices, something we have covered in recent weeks.
This is not good for Iraq and with the US still mulling over what action to take, the requests from Iraq to provide air support will continue to fall on deaf ears.
Chart of the Day:
Although we have spent considerable time on gasoline, there is reason to pay attention to prices. We could see gasoline prices rise if Iraq requires imports to offset lost production from damaged refineries or for other reasons resulting from the insurgents. Iran is not in a position to ease Iraq's gasoline needs and others in the Middle East might not be eager to insert themselves into this conflict by showing favor.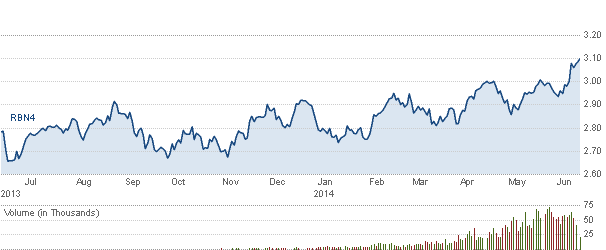 Source: CNBC
Commodity prices are as follows (at time of submission):
Gold: $1,270.10/ounce, up by $0.10/ounce
Silver: $19.72/ounce, down by $0.012/ounce
Oil: $106.24/barrel, down by $0.12/barrel
RBOB Gas: $3.1009/gallon, up by $0.0098/gallon
Natural Gas: $4.683/MMbtu, down by $0.026/MMbtu
Copper: $3.052/pound, down by $0.009/pound
Platinum: $1,450.00/ounce, up by $6.90/ounce
Iraqi Oil Producers Pulling Out
Much has already been made about BP's (NYSE:BP) plans for employees in the south of Iraq, but today there is news that ExxonMobil (NYSE:XOM) is pulling out its personnel amid reports of up to 60 foreign nationals were kidnapped by insurgents.
Reuters is behind the reports and although Exxon Mobil has not confirmed the news, the news outlet says that a 'major evacuation' of Exxon Mobil's staff has been carried out while BP has withdrawn 20% of its workers. This is not good news for the country's oil production, or future oil production, but is the responsible route to take now that infrastructure and foreigners are being targeted.
MLP IPO Today
Diamondback Energy (NASDAQ:FANG) was one of top picks last year, even if we exited the position too early. With its market capitalization having surpassed $4 billion, there were some who thought that the company's stock had gotten ahead of itself. With the plan to spin out its mineral rights in the Permian into an MLP, the company has done an excellent job of unlocking value and finding a way so as not to dilute shareholders while raising capital to fund their ongoing drilling programs.
The MLP, named Viper Energy Partners, LP (NASDAQ:VNOM), priced strongly and then opened up strong as well. This is further evidence that investor appetite for 'all things Permian' or 'all things yield' has not been quenched yet and could lead to a secondary offering of some of the ~92% stake that Diamondback Energy retained. We think Diamondback will gradually take their ownership interest down to fund drilling by sales, and also use Viper Energy Partners to ramp up acreage purchases down the road.
Fracking Sand
US Silica Holdings has been on a tear recently and now the company and the industry are starting to garner media attention for their outsized performance.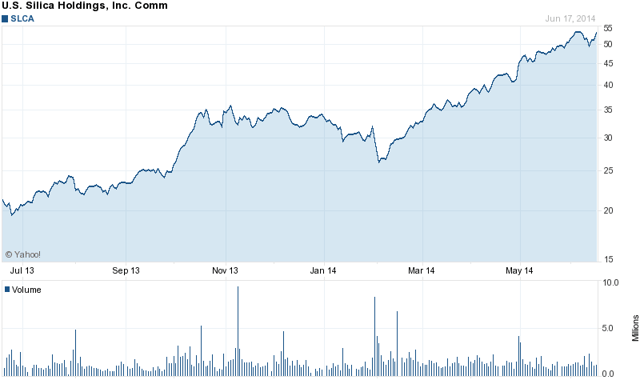 Source: Yahoo Finance
We highlighted some of the fracking plays to readers a while back and discussed why we were bullish on US Silica Holdings (NYSE:SLCA). It seems that after the big run-up in the sector due to rising demand that the mainstream media is picking up on the story with the latest one from CNBC today, located here. It is not a bad article at all and actually highlights the benefits the drillers are having using more sand. With areas of the Permian set to see an uptick in drilling and other shale plays with liquids getting more attention, we would expect demand to remain strong. Taking some money off of the table would be wise though, especially if oil prices correct.
Disclosure: The author has no positions in any stocks mentioned, and no plans to initiate any positions within the next 72 hours. The author wrote this article themselves, and it expresses their own opinions. The author is not receiving compensation for it (other than from Seeking Alpha). The author has no business relationship with any company whose stock is mentioned in this article. BP has previously been recommended.