As the old adage goes, nothing is certain except death and taxes; yet for Apple (NASDAQ:AAPL), Starbucks (NASDAQ:SBUX) and Fiat (FIATY) cases, taxes are causing great uncertainty.
The European Commission (the "Commission"), the European Union's ("EU") executive body, charged with ensuring a fair and competitive marketplace for all EU member nations, claimed these three companies failed to pay required taxes. The Commission has opened three separate investigations to examine whether decisions by national taxing authorities in Ireland (Apple), the Netherlands (Starbucks) and Luxembourg (Fiat) run afoul of the EU rules regarding state aid.
Details of the Tax Issue
What is at issue is the transfer pricing arrangements companies are using to set prices between its divisions.
Transfer pricing is a profit allocation methodology, used to equitably attribute an international corporation's taxable income (or loss) to countries it does business. Transfer pricing disputes among companies and taxing authorities are common.
According to Article 107(1) of the Treaty on the Functioning of the European Union (TFEU),"any aid granted by a Member State or through State resources in any form whatsoever which distorts or threatens to distort competition by favoring certain undertakings or the production of certain goods shall, in so far as it affects trade between Member States, be incompatible with the internal market."
Details of the Investigation
The investigation was most likely prompted by several recent media reports as well as a report by the U.S. Senate issued in May 2013 stating that Apple had negotiated a less than 2% tax rate with Irish taxing authorities, where the top rate of corporate tax is 12.5%.
The US Senate report further stated that Apple had used a complex tax structure to shift income earned in other countries to Ireland, which included three Irish-based subsidiaries that appeared not to have a tax residency anywhere in the world.
The Commission has stated that it has already stepped up legal action against Luxembourg over its refusal to supply all the information it requested.
Outlook for Apple in Europe and beyond
Although Apple claims it has paid all taxes owed, even if it is forced to pay more, it will likely not have a significantly negative impact on the company's prospects in 2014 in the UK and greater EU.
Apple recently dropped its prices for hardware products, including the Mac Mini, in certain European countries, simultaneous with the launch of a new entry-level iMac model. In addition, the company slashed the price of Apple TV by 20% in the UK and Europe, in the face of stronger competition from Google (NASDAQ:GOOG) (NASDAQ:GOOGL), Roku, and Sky's Now TV.
In the streaming TV and streaming music sectors-not to mention wearables and smart home systems-Apple certainly faces increasing competition.
In particular, Samsung (OTC:SSNLF) has proved highly efficient in bringing new products to market, while some see Apple's growth as reaching a plateau, due to lower than expected iPad sales.
Conclusion: Apple Still A Strong Core For Investors in 2014
At its core, however, Apple is still a fundamental powerhouse. The company consistently beat expectations for earnings and revenues for the past five quarters and has had a very solid market performance historically and YTD, as compared with rival Samsung.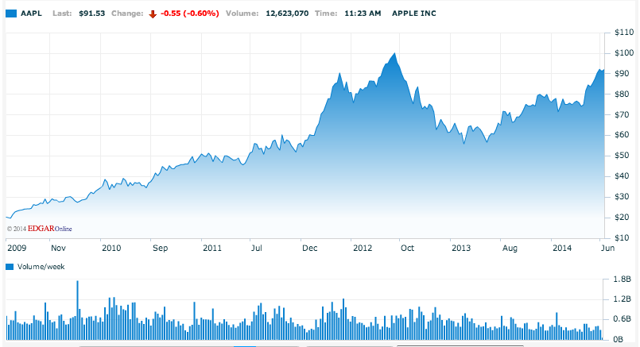 Click to enlarge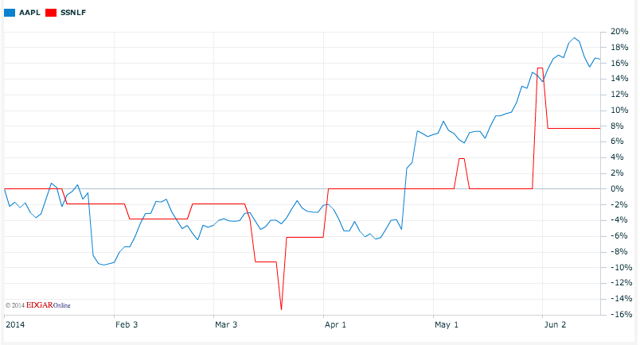 Click to enlarge
(Nasdaq.com)
While some see Apple losing market share for some of its devices in Asia, it still remains a leading brand, marking social status, and saw a quadrupling of influence in China in 2013.
If history is any indication, fierce competition will only propel Apple to better innovate. It is still a global leader in sleek hardware devices, rolling out products at a level of quality that is very hard to beat.
We continue to be positive on AAPL stock going forward in 2014.
Disclosure: The author has no positions in any stocks mentioned, and no plans to initiate any positions within the next 72 hours. The author wrote this article themselves, and it expresses their own opinions. The author is not receiving compensation for it (other than from Seeking Alpha). The author has no business relationship with any company whose stock is mentioned in this article.
Editor's Note: This article discusses one or more securities that do not trade on a major U.S. exchange. Please be aware of the risks associated with these stocks.