The general rule of thumb for asset allocation is to increase your holdings in bonds as you get older. This is because bonds generally have had less risk and provide a more stable income than stocks. For these reasons, bonds make increasingly more sense as you move out of your wage earning years and into retirement. This advice worked well for the previous generation. As yields declined from the high teens seen in the 1980s down to the record lows seen today, bond prices experienced a multi-decade long bull market. While the rally in bonds has been very generous to investors in the past, it has inflated expectations for future performance. Unfortunately this trend cannot continue. It's a simple issue of math. Even in a best-case scenario where bond prices went up to par on the day after you buy, there is not much profit to be made. Bond prices are already very close to par value. A long rally that's even remotely similar to the preceding one will be impossible to materialize.
Ten-Year Note Yield: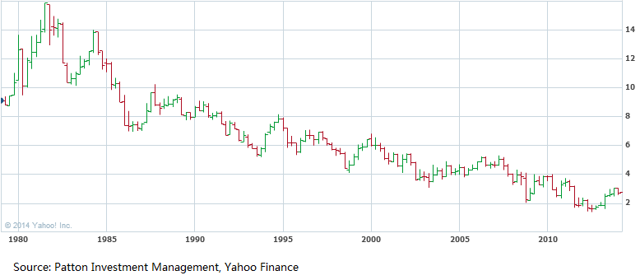 Risk
Low returns are not reason enough to shy away from bonds. The much bigger issue is the risk that they bring. High bond prices concern me because of the very real potential for a significant decline in price. Most people have a reasonably developed ability to detect a bubble in stock prices. There are some well-established yardsticks for measuring stock prices; such as the venerable price to earnings ratio. However, when it comes to bond prices, most people outside the investment industry have no idea what the price of bonds should be. This leads many people to maintain a "target" allocation to bonds regardless of what bond prices actually are. What's worse is that they don't understand the risks. Investing in long-term treasury bonds may not earn a positive rate of return after accounting for inflation. The biggest risks are in the longer duration bonds. The major ETFs in the space are the iShares 20+ Year Treasury Bond ETF (NYSEARCA:TLT) and the iShares 7-10 Year Treasury Bond ETF (NYSEARCA:IEF). Check your portfolio to see if you have any exposure to these names.
Better alternatives
If you must have an allocation to bonds, consider holding bonds with lower duration and also adding some credit risk. I also prefer corporate grade bonds to treasury bonds. The best investment grade corporate bond ETF is the iShares iBoxx Investment Grade Corporate Bond ETF (NYSEARCA:LQD). It has an expense ratio of just 0.15%.
Two good all-round bond ETFs with short duration and some extra yield from credit risk are the Vanguard Total Bond Market ETF (NYSEARCA:BND) and the iShares Core U.S. Aggregate Bond ETF (NYSEARCA:AGG).
Alternatives to Bonds
Bonds are not the only way for investors to receive a stable income with less risk than owning stocks. I recently wrote an article about how investors can use put option strategies to reduce risk in their stock portfolios. Another great idea is to sell call options on the stocks you own. We use this strategy very often in client accounts with good results. There have been many academic studies on the subject and the results are convincing. Generally, the strategy achieves stock like returns with bond like risk. Don't take my word for it, check out the research by Ibbotson Associates, which provides a good summary.
Zero Real Return
In economics, the "real" return on investment is a measure that adjusts for the effects of inflation. Inflation has been low over the last several years since the financial crisis. The languishing economy has not heated up enough yet to cause a great deal of inflation. This is part of what has made bond prices so high. The market's view that inflation will stay low has led bond prices to an all time high. I would like to point out that it is very likely that inflation picks up steam over the next few years. Employment is still improving and has a lot of room to run. At 6.3% as of the last reading, unemployment has the potential to improve a few more points. This will provide a tailwind to both the economy and inflation. Today's bond prices do not price this in. If inflation does increase significantly, bond prices will fall strikingly. Bond investors hoping to have good returns over the next 5 to 10 years are likely to be disappointed.
Conclusion
It is not the goal of this article to suggest that bonds don't belong in anyone's retirement portfolio. Bonds will always make sense for some investors depending on individual circumstances. However, please be mindful of the risks. With the ten-year note yielding about 2.6%, I don't think this is a good entry point for long-term treasury bonds. There is too much downside and very little upside. Returns after taxes and inflation are likely to be negligible.
Disclosure: The author is short LQD, TLT, IEF. The author wrote this article themselves, and it expresses their own opinions. The author is not receiving compensation for it (other than from Seeking Alpha). The author has no business relationship with any company whose stock is mentioned in this article.
Additional disclosure: I am short CBOE ten-year treasury note futures