Investing green can sometimes put you in the red. If A123 (previously AONE) serves as an example, not all alternative energy ventures survive. But with all the new developments in alternative energy, there may be some hidden investment gems out there as the industries of renewable energy rapidly expand.
As popular as solar energy has become, we are just getting started with global production. All that we are generating today will likely double in the next four years to a total of 61.7 gigawatts-GW. That's 30-times the combined production capacity of Fukushima's now famous units 1, 2 and 3 nuclear reactors. And the projections are not linear. Some estimates project global photovoltaic capacity to reach 489.8 GW by 2020 by which time wind energy is expected to reach 587 GW. That will make for a combined total of more than 1,000 GW or one terawatt-TW of electrical energy coming from just solar and wind production.
Sure it's fantastic that we finally recognize the environmental advantages of renewable energy sources. A terawatt also takes a good chunk out of our dependence on fossil fuels both foreign and domestic. But both of these major power sources are pulsative and put a strain on the stability of global utility grids. Adding a TW of unstable production will necessitate some significant additions to power grid systems. The question is: are there good opportunities for growth investments in these coming additions?
The Grid Storage Explosion
One of the greatest unmet needs for all of this unstable renewable power production will be grid storage. The U.S. currently has about 24.6 GW of total storage, which is only slightly more than 2 percent of total electric production. The global number is currently at about 125 GW, but most of that is pumped hydro. Pumped hydro is pumping water to a higher place so it can later be released to spin turbines as hydroelectric power. This is relatively inexpensive to build, but the opportunity for pumped hydro is limited by local geography. I like flywheel technology for grid stabilization, but the opportunities for investment do not look favorable. Battery storage likely presents the best investment opportunities in energy storage going forward. At present, the US grid system only has about 300 MW of battery storage. That is where future demand will be the greatest.
You might be thinking, "Batteries again!? But A123 went bankrupt, why risk another battery storage investment?" A123 did indeed fail and the reasons will fuel many a debate for years to come. But A123 is still out there, it's just in pieces. Johnson Controls (NYSE:JCI) got their automotive Absorbent Glass Matt (AGM) battery division and the remainder now belongs to NEC and the Wanxiang Group.
Lux Research predicts global grid storage should increase to 185 GWh by 2017. That would take current $50 billion annual sales up to $113 billion. California alone expects to be 1.3 GW of that total storage capacity. Hawaii wants to add 200 MW as soon as possible and Puerto Rico expects 600 MW by the end of this year. Britain is installing 240 tons of lithium ion batteries for a grid storage project for the residential needs of a housing estate north of London.
These are examples of demand that are specific to battery storage. As the costs to build these storage facilities continues to fall, the above global capacity projections will fall increasingly short of reality. This is particularly true when you also factor in the likelihood of the emergence of good home energy storage devices that require battery technology.
One company that is already established in grid storage is EnerSys (NYSE:ENS). Early this year, they announced their new Optigrid Stored Energy Solutions system, which they tout as a means to help stabilize grid power. Their revenue growth has been a bit stagnant, but steady earnings growth and promising growth projections make this an investment to consider. It doesn't hurt that their debt ratio is better than any of the following and they pay about a 1% dividend.
NEC Corp. (OTC:NIPNF) recently got a great deal on grid energy storage. They bought the lithium ion battery and grid storage integration branch developed by the now bankrupt A123 from the Wanxiang Group for a mere $100 million. NEC expects global sales of energy storage to utilities to triple from $2 billion in 2015 to $6 billion in 2020. That estimate seems quite conservative in light of global storage demand estimates. NEC also has a joint development deal to provide batteries for Nissan vehicles. Not a bad green play, and if you don't mind OTC investing, their growth projections are promising.
The Grid-Storage Underdog?
There are many alternate battery technologies in development, including nickel cobalt aluminum, but expense, safety and availability of materials can impede practical use. Molten salt electrolyte systems are already in use, but public investment opportunities are limited. The absorbent Glass Matt batteries sound high-tech, but they are simply lead-acid batteries that don't spill as easily, like the maintenance-free batteries you buy at the auto parts store. Lithium ion offers a much higher power-to-weight ratio making it the current favorite for electric vehicle use.
Current lithium ion technology may have some limitations for grid use, but is still a favorite moving forward. Lithium is not a stagnant battery technology as charge times and recycle efficiencies continue to improve. Since it is a recyclable resource, lithium battery storage fits well into a renewable energy investment portfolio. Navigant Research expects lithium ion battery sales just for vehicles to exceed $26 billion by 2023.
One of the unlikely leaders in renewable energy storage is the well-known automaker Tesla Motors (NASDAQ:TSLA). Tesla has been criticized recently for the risks they are taking with their massive Gigafactory lithium ion battery plants and now sharing much of their intellectual property. The building of the huge factories is not only recognized as a huge capital investment, but also a somewhat new business direction since Panasonic Corp. (OTCPK:PCRFY) has been the primary supplier of batteries for Tesla Motors. There are also health and environmental issues with making high-tech vehicle-grade lithium batteries. The reward, however, is a battery quality that few can hope to compare to. Teaming with the already experienced Panasonic will likely reduce some of those manufacturing risks and allow Tesla to hit the ground running with production of the best lithium ion batteries in the industry. Panasonic currently has a contract to supply 2 billion battery cells to Tesla through 2017 using its existing production facilities. From that point forward, it will be a Tesla/Panasonic Gigafactory-produced "wonder battery" that will likely still be recognized as state-of-the-art.
Four years ago SolarCity (NASDAQ:SCTY), Tesla and UC Berkley announced a collaborative effort to advance battery storage technology and they even received public grant money to do it. This ultimately led to the production of home energy storage units as part of what SolarCity calls DemandLogic.
The wall-mounted storage units are already being sold. SolarCity is installing the Tesla home battery stations with their residential solar systems for a price premium. These units not only reduce impact on the grid, they are also attractive energy backup systems for homeowners. They aren't cheap, but with currently available combined incentives, the systems can be as cheap as $800 per KWh. They carry a 10-year warranty and can be rolled into long-term service agreements. As costs continue to fall, the popularity and the demand for combining home solar with home storage will rise. According to Lux Research, grid-tied storage will rise to $2.8 Billion by 2018 with residential systems comprising well over half of that figure. It is going to take a lot of lithium ion battery supply to meet that residential demand.
Now that Tesla has established a presence in residential solar with the home battery storage systems that they are selling through SolarCity, they have already become a grid storage player of sorts. However, once they've completed their Gigafactories, they will be one of, if not the largest lithium battery supplier in the world. Demand for Gigafactory production will not likely be limited to supplying their in-house vehicle line.
In 2012, Tesla Motors began work on a full electronic powertrain for Daimler (OTCPK:DDAIF) under the Mercedes-Benz B-Class EV; this is a win-win since Daimler still has an equity stake in Tesla motors. In 2011, Tesla also formed an agreement with Toyota Motor Corporation (NYSE:TM) for their EV version of the RAV4. Although they recently announced phasing out of the Toyota agreement, Tesla's own vehicle demand is expanding fast.
It's vehicle battery demand that is likely to give Tesla the edge on several counts. Lithium ion batteries for vehicles are not like the ones in your cordless drill. Vehicles must have long cruising ranges and fast deep cycling for the power surges needed in hard acceleration. This is particularly true for performance cars like the Model S. Demand for performance once again has improved the technology breed. By incorporating cobalt and applying other technologies to keep their high-tech batteries cooler, Tesla Motors has developed a big power punch in a smaller and lighter battery package. What does this superior battery technology mean for the Gigafactories? Due to these technological advantages, Tesla is very likely to be asked to supply premium vehicle batteries to third party businesses as well as their own growing vehicle demand. "But Tesla Motors is open-sourcing their patents, they'll lose their advantage," you may be thinking. Building Gigafactories and opening electric car patents are two strategies that each ensure the success of the other. Sharing technology will stimulate a boost in the electric car industry production just as Mr. Musk intends. Any battery technology shared will still leave the seasoned Tesla/Panasonic team well in the lead for production of high-performance vehicle-grade batteries. Even Toyota may once again call on Tesla in situations when a premium vehicle battery is warranted.
If the new Gigafactory production can keep up with demand for vehicle storage, it will also be stretched into supplying the demand coming from residential solar. Existing residential storage demand may be compounded as some utilities may be forced to require that homeowners provide minimum on-site storage with new solar system installations to mitigate the impacts to the grid.
Still not enough battery demand for you? Consider what will happen when the Tesla/Panasonic Gigafactory is in the driver's seat for supplying the robust demand for battery storage that is sure to come from large-scale utilities' need for stability. Re-using vehicle batteries for grid storage has been looked at for years. Tesla vehicle batteries will be so good that when vehicles are done with them, they'll still be good enough for grid storage. In fact, Tesla's vehicle leftovers may be better than much of what's available today. Although the Gigafactories are not expected to produce their first batteries for several years, Tesla also happens to make some very popular motorcars and vehicle deliveries have consistently outpaced projections.
As grid battery storage demands continue to expand, the new Gigafactories will very likely make Tesla a safe golden egg in long-term alternative energy growth investing. Current revenue growth estimates for Tesla are already impressive. But it is highly unlikely that the forward estimates of growth rate shown below fully reflect the additional storage sales potential that will follow from total energy storage demand.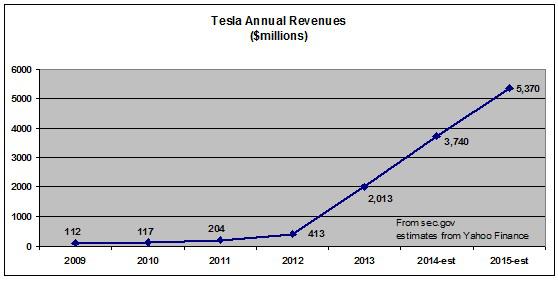 Supplying Battery Ingredients
Demand for future lithium battery storage presents another opportunity. Since all lithium ion batteries will need lithium, another place to invest might be some of the companies supplying the lithium element needed for manufacturing batteries. Although demand for quality lithium batteries is already staggering, Elon Musk has made sure it will become even more so by sharing his portfolio of EV patents to further stimulate the EV industry. This will create an unprecedented demand for the lithium element.
Sociedad Quimica y Minera de Chile SA (NYSE:SQM) is a Chile-based company engaged in the production of the lithium chemical element principally used in the production of rechargeable batteries. As one of the largest lithium suppliers, one would think they could also benefit from this growing demand. There are several risks with that play. Foreign mining investments have sometimes shown higher than normal investment risk. And although their overall revenues have increased nicely, SQM revenues from lithium supply have been stagnant in spite of surging demand in lithium batteries. Their most recent 20F filing attributes this stagnation to competitive market forces but other suppliers are faring better. What I like most about SQM is that Tesla owns a large stake in the lithium arm of the company.
Talison Lithium (OTC:TLTHF) is a global producer of lithium with lithium operations in Australia and Chile. That stock is very thinly traded and thus a better play might be Rockwood Holdings (NYSE:ROC), which now holds 49% of Talison. This means Rockwood now controls the world's largest known lithium reserves. Rockwood pays a quarterly dividend that has gone from $0.35 in mid 2012 to $0.45 currently. They have reduced in size by selling off $3.9 billion in non-core business to focus on lithium and surface treatment. It sounds like a risky move but it makes sense looking forward. From their Q4 2013 earnings call transcript, CEO Seifollah Ghasemi pointed out:
Please note that today, although Rockwood is 60% smaller in terms of sales, the per share value of our stock is 60% higher than a year ago. We believe that is the true measure of the value we have created for our shareholders.
Rockwood Holdings' revenue history is hard to track as a result of the phased selling off of non-core businesses. The result of the sale, however, puts them in a very favorable position of liquidity. Their cash on hand took a large jump plus they are now a pure lithium investment.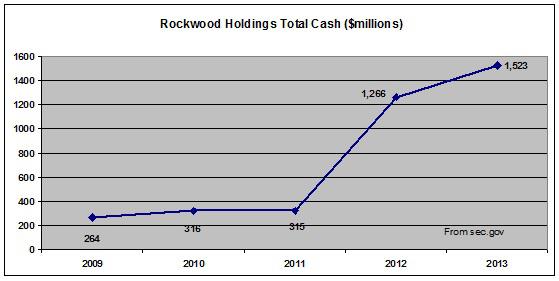 From their Q4 2013 10-Q filing:
We are currently introducing a new generation of conductive lithium salts to the battery market, which we believe has the potential to drive significant growth in the future. We also expect increased demand for lithium products as a result of increased demand for longer-life lithium-based batteries in electric and hybrid electric automobiles.
This makes Rockwood one of the purest lithium plays available to public investors. That may have advantages going forward, but can also leave them less diversified and thus potentially vulnerable. Since their downsizing makes revenue history difficult to assess, we can look at how sales are expected to perform for their existing businesses going forward. Based on their strategic restructuring, the following projections may be understated.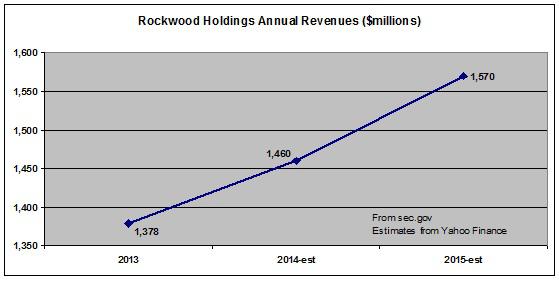 A less focused play on the supply side of lithium might be FMC Corporation (NYSE:FMC). Based in Philadelphia, FMC Corporation is a diversified chemical company with three business segments: Agricultural Products, Specialty Chemicals and Industrial Chemicals. The Industrial Chemicals business supplies lithium for energy storage. Their last 10-Q filing reported a 45% YOY revenue growth specific to lithium supply and they even pay a small dividend.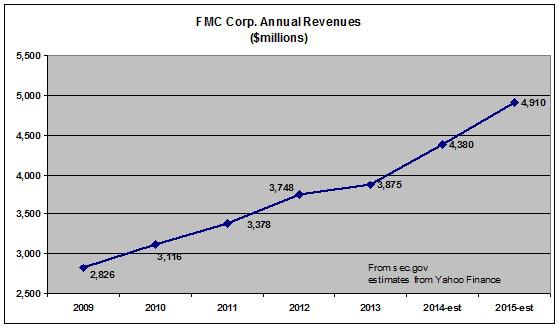 Transmitting Renewable Energy
Storage is not the only unmet need for the additional 1,000 GW of solar and wind energy that's coming. None of this storage is going to be available without major investments in the power transmission infrastructure. Power transmission investments could total more than $160 Billion by 2020.
Others have recognized the growth potential of the energy transmission market. Warren Buffett's Berkshire just bought the transmission company AltaLink for about $3 billion. AltaLink's annual revenues were $487 million last year.
Another transmission company has already enjoyed annual YOY revenue growth of about 10% since 2009 with their most recent report topping 16% YOY revenue growth. Their income has nearly doubled since 2009. What's better is that they are planning to lay nearly 9,000 additional miles of transmission line worth more than $24.1 billion by 2020. That company is ITC Holdings (ITC). Consistent sales growth has driven share price up threefold in the 8 years it has traded. Current revenue growth projections are strong but may be understated given the above expectations and with a 1.5 percent dividend yield, it's a relatively safe play.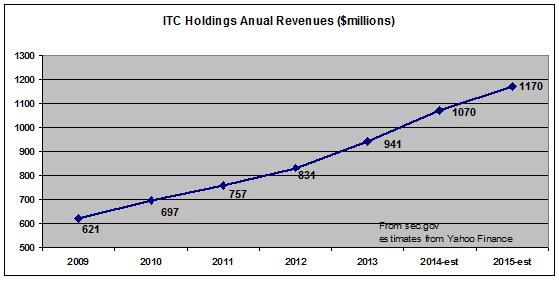 Please do not confuse ITC Holdings with ITC Limited as the press does occasionally. This may be because ITC Limited has the same symbol on the NSE (National Stock Exchange of India). ITC Holdings has no interest in the making or marketing of cigarettes.
Risks
Vehicle sales are the primary revenue source for Tesla and likely always will be. Internal combustion vehicles have been around for over 100 years and we're still learning how to make substantial improvements in that technology. Electric vehicle technology is only recently becoming a practical reality. Many surprises have arisen and some have been related to the lithium batteries upon which they depend. Each time a new surprise unfolds, share prices may fluctuate hard as they did recently by falling over 30% from the $260 range to below $180.
Tesla does not expect meaningful battery product revenue from the two Gigafactory plants for a few years. Practical alternate developments in battery technology could adversely affect future demand for lithium batteries. Environmental regulations or safety issues could effect the supply of raw materials needed for such a massive increase in lithium ion battery supply.
The battery storage market is very competitive. Chinese manufacturers will be ramping up efforts to compete.
Although Panasonic has signed a letter of intent to invest in the Tesla Gigafactories, they have expressed some concern about over-capacity and that their existing production to supply Tesla may be jeopardized if demand for Tesla vehicles is lower than anticipated.
The companies mentioned and the projections given are largely dependent on the continued growth in renewable energy demands. The future expansion of renewable energy assumes, at least in part, that existing energy prices will continue to rise. If the economy slips again or if the costs of harvesting fossil fuels drops significantly, the incentives to continue developing alternative energy sources could flatten or decline.
Summary
Some likely beneficiaries of the explosive growth in renewable energy production will include battery makers, suppliers of lithium and those positioned for providing additional improvements to the energy transmission infrastructure. My favorite picks going forward are Tesla Motors, FMC Corp., Rockwood Holdings, ITC Holdings and SQM.
If you are already invested in Tesla Motors for their vehicle potential, then their additional future earnings potential in supplying energy storage will simply be frosting on the cake. Elon Musk will help provide his future Gigafactories with job security by sharing his EV patent portfolio to stimulate that industry. Most growth projections for Tesla motors do not reflect the demand they will be asked to meet in combined vehicle propulsion for their own fleet and likely many others'. Money for Tesla will also come from utility grids, including residential solar, since vehicle batteries will recycle into renewable energy storage and existing energy storage providers will not likely be able to meet future grid-storage demands.
Disclosure: The author has no positions in any stocks mentioned, but may initiate a long position in ITC, ROC over the next 72 hours. The author wrote this article themselves, and it expresses their own opinions. The author is not receiving compensation for it (other than from Seeking Alpha). The author has no business relationship with any company whose stock is mentioned in this article.