Until last year, free satellite radio trials for new car buyers had been propelling subscriber growth at Sirius XM Holdings (NASDAQ:SIRI). Exposure to the diverse content of Sirius, along with the rising penetration rates of satellite radios installed in new cars and rising new car sales had been a potent combination. Today, most of the growth is coming from its efforts in the pre-owned vehicle market segment.
Efforts to activate idle OEM-installed radios have been evident for a long time. Not only would the company regularly "light up" or activate the radios for a two-week period to entice potential subscribers to open their wallets, but the two week period was often accompanied by a low, introductory, teaser rate - 5 months for $5 per month, or even 6 months for $25. Then, several years ago, Sirius went after the high end of the used car market, where the company made arrangements with certain OEMs to offer three-month free trials to buyers of Certified Pre-Owned vehicles ("CPO"). The CPO program was eventually expanded to the sale of any used car with an OEM-installed satellite radio sold by a participating dealer.
The number of dealers participating in the used car free trial program has expanded rapidly. From just 100 dealers in 2010, the program has grown to 12,100 today.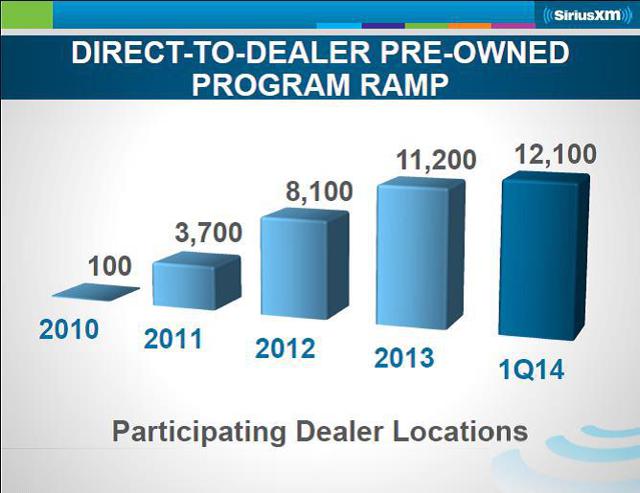 Source: 2014 Shareholder Meeting
The company wasn't done with expanding the used car and idle radio re-activation program. Last year it introduced Service Lane in another effort to market to owners of cars with idle OEM-installed radios. This time it was to offer a two-month free trial to certain owners that brought their cars in for servicing. Another effort introduced in late summer, although not exclusively targeted at used car owners, was to offer an extended free trial of a suite of Hispanic targeted stations, followed by a low-cost monthly subscription.
The latest effort, announced last week, enhanced both the used car sales program and the Service Lane program.
SiriusXM's Pre-Owned and Service Lane Programs now available to auto dealers using a Reynolds ERA® Dealership Management System via the Reynolds Certified Interface Program

...SiriusXM can now give auto dealers using a Reynolds ERA DMS the ability to easily participate in the SiriusXM Pre-Owned and Service Lane Programs. Dealers enrolled in the SiriusXM Pre-Owned Program can demonstrate SiriusXM during test drives and automatically give customers purchasing any pre-owned vehicle with a factory-installed satellite radio a three-month SiriusXM subscription. Dealers enrolled in the Service Lane Program can also give a two-month SiriusXM subscription to eligible customers visiting their service departments.
Why are these efforts so important to Sirius? Consider how and why the subscriber growth from the new car program has essentially stalled. With penetration at 70% and not expected to rise, and new car sales projected at 16-16.5 million vehicles, Sirius will run 11.2-11.55 million new trials. The company typically uses 11 million when discussing new car trial guidance, but for the purposes of this exercise the 11.55 million figure will be used. With growing penetration, the new vehicle conversion rate of those trials to self-pay subscribers has dipped to 42% over the past two quarters, for this exercise, 44% (the rate for all of 2013) will be used. So, using 11.55 million trials and a 44% conversion rate eventually adds
11.55 million * 44% = 5.08 million subscribers to the self-pay population.
At the same time these subscribers are being added, the company will lose subscribers to self-pay monthly churn. This figure has ranged from 1.8%-2.0% for the past 6 years. Although the churn has been 1.9% for the past two months, and 1.9% for three of the past four years, for purposes of this exercise, 1.8% will be used for the more optimistic case.
Sirius had 21,081,817 self-pay subscribers entering the year. If guidance of 1.25 million net additions is achieved, it should exit the year with 22,331,817 subscribers for an average of approximately 21,706,817 for the year. Applying the 1.8% monthly churn to the average shows that the company will lose about 4,688,672 subscribers to churn. This would indicate that the new car program would only be able to provide new self-pay subscriber growth of less than 0.4 million.
Using 1.9% churn, 42% new car conversion rate, and 11 million new car trials, would result in a much lower figure. 4.62 million new self-pay subscribers vs. a loss of 4.95 million self-pay subscribers to churn. This would result in a net loss from new car activities of 0.33 million self-pay subscribers.
Clearly, the used car efforts of Sirius are crucial to the company maintaining subscriber growth, regardless of which reasonable rates of new car sales, conversion, penetration and churn one chooses to use. The questions that remain for investors are the long-term ramifications of addressing this particular demographic. It is already known that the conversion rate for the broader used car trial program is in the low 30-percent range. This is not only below the conversion percentage for the new car program, but also well below the CPO program which was in the high 30-percent range. And that low 30-percent range includes the CPO program.
We also know that the used cars that are currently being turned over are, on average, higher-end vehicles. Management has already told us this, and it makes sense.
Year

2009

2010

2011

2012

2013

Penetration

Rate

55%

62%

67%

68%

70%

Conversion Percentage

45.4%

46.2%

45%

45%

44%

Average Self-pay Monthly Churn

2.0%

1.9%

1.9%

1.9%

1.8%

All Subscriber Net Adds

(231,098)

1,418,206

1,701,860

2,007,512

1,658,974

Self-Pay Net Adds

154,275

982,867

1,221,943

1,661,532

1,511,543
Data Source: Conference calls, interviews, presentations and company 10Ks and 10Q.
As penetration climbed from 55% to 70%, satellite radios were installed in less expensive models. As the Sirius enabled vehicle population ages, the median vehicle will be a lower priced model and the discount to original sticker will increase. And, the buyer of these used vehicles is more likely to come from a less affluent demographic. How will that buyer behave? Will the conversion rate decline? At a recent analyst conference, Frear stated:
The conversion rate is much higher than I thought it was going to be when we started thinking about the used car business six or seven years ago and I just didn't expect low 30's. So I thought it would be like 20% and so I am very surprised by the strength in the number.
Regardless of whether the used car conversion rate remains in the "low 30's" or declines to 20%, it will remain the subscriber growth driver, at least over the near term. Whether there are longer term impacts remains to be seen. Some of these could be an increase in churn, a possible decrease in ARPU (as the company increases discounts to retain subscribers) and increases in sales, marketing and customer service expenses as efforts to convince lower demographic trial recipients to convert to, and remain, self-pay subscribers become more difficult and less productive.
Summary
Sirius continues to increase its efforts to address the large and growing pool of vehicles with idle OEM-installed satellite radios. The latest tool made available to car dealers - use of the Reynolds ERA DMS - should simplify the process for dealers and make the program more attractive to the dealers. In addition, the ability to have the radio activated for test drives should also be an attractive selling point for the sales rep.
With more than half the 2014 growth in subscribers expected to come from idle radio re-activations, this latest announcement should be welcome news to investors.
Disclosure: The author is long SIRI. The author wrote this article themselves, and it expresses their own opinions. The author is not receiving compensation for it (other than from Seeking Alpha). The author has no business relationship with any company whose stock is mentioned in this article. I have $3.50 and $4 January 2015 covered calls written against a portion of my SIRI positions, and will also frequently trade shares of Sirius.